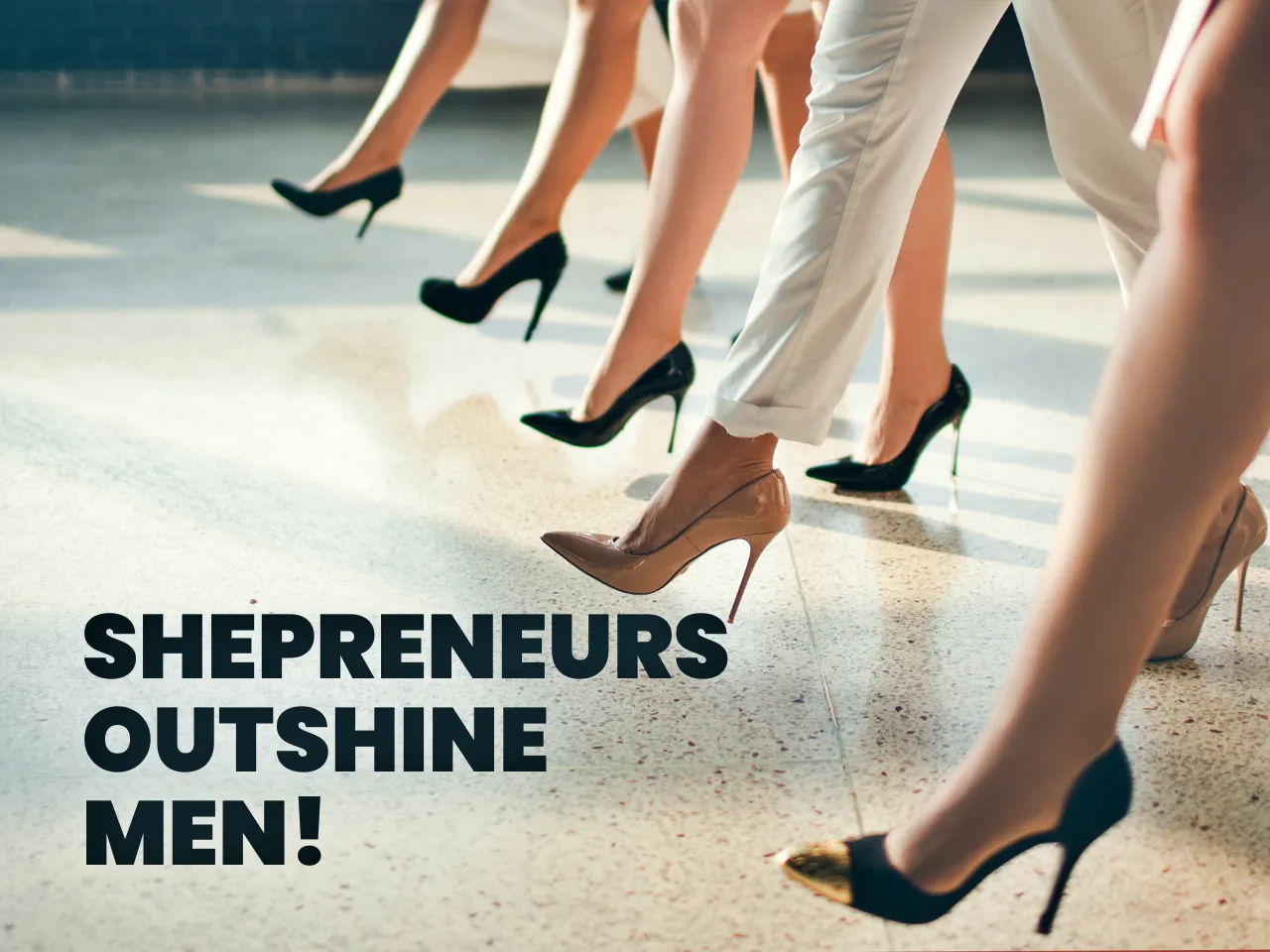 The world is witnessing a new era of women empowerment, where women are breaking the glass ceiling and proving their mettle in every field. In India's start-up ecosystem, 'Shepreneurs' are carving out a niche for themselves and beating the odds despite the ongoing funding winter.
According to a recent study by Tracxn, a market intelligence platform, start-ups led by women entrepreneurs in India's tech industry have grown by 8% among funded companies, with their share growing by over 18%. 
This surge in confidence among women entrepreneurs is a welcome change in a field that has traditionally been dominated by men. The Tracxn report sheds light on the significant progress made by women entrepreneurs in the Indian start-up ecosystem and highlights the need to support and encourage more women to enter the field.
Read More: Shepreneur Shakti: The Woman With 1000 Drones; A Scientist Turned Entrepreneur
What Are The Funding Trends In Women Entrepreneurship?
The entrepreneurial spirit is soaring among women in India's tech industry, with funding for women-led startups seeing a steady rise in recent years. The share of funding for these startups, compared to the overall total, has been on an upward trajectory. In 2022, the percentage of funding into women-led startups has increased to 16% from the previous year's 11%. The number of active investors funding in women-led startups has seen a significant increase since 2010, with a remarkable 42% year-on-year jump in 2021.
Among the major cities in India, Bengaluru, Delhi NCR, and Mumbai have emerged as the top three regions where women-led startups are thriving. Bengaluru leads the pack with 1,404 fundraising rounds, followed closely by Delhi NCR with 1,271 rounds and Mumbai with 960 rounds. In terms of funding, women-led startups in Bengaluru have secured the highest funding of $11.3 billion, followed by Delhi NCR at $5.7 billion and Mumbai at $3.5 billion. Delhi NCR has the highest number of companies led by women, with a figure of 2,126, followed by Bengaluru with 1,711 companies and Mumbai with 1,438 companies.
Unicorn Trend in Women-led Start-ups
As the start-up ecosystem in India continues to evolve, a significant trend has emerged: the rise of women-led unicorn start-ups. This is an encouraging sign that women are not only making a mark but also breaking barriers in the tech industry. According to the report, almost 60% of all unicorn start-ups added in 2021 and 2022 had women at the helm. These women-led companies are disrupting industries, creating jobs, and making a significant impact on the economy. Some notable unicorn companies founded or co-founded by female entrepreneurs include 5ire, Mama Earth, ACKO, Mobikwik, and Amagi.
Read More: Shepreneur Shakti: COVID Couldn't Stop Her From Making Success Waves
Acquisition Trends in Women-led Start-ups
The world of start-ups is constantly evolving, and women-led start-ups are leading the charge in the acquisition game. Despite the ongoing funding winter, women-led start-ups have been making a significant impact in the acquisition scene in India. In fact, in the last five years, more than half of the total acquisitions were made by women-led start-ups in 2021 and 2022. However, the average acquisition price has seen a decline in 2022. Despite the financial challenges, women-led start-ups have managed to secure some major acquisitions in the past two years, including Big Basket, WhiteHat Jr, Curatio Healthcare, and PaySense.
Funding Winters
The world of start-ups is always unpredictable, and the funding winter of 2022 had many investors treading cautiously. However, amidst this cautious environment, women-led start-ups in India shone bright. Despite the funding plunge of 12%, these start-ups have emerged as a shining example of perseverance and tenacity. According to the data platform, over 2,000 women-led start-ups in India received funding, with 36% progressing to the Series A stage and 24% making it to the Series D stage or beyond. While overall funding values saw a decline of nearly 49% year-on-year, with late-stage funding taking the biggest hit, women-led start-ups witnessed a drop of only 26% year-on-year.
Early Stage Funding Rounds
The Indian start-up ecosystem has been witnessing a remarkable shift in the early stage funding rounds, especially when it comes to women-led start-ups. In 2022, these start-ups have surpassed the overall Indian start-up ecosystem by securing a 76% year-on-year increase in early stage funding. This is in stark contrast to the 9% increase in early stage funding secured by the start-up ecosystem. It seems that women entrepreneurs in India are breaking barriers and achieving greater heights in their entrepreneurial journey.
Top Investors and Accelerators
Investors and accelerators play a crucial role in the growth of start-ups, especially those led by women. Among the leading investors in the start-up space in India, Sequoia Capital, Accel, and Venture Catalysts have emerged as the top players. On the other hand, Venture Catalysts, CIIE, and 9Unicorns are the top accelerators and incubators supporting and nurturing women-led start-ups. These organizations have been instrumental in providing funding, mentorship, and other resources to help women entrepreneurs realize their business ideas and grow their companies.
Going Public
The journey from a startup to a public company is a dream come true for many entrepreneurs, and women-led start-ups are no exception. In 2021, the world witnessed five such successful women-led start-ups going public, making it a memorable year for them. However, the following year, the excitement level did not match that of the previous year, as only one such company had an IPO in 2022, as per the report.
The Tracxn report highlights the significant progress made by women entrepreneurs in the Indian startup ecosystem, despite the challenges posed by the funding winter. The report shows that women-led startups have not only managed to outperform the overall startup ecosystem but have also attracted more funding and seen a higher number of acquisitions and IPOs.
However, there is still a long way to go in terms of achieving gender parity and creating a more inclusive startup ecosystem. The report also notes that there is a need for more institutional support and investment in women-led startups. It is crucial to address the gender bias and unconscious biases that still exist in the startup ecosystem and create a more level playing field for all entrepreneurs, regardless of their gender.
Overall, the Tracxn report is a positive indication of the growing influence and success of women entrepreneurs in the Indian startup ecosystem, and it is hoped that this trend will continue and accelerate in the coming years.