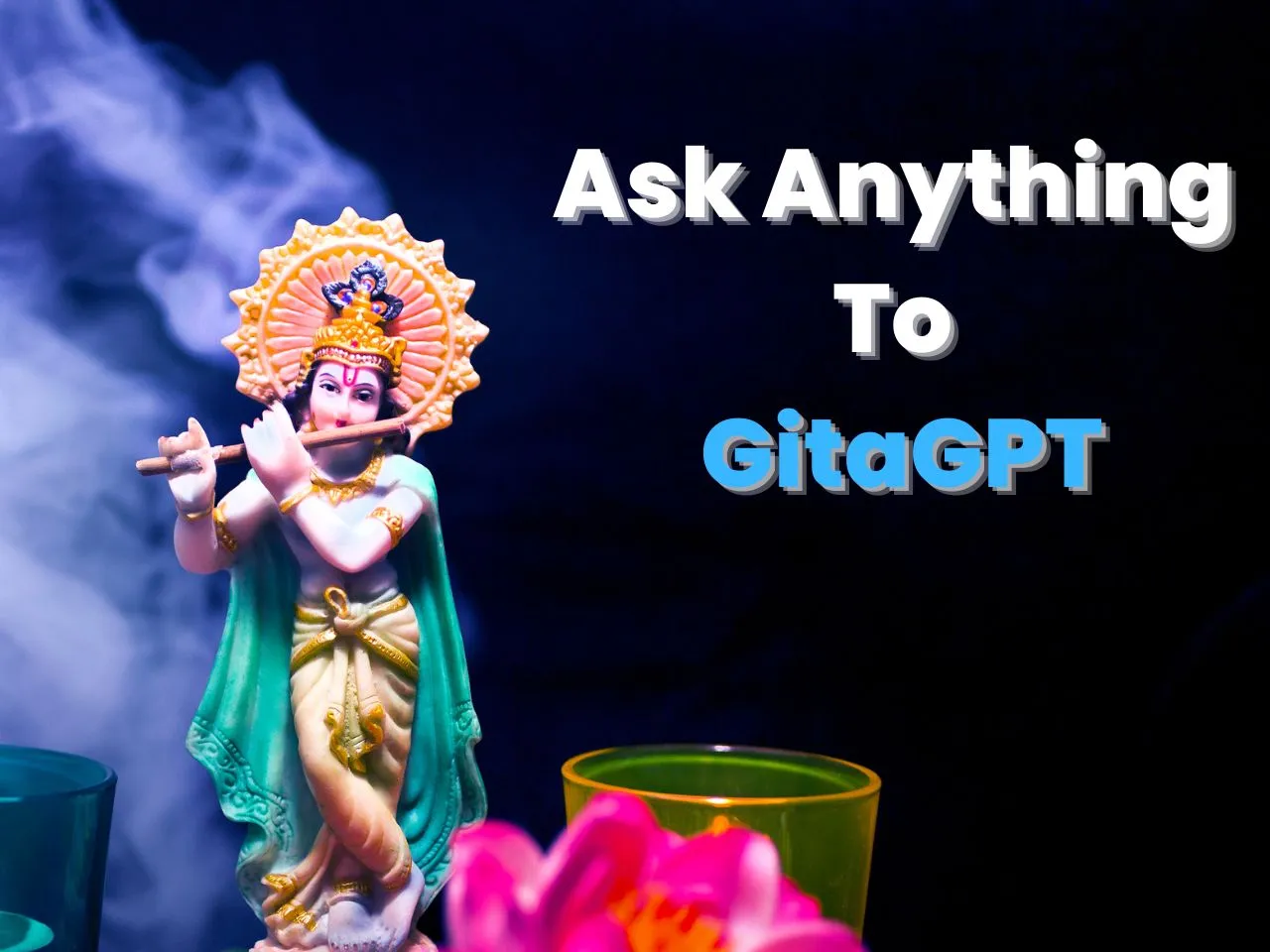 The rise of Artificial Intelligence (AI) has disrupted the world in many ways, with its applications ranging from personal assistants to self-driving cars. According to a report by IDC, the global spending on AI is predicted to reach $110 billion by the year 2024, which shows the increasing adoption of AI in various industries.
When it comes to AI, ChatGPT has already made waves in the world of AI-powered chatbots, offering expert assistance for various projects. Now, a new chatbot called GitaGPT is the talk of the town, offering spiritual guidance based on the teachings of the Bhagavad Gita.
Are you familiar with GitaGPT? Do you know how GitaGPT works or where you can use it? And how GitaGPT is different from ChatGPT? If not, then let's dive into this article to get answers to all these questions.
Read More: Can AI Ignite India's Entrepreneurial Spark?
What is GitaGPT?
GitaGPT is an AI-powered chatbot developed by a Google engineer, Sukuru Sai Vineet, that provides spiritual guidance based on the teachings of the Bhagavad Gita. It is available 24/7 and can be accessed from anywhere in the world. It allows users to ask questions on a wide range of topics, such as meditation, karma, and dharma, and receive accurate and insightful answers inspired by the teachings of the Bhagavad Gita. In a world that is increasingly becoming technology-driven, GitaGPT offers a unique way to bridge the gap between spirituality and technology.
With a focus on spreading awareness about the Bhagavad Gita, GitaGPT provides accurate and insightful answers based on the 700-verse-long text in the holy book. Similar to ChatGPT, GitaGPT is a powerful tool that can assist users with any queries related to spirituality and self-realization.
The Mind Who Developed GitaGPT!
In an effort to gain popularity similar to that of ChatGPT, Bengaluru-based Google software engineer Sukuru Sai Vineet developed GitaGPT, an AI chatbot inspired by the Bhagavad Gita. Using the GPT-3 language model, GitaGPT is designed to answer all your questions about the Hindu scripture.
How does GitaGPT Works?
GitaGPT is a unique application of AI that allows users to ask questions about spiritual wisdom and receive answers based on the teachings of the Bhagavad Gita.
The AI chatbot allows users to "consult the Gita" by asking questions and receiving answers based on the teachings of the Bhagavad Gita. This revolutionary chatbot draws from ancient Indian scripture to offer users a fresh perspective on their problems.
Unlike other chatbots that are designed for specific purposes, such as customer service or language translation, GitaGPT has a singular focus on spiritual guidance, making it a powerful tool for those seeking to deepen their understanding of spirituality.
The Bhagavad Gita is a Hindu scripture that is considered to be one of the most influential texts in Indian philosophy. It contains teachings on various aspects of life, including ethics, spirituality, and self-realization. The text has been translated into several languages and has been read and studied by people all over the world.
Read More: Sundar Pichai Announces Bard, Google's Counter to ChatGPT
The chatbot provides an innovative way to connect with the teachings of the Bhagavad Gita, making them accessible to people of all ages and backgrounds. Whether you are a spiritual seeker or simply looking to gain a deeper understanding of the world around you, GitaGPT is a tool that can help you on your journey towards self-discovery and spiritual growth.
The popularity of GitaGPT is on the rise because it provides a unique approach to solving life's issues.
However, it is worth noting that GitaGPT's reliance on the Bhagavad Gita means that it may not be able to answer questions about current events or contemporary figures like Elon Musk or Bill Gates.