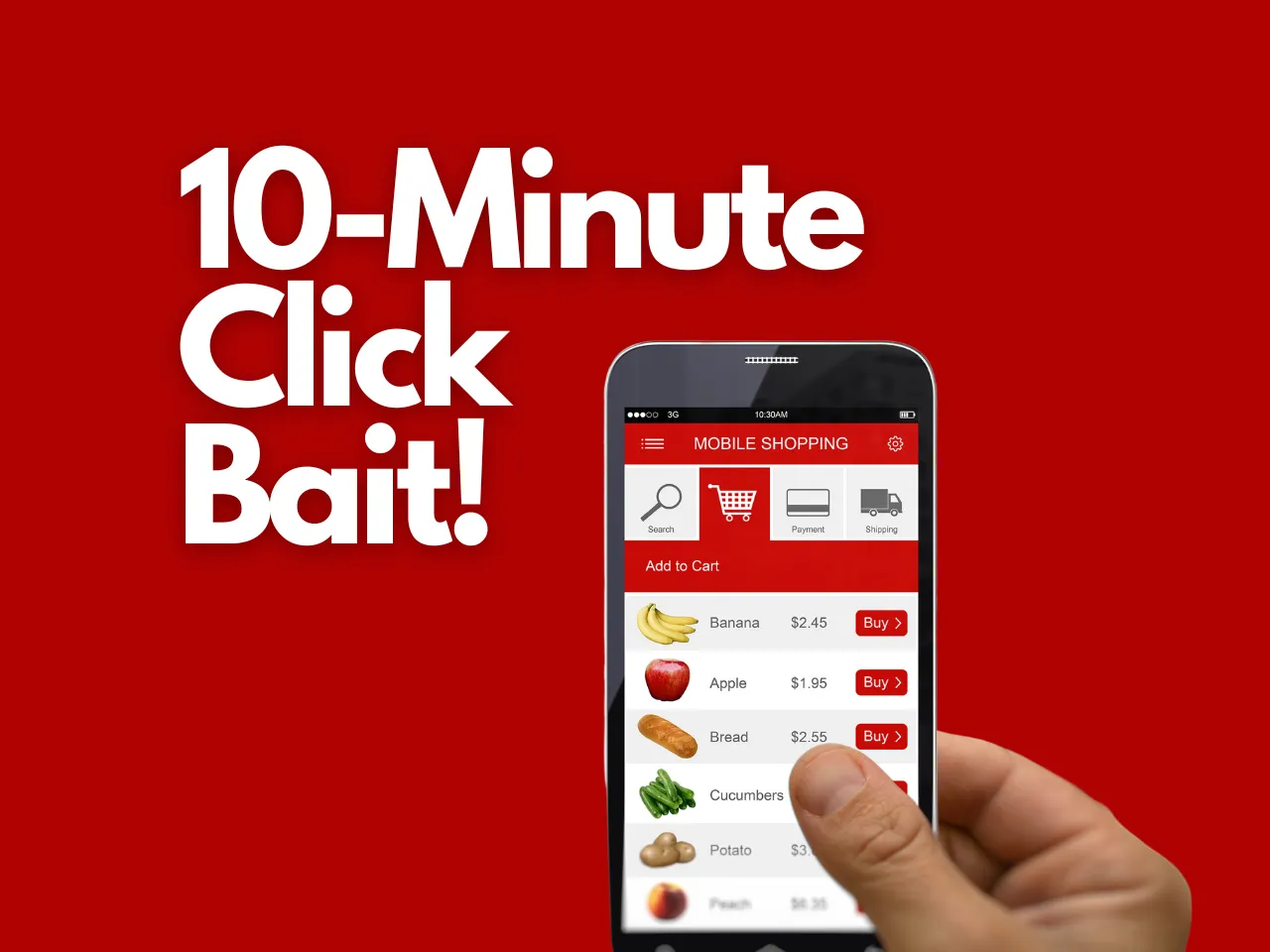 The diverse population of urban cities has developed a dependence on speedy 10-minute delivery applications for their daily grocery necessities. Although a significant portion of the city's inhabitants rely heavily on these applications, e-commerce grocery startups are struggling to turn a profit and are instead suffering financial losses. But why is this happening? Do these startups really care about profits and losses, or is it just a Valuation Game?
Talking to TICE News, Mr Praveen Khandelwal, National President, Confederation of All India Traders (CAIT) and a Member of Board of Trade says, "Most of the hyperlocal delivery apps are incurring losses these days. One of the biggest reasons for it is their higher operational costs. They just want to have customer footfall on their platforms. They hardly care about the profits or losses. It's nothing but a Valuation Game.

Basically, these startups are unaffected by profits or losses. What they are affected by is that they should not lose their customers to their competitors. This reduces their valuations." 
Sharing similar views, Mr Ashish Jain, CEO, The Startup Board,  opines that the costs associated with setting up warehouses, head offices, interest, depreciation, and technology make the operations of these startups loss-making. 
In the later part of the story, he explains the entire unit economics cost behind these startups.
The Data-nomics of 10-min Delivery Apps 
Despite their immense popularity and significant customer base, many grocery and food delivery apps in India are struggling to turn a profit due to intense competition and high operational costs. Several media reports indicate that even established companies like Grofers, BigBasket, Blinkit, and Dunzo are finding it difficult to make profits despite the growing demand for online grocery shopping.
A media report quoting Sefrog International's annual financial statement in Singapore points quick commerce startup Blinkit's gross merchandise value or GMV shrank 4% to Rs 2,616 crore in FY22 while its losses surged 2.58X to Rs 1,440 crore during the same period.
Zomato Q3 loss widened significantly to Rs 346.6 crore, but revenue grew 75% to Rs 1,948 crore. The food delivery giant posted consolidated loss of Rs 346.6 crore for the December FY23 quarter, widening from loss of Rs 63.2 crore in year-ago period.
In the last fiscal year, Dunzo's losses spiked 2X and crossed the Rs 460 crore mark. Dunzo's revenue from operations grew over 2X to Rs 54.3 crore in FY22, according to its annual financial statements with the Registrar of Companies (RoC) show. 
Why Are Hyperlocal Delivery Apps Incurring Losses?
The hyperlocal delivery startups like Blinkit, Dunzo in India deliver grocery to households at a speed even faster than the local kirana shop in the multi-storied apartments. But still, they are not making profits. Let's look at the reasons:
•High operational costs: Both companies have high operational costs due to factors such as logistics, warehousing, and delivery. They also need to maintain a large fleet of delivery personnel, which adds to their costs.
•Deep discounting: In order to attract customers and compete with established players in the market, they resort to deep discounting and promotional offers. This has led to a reduction in profit margins, and has made it difficult for them to generate sustainable revenue.
•Limited scale: Despite their popularity, startups like Blinkit and Dunzo are currently operating in limited geographies. This means that they have not yet achieved the scale needed to operate profitably.
•Regulatory challenges: Both companies face regulatory challenges in India, which can increase operational costs and create barriers to entry. For example, there are regulations related to inventory holding, inter-state sales tax, and foreign direct investment that can make it difficult for hyperlocal delivery startups to operate efficiently.
•Intense competition: The hyperlocal delivery market in India is highly competitive, with several players vying for market share. This has led to aggressive pricing strategies and deep discounts, which can erode profit margins and make it difficult for startups to operate profitably.
•Low average order value: The average order value for grocery items is relatively low compared to other e-commerce categories such as electronics or fashion. This means that e-commerce companies need to process a large volume of orders to generate significant revenue.
Opinions of Experts on the Profitless Growth Strategy
CAIT National President attributes this to the high operational costs of the hyperlocal delivery apps. He claims that most of these companies are not concerned about profits or losses; instead, they are playing a "Valuation Game" in which the more subscribers they have, the higher their Gross Merchandise Value (GMV) will be, increasing the valuation of the company. 

"In this valuation game, it does not matter whether the company is making profit or incurring losses. What matters for them is how much is the footfall on their platforms. The more subscribers you have for your apps, the better your GMV would be. This increases the valuation of the companies. This the reason why despite incurring losses, these companies get investors."

"The only reason why these investors put in money is due to high valuation. Losses are because of the big discounts these companies offer," he adds explaining that if these startups are delivering in 10-15 minutes, then definitely their costs to deliver is more than what is normally is. 

A delivery which happens in Rs 10 for example, is now happening in Rs 50. Many of these startups might not be charging the customers, hence their costs are more that their profits. This is also the reason why people are rushing to their apps," he adds.

Mr Ashish Jain, a startup expert says In 10-30 minutes, delivery of grocery is being done by BlinkIt, Zepto, Swiggy, BBNow, Dunzo, and Ola. However, it does not include unit economics.

"All these players do not offer discount on MRP. They also do not charge delivery charges. On an average order value of Rs 200, margins are about Rs. 20-30. So how many orders gives each warehouse, breakeven?  Here is a rough calculation
Unit Economics Cost For Delivery Apps
| | |
| --- | --- |
| Average cost of 2 delivery agents | 28000 (two are needed minimum) |
| Smallest Warehouse cost | 40000 (not accounted for capex) |
| Utilities | 4000 |
| Travel | 3000 |
| Minimum cost for operations from one warehouse | 75000 |
| To have breakeven, 75000/30 = 2500 orders / 30 | 80 orders /day are needed. |
"This order density has not been achieved yet. That's why everyone is incurring a loss. This cost is unit economics cost. Costs such as Capital Deployment for warehouse setup, head office cost, interest, depreciation, technology etc makes the whole operations loss making. Certain centers may be profitable, however, to enhance the presence, loss making centers make a dent on overall profit," explains Mr Ashish Jain.

He adds that the whole game is to have loss bearing capacity, until all centres start firing profitable. Which is better possible in regular (instead of Instant) deliveries where cost of delivery per order comes to Rs 30-40 in metros for average order value of Rs 700.
How Are The 10-Min Delivery Startups Sustaining?
Even if the startups are not making profits, they still attract the investors because of their high valuations. Investors can earn from high valuation but loss-making startups through future profit potential, exit opportunities, strategic investments, and convertible debt. Investing in loss-making startups carries higher risk and requires careful consideration of the startup's business model, market potential, and growth prospects.
According to Mr Khandelwal, the mindset behind this valuation game could be, "Suppose if today the valuation of the stratup is Rs 100 crore, the investor gives Rs 10 crore to them. If more and more people come to their platforms, the valuation of the portal will increase and one day their valuation will grow to Rs 300 crore. Then these startups can even get as much as Rs 30 crore from investors. The startup owners can benefit from their increased share values."

The chief of apex traders' association in the country Mr Khandelwal elaborates that these delivery startups try hard not to lose their customers from their platforms, come what may. They want to bring more and more customers to their platform to place maximum orders so that maximum sale is being facilitated through their platforms.

"Whether the items are costly or not, whether they make profit or not, the investors are not bothered about it," he adds.
Are Online Grocery Stores Meeting the Same Fate as Supermarkets?
The supermarkets in the metro cities are losing to attract customer footfall to their stores. These stores too offered big discounts to the customers to lure them. They succeeded to a big extent too. But why is it that they were not able to sustain?
Mr Khandelwal says, "All these big stores were not able to sustain because for 5-7 years they worked and offered big discount. But they all are shut today because of higher operational costs. Ultimately these startups will end up shutting down only after few years because there is one fundamental principal in Economics that the day you start eating up your capital, you start the end of your business."

Why these platforms are not shutting, Mr Khandelwal explains is because these businesses don't care about profit and loss, they have people to put money in them. They just have to get footfall.
A Strong Policy To Regulate These Startups Is The Need Of The Hour
India has been experiencing a rapid growth in ecommerce over the past few years, with the sector estimated to reach a value of $200 billion by 2026. This growth has been fuelled by the increasing penetration of smartphones and the internet, coupled with a rising middle class with disposable income. However, the Indian government has been grappling with how to regulate this burgeoning industry.
The stakeholders and industry experts have been calling for a dedicated policy to regulate these startups.
Mr Khandelwal says, "The government should formulate a strong policy under which these businesses should run. And the vague promises these startups make to the customers, which practically is not possible, should to watched out for."
The Indian government has been taking steps to regulate and promote the ecommerce industry in the country. While there are still challenges to overcome, the ecommerce sector in India is expected to continue its growth trajectory in the coming years.