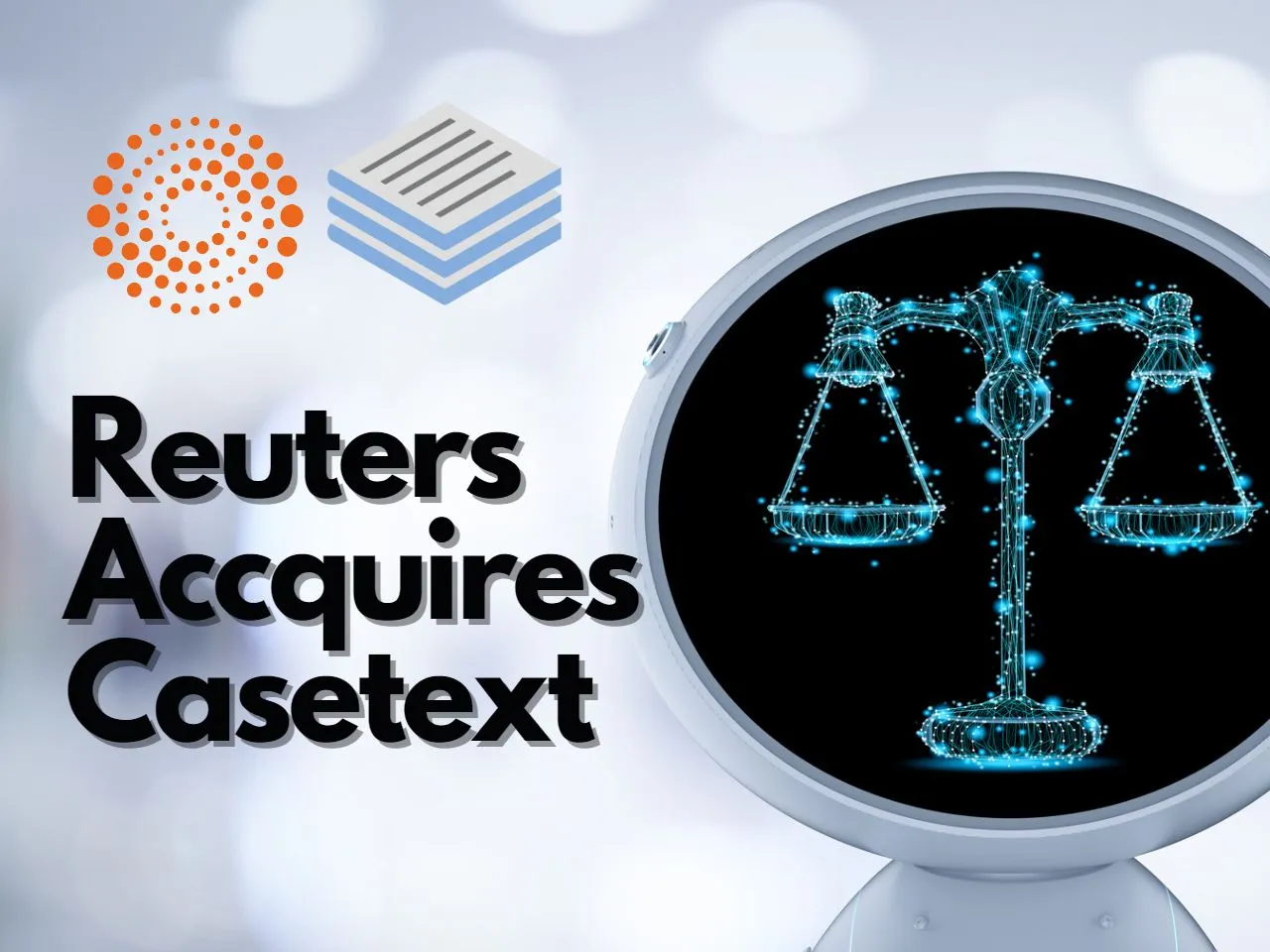 As the world witnesses an AI boom, companies, startups, economies, etc are eagerly seeking ways to harness its potential. Joining the race, Thomson Reuters has made a groundbreaking move in the legal tech industry by acquiring Casetext, a Y Combinator-backed legal tech startup. This strategic acquisition aims to transform the way professionals work through the implementation of generative AI solutions. With Thomson Reuters' vision and Casetext's advanced AI capabilities, a new era of innovation in the legal industry is on the horizon.
Which startup has Thomson Reuters acquired? 
Thomson Reuters, a leading provider of business information and services, has made a groundbreaking move in the legal tech industry. The company has entered into a definitive agreement to acquire Casetext, a Y Combinator-backed legal tech startup. 
What is the acquisition deal between Reuters and Casetext?
This acquisition, valued at $650 million in cash, is set to close in the second half of 2023, pending regulatory approvals and customary closing conditions. With this strategic move, Thomson Reuters aims to revolutionize the way professionals work and transform the legal landscape through the implementation of generative AI solutions.
Why has Thomson Reuters acquired Casetext?
Thomson Reuters CEO, Steve Hasker, expressed his excitement about the acquisition, stating that it aligns with their 'build, partner, and buy' strategy. The company believes that Casetext will accelerate and expand their market potential for generative AI offerings. By integrating Casetext's advanced AI and ML capabilities, Thomson Reuters aims to enhance its major business verticals, including legal, tax, accounting, and news. This move reflects their commitment to incorporating generative AI into their products, revolutionizing the way professionals across various industries work.
What is Casetext?
Founded in 2013, Casetext initially focused on creating a platform for attorneys to share knowledge and providing free access to legal texts annotated by lawyers. However, the company underwent a significant transformation, embracing AI and ML technologies to develop automated workflows and tools for legal teams. Casetext's flagship product, CoCounsel, taps into the power of AI to review documents, assist with legal research memos, preparing depositions, and analyze contracts. Notably, Casetext was granted early access to OpenAI's GPT-4 language model, which serves as the infrastructural backend for CoCounsel.
Casetext has made substantial strides in the legal tech industry, amassing over 10,000 law firms and corporate legal departments as its customer base. The company's AI-powered solutions have garnered recognition for their ability to elevate the practice of law and enable attorneys to serve a broader range of legal needs. Casetext's CEO, Jake Heller, expressed enthusiasm about joining Thomson Reuters, emphasizing the opportunity to advance their mission and the field of generative AI solutions. The acquisition will not only benefit lawyers but also professionals in various other fields, ensuring that this revolutionary technology reaches as many people as possible.
What is Thomson Reuters' Long-Term Strategy with Generative AI?
For Thomson Reuters, the acquisition of Casetext aligns with its long-term strategy of incorporating generative AI into its major business verticals, including legal, tax, accounting, and news. The company has recently announced plans to allocate approximately $100 million per year towards AI initiatives and intends to invest $10 billion in mergers and acquisitions, many of which will be AI-focused, by 2025. This proactive approach underscores Thomson Reuters' commitment to staying at the forefront of technological advancements in the legal industry.
The acquisition of Casetext is not an isolated move but part of Thomson Reuters' long-term strategy. The company plans to invest $100 million annually in AI and incorporate generative AI into its products starting in the second half of this year. 
What is the Potential of Generative AI in the Legal Sector?
The decision to embed generative AI within Thomson Reuters' legal business is supported by surveys indicating the potential impact and benefits of this technology. A Reuters poll conducted in 2023 revealed that 82% of legal professionals believe generative AI can be readily applied to legal work, while 51% expressed their belief that it should be implemented. Despite some skepticism and concerns regarding job displacement, many experts believe that generative AI technologies have the potential to add trillions of dollars in value to the global economy. As a result, both venture capitalists and corporations are investing heavily in this sector, with the market for generative AI projected to generate $36 billion in revenue by 2028.
Additionally, Thomson Reuters has allocated $10 billion for mergers and acquisitions, with a particular focus on AI, until 2025. This strategy aims to embed generative AI into their major business verticals, including legal, tax, accounting, and news. By leveraging the potential of AI, Thomson Reuters aims to enhance its offerings and deliver innovative solutions to its customers.