The startups that presented their ideas for investment during the first season of Shark Tank India seem to have reaped significant rewards. According to a report from Redseer Strategy Consultants, the popular business reality show has delivered remarkable outcomes for the participating startups. Within just 1.5 years of their appearance on the show, these startups have successfully attracted investments from external investors at valuations as high as six times their initial worth.
Success Stories Post-Shark Tank India
Redseer's analysis focused on the startups that either secured deals or faced rejection during the first season of Shark Tank India, which features entrepreneurs pitching their business ideas to a panel of investors known as "The Sharks." The study found that within a span of 1.5 years, 27 startups successfully secured funds from external investors, regardless of their outcome on the show.
Season One Results
Out of the 32 startups that participated in season one, six were able to secure funding from external investors, resulting in a combined deal value of Rs 19.5 crore. Notable success stories included that of On2Cook, Theka Coffee, Good Good Piggy Bank, SweeDesi, Sabjikothi, and Nuskha.
What Were The Successes In Season Two and Three?
In season two, out of the 65 startups featured on the show, 16 managed to secure funding from external investors, totalling Rs 70.7 crore in deals. Startups such as Insurance Samadhan, Tagz Foods, Hair Originals, Humpy A2, Ariro, AyuRythm, Grow fitter, Proxgy, Beyond Snack, Let's Try, Bummer, The Yarn Bazaar, BluePine Industries, Altor, Raising Superstars, and Get a Whey successfully secured deals outside the show.
Similarly, in season three, 20 startups participated, with five securing funding from external investors, resulting in a total deal value of Rs 28.3 crore. Moonshine Meads, Qzense Labs, Ketolndia, ExperentialEtc, and Aliste Technologies were among the startups that secured deals outside the show.
Which Sectors Dominated The Pitches in Shark Tank India?
Consumer-facing concepts dominated the pitches on Shark Tank India, with 90% of the ideas falling into this category. The remaining pitches focused on business-to-business (B2B) concepts. According to Kanishka Mohan, Partner at Redseer, out of the 19 deals, 10 came from the healthcare and manufacturing sectors, with Namita Thapar and Peyush Bansal specializing in these sectors, respectively.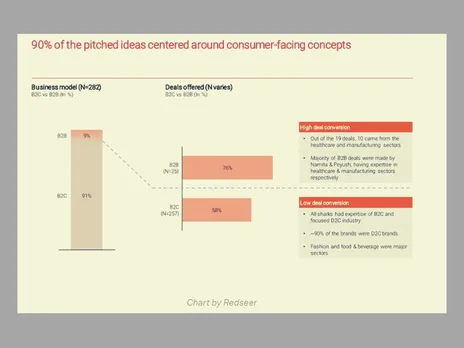 Most Active Investors on The Show and Their Preferences?
The report highlighted that the investors secured significantly better equity deals than initially pitched on the show. Aman Gupta emerged as the most active shark, securing 70 deals with a total investment of Rs 24.6 crore. Peyush Bansal and Namita Thapar closely followed, with 67 and 62 deals and total investments of Rs 21.5 crore and Rs 20.6 crore, respectively. Six out of the eight sharks preferred investing in the food and beverages industry, while the remaining two focused on healthcare. 
Overall, the combined investments made in both seasons of Shark Tank India reached approximately Rs 106 crore, with the food and beverages sector receiving the largest share.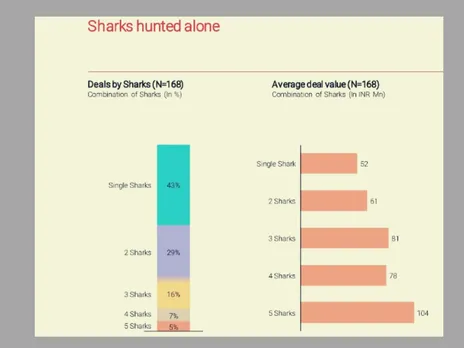 Entrepreneur Profiles and Startup Operations
Redseer's analysis revealed that the majority of entrepreneurs who pitched on Shark Tank India came from metro cities and had studied at prestigious institutions like the Indian Institutes of Technology (IITs) and premier B-schools. While most of the businesses were headquartered in metros, some were located in Tier I and II cities or smaller towns. Additionally, a significant portion of the pitched startups had been in operation for more than two years.
The success of startups featured on Shark Tank India demonstrates the potential of the show in providing exposure and opportunities for entrepreneurs to secure external funding and grow their businesses significantly in a relatively short span of time.