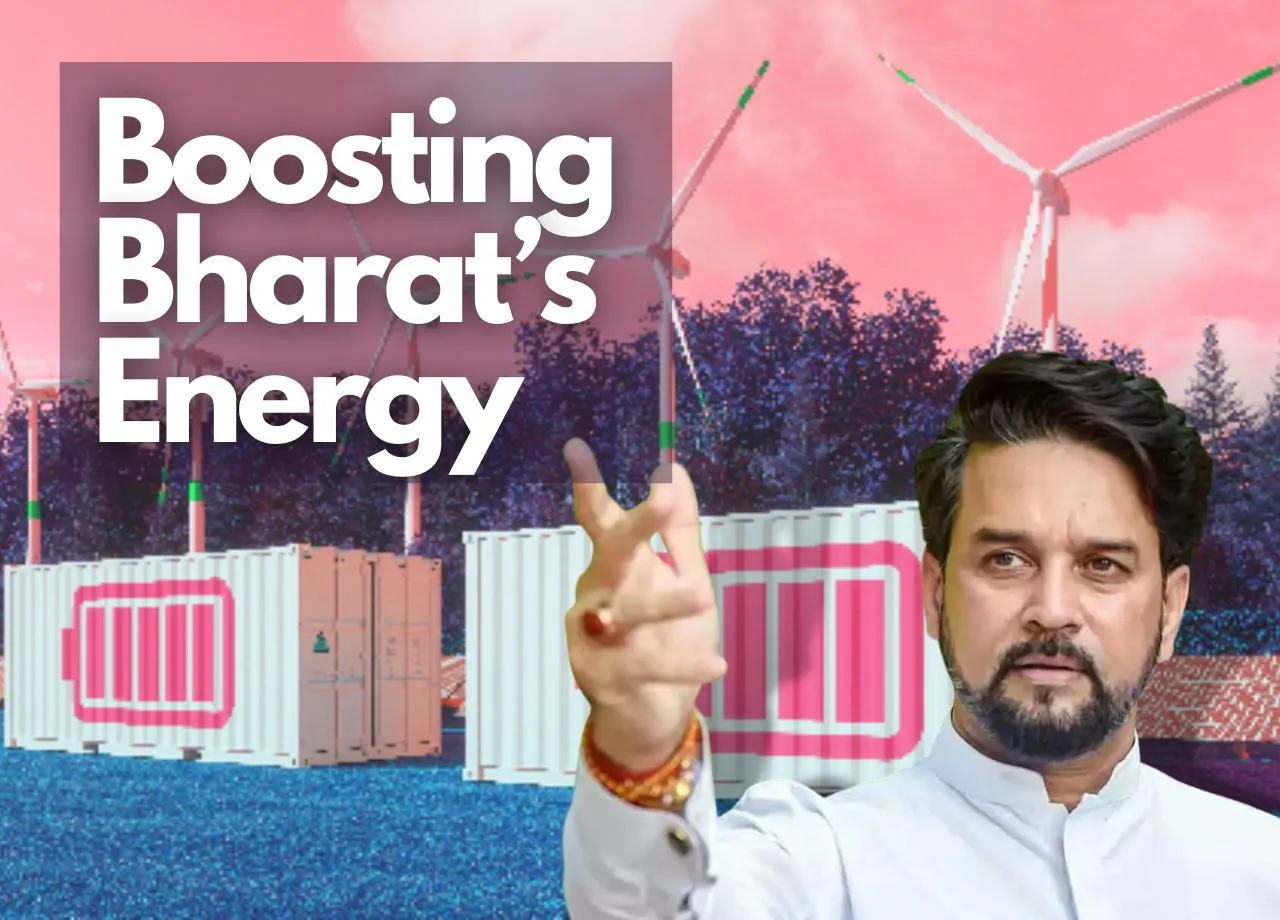 In a significant development aimed at bolstering India's renewable energy sector, the Union Cabinet has given its nod to a ₹3,760 crore Viability Gap Funding (VGF) initiative dedicated to battery energy storage systems (BESS). The move holds tremendous promise for the renewable energy industry, as it seeks to address the intermittent power generation issues associated with green energy sources.
Financial Support to Drive BESS Projects
Under this scheme, the government will extend financial support of up to 40% of the capital cost for BESS projects, totaling 4,000 megawatt-hours (MWh) until the fiscal year 2031. The primary objective is to reduce the levelized cost of storage (LCoS) to a range of ₹5.50-6.60 per kilowatt-hour (kWh), making energy storage a viable solution to manage peak power demand. Currently, the LCoS stands at approximately ₹10-11 per kWh, according to industry estimates.
Industry Applauds Government's Initiative
Pankaj Sharma, Co-founder & Director of Log9 Materials, expressed his support for the government's move, stating, "This is a welcome move from the government. Since battery storage technologies are in nascent stages. Viability Gap Funding would play a critical role in bridging the development cost that battery manufacturers need during technology development stages."
Phased Disbursement of VGF
Union Minister for Information and Broadcasting, Anurag Thakur, highlighted that the VGF would be disbursed in five tranches linked to different stages of BESS project implementation. He emphasized the government's commitment to achieving 50% of India's energy requirement from renewable or non-fossil energy sources by 2030, with the expectation of attracting investments of around ₹9,500 crore due to this funding.
The concept of providing a 4,000 MWh VGF for battery storage was initially introduced by Finance Minister Nirmala Sitharaman in the recent Union budget.
Benefits for Consumers and Infrastructure
To ensure that the benefits of this scheme reach consumers and enable them to access power from storage projects developed through the incentive scheme, a minimum of 85% of the BESS project capacity will be made available to distribution companies (discoms). This approach is expected to enhance the integration of renewable energy into the electricity grid, minimize wastage, and optimize the utilization of transmission networks, ultimately reducing the need for costly infrastructure upgrades.
Competitive Selection Process
BESS developers will be selected for VGF grants through a competitive bidding process. The government believes that this approach will encourage healthy competition and foster the growth of a robust ecosystem for BESS, attracting significant investments and generating opportunities for associated industries.
Critical Role of Grid-Scale Battery Storage
Grid-scale battery storage systems play a vital role in the transition to renewable energy sources, as they can store excess energy for release during periods of low or no power generation. In India, however, the adoption of such systems has been slow due to their high cost.
The government has consistently focused on policies to promote the renewable energy sector, with a target of achieving 500 gigawatts (GW) of installed renewable energy capacity. Last year, the power ministry introduced guidelines for the procurement and utilization of BESS as part of generation, transmission, and distribution assets, along with ancillary services. Additionally, it notified the Energy Storage Obligations (ESO) of 4% of the total electricity consumption by FY30 for power discoms, aligning with renewable purchase obligations.
The power ministry is also working on a production-linked incentive (PLI) scheme for battery storage, and there is a proposal to reduce the goods and services tax (GST) on grid-scale battery storage to 5%, down from the current 18% for lithium-ion batteries used in grid-scale power projects and 28% for non-lithium-ion batteries.
As of FY23, India possessed approximately 37 MWh of BESS capacity, and according to the Central Electricity Authority, the demand for battery storage is projected to reach 236.22 gigawatt-hours by 2031-32. The government's move to allocate VGF for BESS projects underscores its commitment to fostering renewable energy adoption and addressing the challenges associated with intermittent power generation.
Additional Cabinet Approval for Industrial Development Scheme (IDS)
In a separate decision, the Cabinet approved ₹1,164.53 crore for the Industrial Development Scheme (IDS), 2017, targeting Himachal Pradesh and Uttarakhand. Under this scheme, eligible new and existing industrial units in these states will receive a central capital investment incentive for substantial expansion in the manufacturing and service sector, ensuring access to credit at 30% of the investment in plant and machinery, capped at ₹5 crore. Industrial units will also be eligible for a 100% insurance premium reimbursement on building and plant and machinery for up to five years from the commencement of commercial production and operation.
This dual announcement demonstrates the government's multifaceted approach to promoting sustainable economic and energy development.