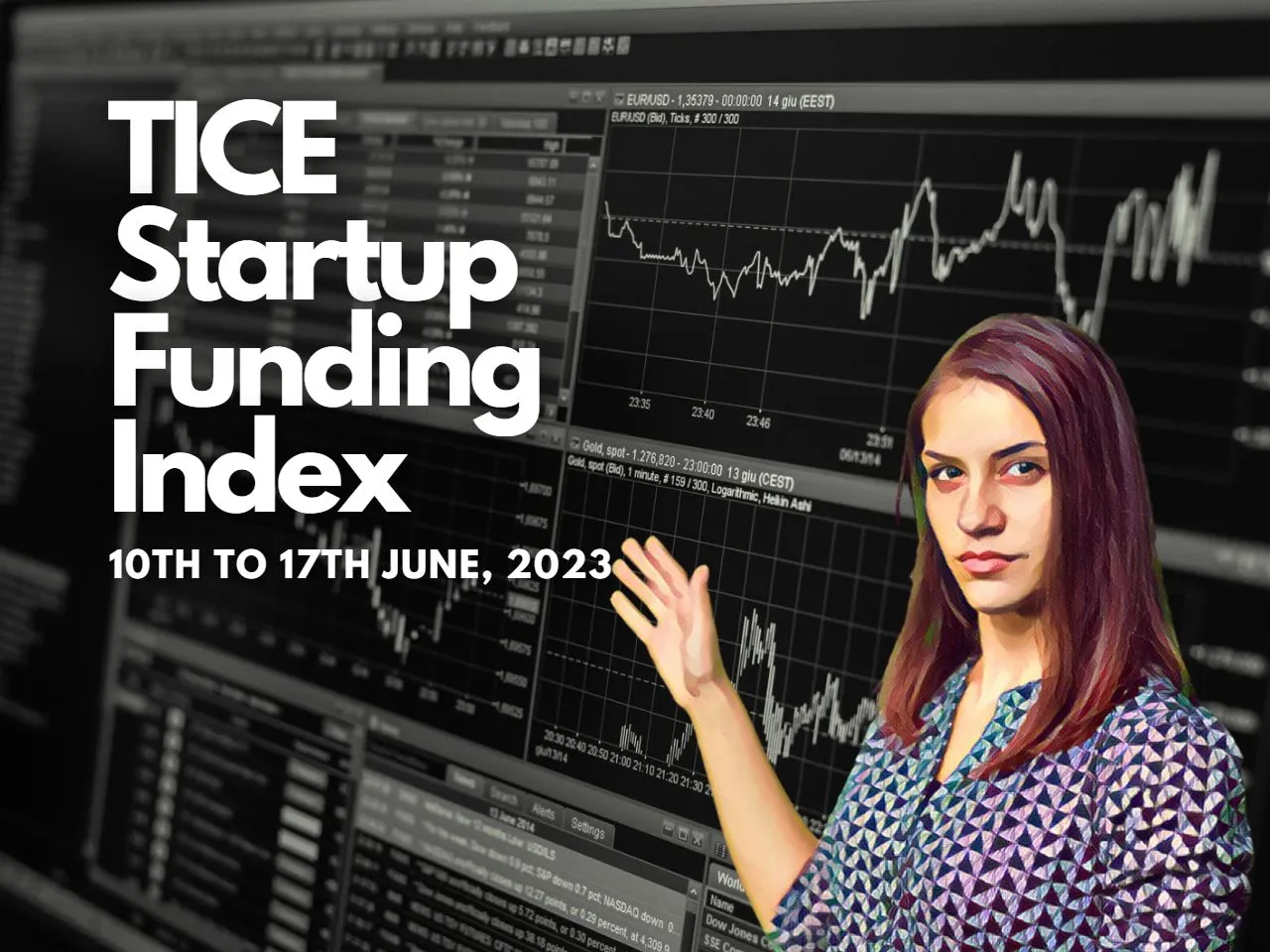 The funding data of Indian startups from June 10 to June 17, 2023, provides valuable insights into the funding landscape. In this period, several startups secured funding across various funding types, including Seed, Series A, Series B, Series E, Pre-IPO round, and Bridge Round. Let's delve into the key findings and highlight the significant aspects of the report.
As per the data compiled by TICE News, a total of 24 startups raised funding (including undisclosed funding rounds) between June 10 - June 17. The total funding amount raised by Indian startups comes to USD 221.68 million (excluding undisclosed funding rounds).
Top 3 Startups with the Biggest Funding: 
a) Lenskart: Lenskart, founded in 2010, stands out as the top-funded startup during this period, raising a massive funding of $100 million in Series J. The funding was led by ChrysCapital, demonstrating the investors' confidence in Lenskart's business model and growth prospects.
b) Indifi: Indifi, established in 2015, secured significant funding of $35 million in Series E. The funding was led by ICICI Venture, indicating strong support from notable investors in the financial technology sector.
c) Everest Fleet: Everest Fleet, founded in 2016, raised substantial funding of $20 million in Series B. The funding came from Uber, a global transportation technology company, highlighting the strategic partnership potential between the two companies.
Startups with Seed Funding: 
Seed funding plays a crucial role in supporting early-stage startups to kickstart their operations and fuel their growth. In the analyzed period, several startups received seed funding, demonstrating the investor community's interest in supporting new ventures. 
Noteworthy startups that secured seed funding include Revoh, Urvann, Mykare Health, Gro Club, Habile Technologies, Myplan8, HighXp, Berrylush, Satyukt, Skills Caravan, Kyte Energy, and Buyofuel. These startups received initial financial backing to develop their ideas and establish a strong foundation for future growth.
The funding report provides valuable insights into the startup ecosystem. 
Here are some key observations of the funding report:
Favorable Funding Environment: The report reflects a favorable funding environment for Indian startups, as evident from the diverse funding types and significant investment amounts. The presence of major investors, such as ChrysCapital, ICICI Venture, and Uber, highlights the attractiveness of the Indian startup ecosystem.
Focus on Innovation and Technology: Startups operating in sectors such as healthcare technology (Wellthy Therapeutics, Mykare Health), e-commerce (Lenskart, Berrylush), and financial technology (Indifi, Basic Home Loan) attracted notable funding. This indicates the investors' interest in innovative business models and technologies that have the potential to disrupt traditional industries.
Investor Confidence in Indian Startups: The funding received by Lenskart, Indifi, and Everest Fleet showcases investor confidence in Indian startups. This confidence stems from factors such as market potential, scalability, and demonstrated growth.
Importance of Seed Funding: Seed funding continues to play a crucial role in nurturing the Indian startup ecosystem. The number of startups securing seed funding highlights the support available for early-stage ventures and the potential for growth and innovation in the market.
The TICE Startup Funding Index: 
| | | | | |
| --- | --- | --- | --- | --- |
| Startup Name  | Funding Round  | Amount Raised  | Founding Year  | Investors  |
| Lenskart  | Series J  | 100M | 2010 | ChrysCapital |
| Revoh | Seed | 478K | 2017 | Whiteboard Capital, Nexzu Technologies  |
| Urvann | Seed | Undisclosed | 2021 | IPV |
| Wellthy Therapeutics | Series B | Undisclosed | 2015 | Beyond Next Ventures |
| Mykare Health | Seed | 2.01M | 2021 | On Deck, Avaana Capital Advisors, Huddle, Endurance Capital, FHealth Accelerator, SAE, Ajit Mohan, Ankit Tandon. |
| Evolved Foods | Seed | 973k | 2022 | Rainmatter Health, backed by Zerodha, and Kamala Capital. |
| Gro Club | Seed | 524K | 2021 | Deepak Gowda |
| Arena Fit | Seed | 750K | 2014 | Hawks Ventures, Elysian Park, CourtsideVC, WISE Ventures, Club Sports Group, Powerhouse Capital. |
| Habile Technologies | Seed | 400K | 2008 | Upekkha, Kube VC, Ramanathan R V |
| Myplan8 | Seed | Undisclosed | 2022 | Undisclosed  |
| Everest Fleet | Series B | 20M | 2016 | Uber |
| TaxNodes | Seed | 1.6M | 2022 | Rahul Pagidipati, Nischal Shetty, Ashish Singhal, and Ajeet Khurana. |
| Basic Home Loan | Series A | 4.7M | 2020 | Dexter Angels, IIM Indore Alumni Fund, CommsCredible, Gruhas, Venture Catalysts. |
| Unnati | Series A | 3.46M | 2017 | Incofin Investment Management, NABVENTURES, Orios Venture Partners |
| Indifi | Series E | 35M | 2015 | ICICI Venture, British International Investment, OP Finnfund Global Impact Fund I, Omidyar Network India, Flourish, CX Partners. |
| HighXp | Seed | 2.2M | 2021 | 3one4 Capital, Prime Venture Partners, Gemba Capital, Anuj Tandon |
| Berrylush | Seed | 970K | 2015 | Klub |
| Satyukt | Seed | 1.21M | 2018 | NABVENTURES |
| Skills Caravan | Seed | Undisclosed | 2022 | Deep Bajaj |
| Kyte Energy | Seed | 364K | 2017 | ah! Ventures & Soonicorn Ventures |
| Buyofuel | Seed | 546K | 2019 | Recur |
| Aviom India Housing  | Series D  | 30M  | 2016 | Nuveen  |
| IdeaForge  | Pre-IPO round  | 8M | 2007 | Tata AIG General Insurance, Motilal Oswal Mutual Fund, Think Investments PCC, and 360 One Asset Management.  |
| HomeLane  | Bridge Round  | 9.1M | 2014 | Undisclosed |
Top News From the Week: 
Apple vendor Foxconn is considering manufacturing electric vehicle (EV) components in India, as mentioned in its annual report, signaling its interest in expanding into the EV industry alongside ICT, robotics, and digital health.
Tencent, the Chinese tech giant, re-entered the Indian gaming market with the launch of Undawn through its global game publishing arm, Level Infinite, after its previous withdrawal due to a ban on Chinese apps in 2020.
The Advertising Standards Council of India (ASCI) released guidelines on 'Online Deceptive Design Patterns in Advertising' as part of the government's efforts to combat dark patterns in the e-commerce industry. 
PhonePe, the leading fintech company, introduced its own payment gateway, offering new merchants a special free onboarding deal, unlike other gateways that typically charge a 2% transaction fee.
D2C unicorn Mamaearth, preparing for an IPO, is likely to shut Momspresso MyMoney, the influencer engagement platform, by the end of this month due to its increasing losses.