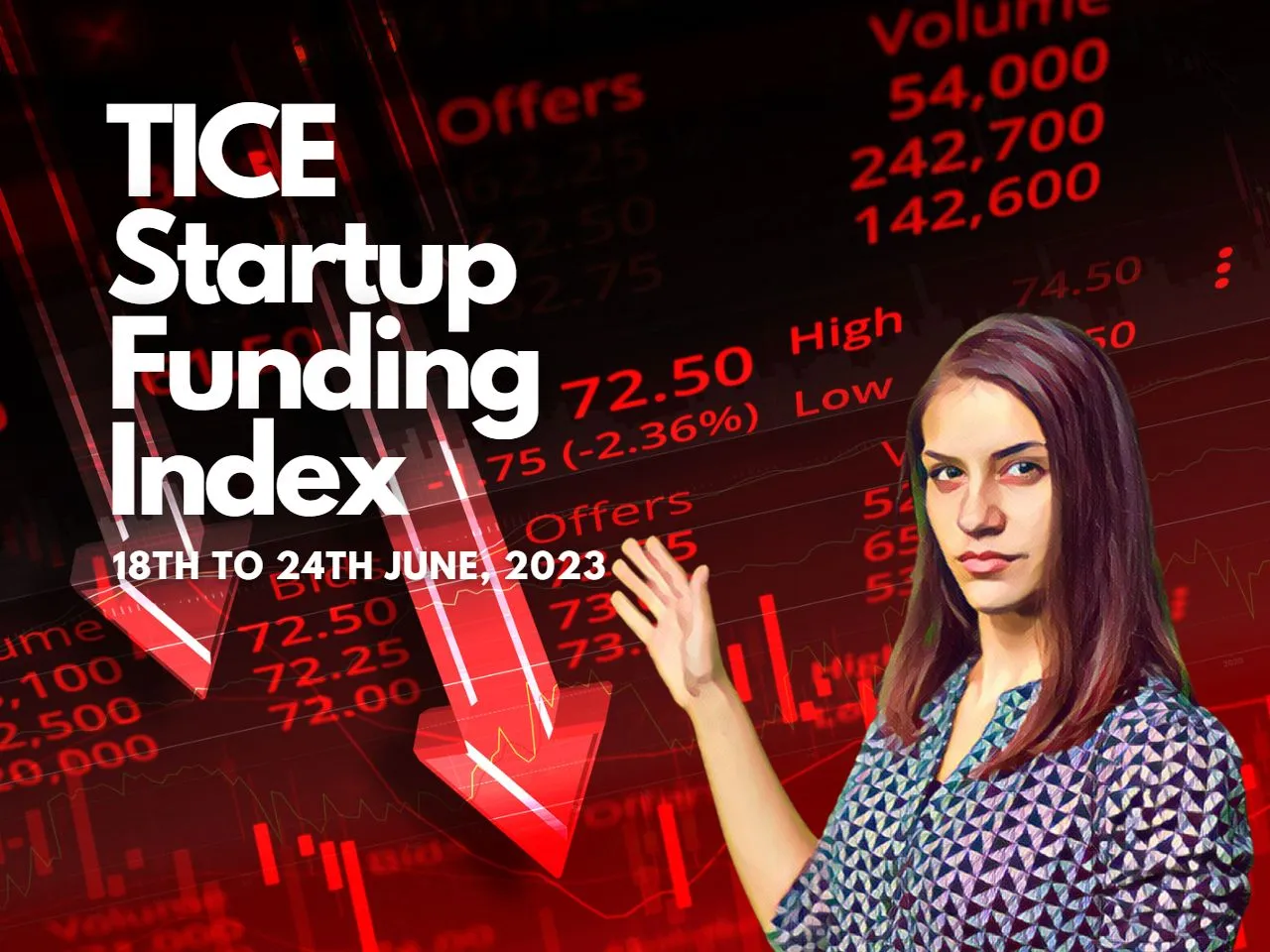 The funding data of Indian startups from June 18 to June 24, 2023, provides valuable insights into the funding landscape. In this period, several startups secured funding across various funding types, including Seed, Series A, Series B, Series E, and Pre-IPO round. Let's delve into the key findings and highlight the significant aspects of the report.
As per the data compiled by TICE News, a total of 21 startups raised funding (including undisclosed funding rounds) between June 18 - June 14. The total funding amount raised by Indian startups comes to USD 138 million (excluding undisclosed funding rounds).
Top 3 Startups with the Biggest Funding
Drools -Drools secured a significant investment of $60 million from US-based private equity firm L Catterton (LVMH). This investment values Drools at $600 million and grants L Catterton a 10% stake in the brand. This funding marks one of the largest investments in India's pet care startup sector. With the financial backing, Drools intends to enhance its production capacity, optimize operations, and bolster its distribution network. Additionally, the funds will be utilized for marketing initiatives and recruitment efforts to support the company's future expansion and growth.
Idea Forge: IdeaForge has successfully raised Rs 255 crore (equivalent to $31 million) from anchor investors. This achievement occurred just four days after the company filed its Red Herring Prospectus (RHP) with SEBI, the market regulator, with the aim of raising Rs 570 crore from the public market. Following consultation with JM Financial and IIFL Securities (BRLMs), the IPO committee of ideaForge has allocated 37,92,894 equity shares at an issue price of Rs 672 per share. This allocation has allowed them to raise Rs 254.88 crore, as indicated in the circular published on the Bombay Stock Exchange's website.
Pregna: Pregna International Ltd, a company specializing in women's reproductive healthcare, has recently secured its initial private equity investment of $16 million, equivalent to approximately ₹130 crore. The funding came from India Life Sciences Fund III (ILSF III) in exchange for a minority stake in the company.
This week, in addition to fundraising activities, there were also five notable mergers and acquisitions. 
Mergers and Acquisitions Heat Up: CRED, Spenny, and More Make Notable Moves in the Startup World
Fintech unicorn CRED has acquired Y Combinator-backed micro-savings platform Spenny.


Build On Scenes, a community startup, was acquired by Graphy. The specific terms and details of the acquisition were not provided.


Physics Wallah, a company in the education sector, acquired Xylem Learning. Unfortunately, no further information regarding the acquisition is available at this time.


Adda247, a company in the education industry, acquired Veeksha. However, the specific details of the acquisition were not disclosed.


Spenny, a company, was acquired by CRED. Unfortunately, there is no additional information available about this acquisition.
Funding Insights: Indian Startups Raise $138M in a Week, Drools and Idea Forge Lead the Way
| | | | | |
| --- | --- | --- | --- | --- |
| Name of Startup | Founding Year | Funding Type | Funding Raised | Investors |
| Tummoc | 2016 | Seed | 1M | Undisclosed |
| Truliv | 2019 | Seed | 1.5M | Undisclosed |
| Sujatra | 2013 | Venture Debt | Undisclosed | Velocity |
| Crib | 2021 | Seed | 1.82M | We Founder Circle, Rebright Partners, Imperier Holdings, Faad Network, Sigurd Ventures, Beej Network, DGC Venture, Supermorpheus, Vijay Shekhar Sharma, Kunal Shah, Ghazal Alagh, Ramakant Sharma, Sandeep Aggarwal, Ravi Bhushan, Ankur Aggarwal. |
| SafEarth | 2018 | Seed | 427K | Anthill, Third Derivative, Mumbai Angels |
| Pregna | 1991 | Series B | 16M | InvAscent |
| Agel | 2000 | Seed | Undisclosed | Plus VC,Seedstars, Flat6Labs, Seedra Ventures, Banque Misr. |
| Navadhan Capital | 2019 | Seed | 1.5M | Varanium, Anibut Capital, Gemba Capital |
| UtsavApp | 2021 | Seed | 244K | India Quotient |
| Good Flippin | 2019 | Series A | 4M | Tanglin Venture Partners |
| Drools | 2009 | PE | 60M | L Catterton |
| DIGANTARA | 2018 | Series A | 10M | Peak XV Partners, Kalaari Capital, Global Brain, and Campus Fund  |
| Volt | 2022 | Seed | 1.5M | Titan Capital, All In Capital, Ashish Kehair, Rahul Jain |
| TransBnk | 2022 | Seed | 1M | 8i Ventures, GrowthCap, Leadwayventure, Growth Sense |
| Starya | 2018 | Seed | 2M | EXEDY, ah! Ventures |
| CyberWarFare Labs | 2020 | Seed | Undisclosed | - |
| The Yarn Bazaar | 2019 | Seed | 1.83M | Rajiv Dadlani Group, Equanimity Investments, Ritesh Malik, Aakrit Vaish, Sumeet Srivastava, and Miten Sampat. |
| flutrr | 2021 | Seed | Undisclosed | The Times Of India |
| Good Flippin' Burgers | 2019 | Series A | 4M | Tanglin Venture Partners  |
| Idea Forge  | 2007  | Pre-IPO | 31M | Nomura Funds, TATA AIG, Ashoka India, Mirae Asset, HDFC, Motilal Oswal, 360 One, and Goldman Sachs among other anchor investors. |
| Thriwe  | 2011 | Undisclosed | Undisclosed | Al Multaq Group  |
Byju's Auditor Resigns Amid Financial Delay; BDO Takes the Reins & Other Major Startup News From the Week: 
Byjus is in controversy again after Deloitte has resigned as the auditor for Byju's, citing a delay in receiving the FY22 financial statement, leading Byju's to appoint BDO (MSKA & Associates) as its new statutory auditor for a five-year term starting from the fiscal year 2021-22.
Airavat Capital announced the launch of a global technology fund, Airavat Global Technology Fund R (AGTF R) based out of GIFT City. The fund has already received interest worth over $40 Mn.
Climate-focussed VC firm Avaana Capital has raised $70 Mn in first close of Avaana Climate and Sustainability Fund and is targeting a total corpus of $100-125 Mn for the same.
Blume Ventures announced the first close of its new opportunity-cum-continuity fund, Fund 1Y and has already raised INR 200 Cr of the INR 400 Cr target corpus for the round.
Gaming-focused venture capital Lumikai announced the launch of its second fund with a total corpus of $50 Mn.
IPO-bound drone startup ideaForge has raised INR 255 Cr from anchor investors.
Early stage VC 100X.VC announced a new portfolio of 22 startups that it has funded with $3.4 Mn worth of capital. Here's the complete list of startups in the cohort.