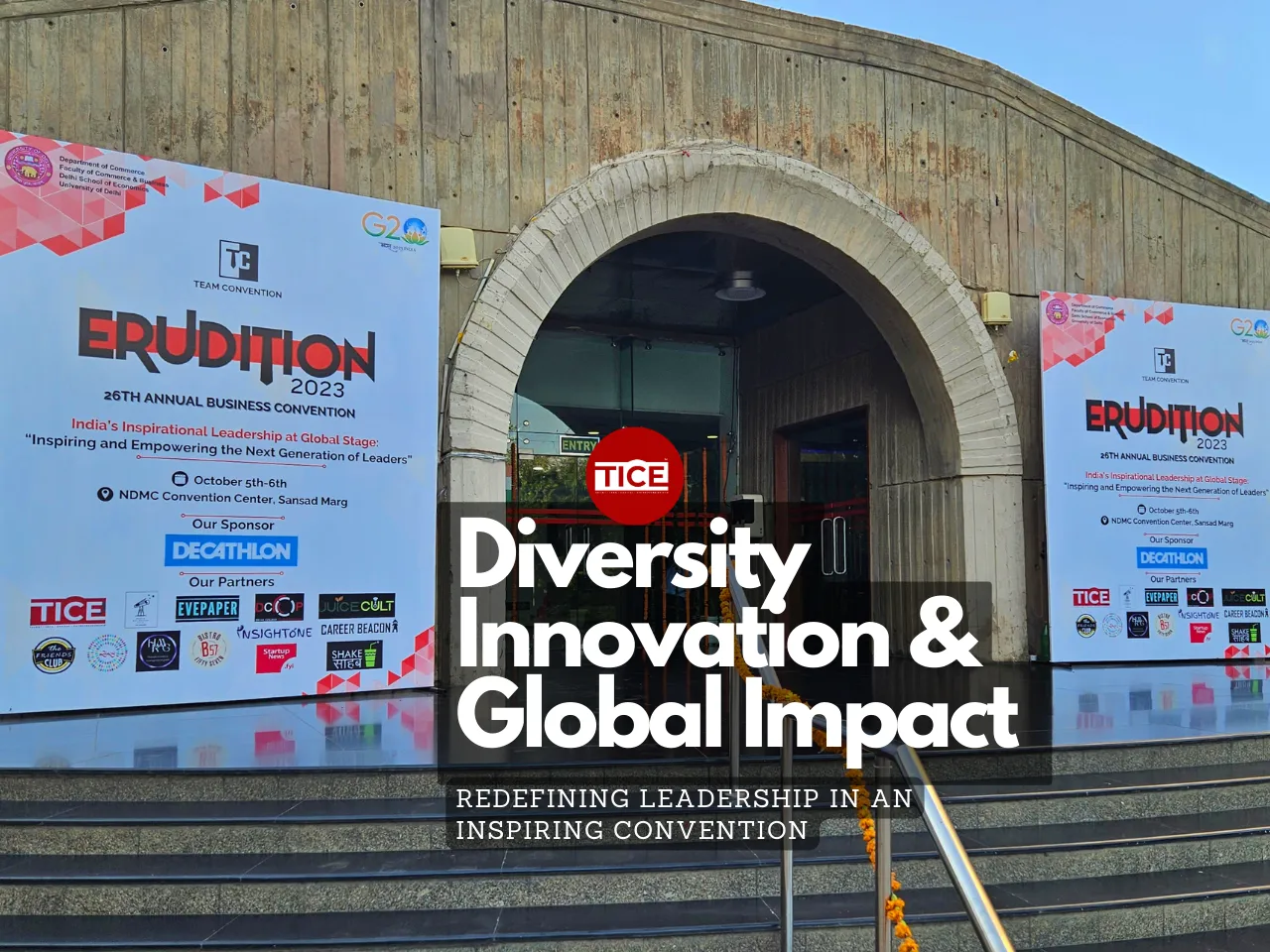 The first day of the 26th Annual Business Convention 'Erudition 2023,' themed 'India's Inspirational Leadership at Global Stage: Inspiring and Empowering the Next Generation of Leaders,' came to an exhilarating close in the heart of New Delhi today. Hosted by the Department of Commerce, Faculty of Commerce and Business at Delhi School of Economics, and  TICE as Media Partner, this prestigious event witnessed the convergence of eminent speakers and over 350 enthusiastic students, all united in celebrating India's remarkable leadership on the global stage. TICE News proudly stood as the media partner for the two-day event.
A Journey Through India's Leadership Evolution
In his captivating opening remarks, Chief Guest Mr. Ruhail Ranjan, Director Finance, BRICS Chamber of Commerce & Industry, set the tone for the convention by stating, "India's leadership journey is nothing short of extraordinary. India's evolutions offer invaluable opportunities with MBA Students. India was a macro global leader 300 years ago, because of adaptiveness, leadership qualities, inclusivity, and diversity. Its biggest strength was diversity."
Leadership and India's Thriving Startup Ecosystem
Mr. Ranjan further emphasized the symbiotic relationship between leadership and entrepreneurship, stating, "If you have good leadership, you will have a good ecosystem for startups. The startup ecosystem in India is growing, and it will continue to flourish in the coming years."
Legacy of Leadership: India's Enduring Impact
Guest of Honour at Erudition 2023, Mr. Sougat Chatterjee, Managing Director of Abhay Ventures, reflected on India's enduring leadership throughout history, saying, "India has been a leader for centuries. There are definitive examples in books like Ramayan and Mahabharat, which show that India has possessed leadership qualities since ancient times. These books also illustrate the spirit of entrepreneurship in India since then."

Highlighting India's influential role on the global stage, Mr. Chatterjee remarked, "India's G20 Presidency was dynamic, and even the President of Brazil acknowledged it. India's leadership is not a recent phenomenon; it has existed for centuries."
Unicorns, Diversity, and the Future
The keynote speaker, Colonel Hemraj Singh, Co-Founder of AyushPay, delved into the multifaceted aspects of what makes a nation great, saying, "There are various dimensions to what really makes a nation great - Innovation, Science & Technology, Innovation, Military, Political dynamics, National culture. At .2%, India is amongst the fastest growing economies of the world. Getting the global south into G20 has been one of the most important accomplishments of G20."

Colonel Singh, also the founder of the health tech startup AyushPay, shared insights into India's unicorn ecosystem, saying, "India had 108 unicorns in 2021, in 2022 we had 48 unicorns, in 2023 there was a dip but it was cyclical in nature due to a global slowdown, but it will grow."

Notably, Colonel Singh underscored the importance of gender diversity, stating, "The participation of women is remarkable and is growing, and to make the team diverse, women's participation needs to be increased everywhere, including in decision making."

Institutional Strength and Education
Mr. Bikas Singh, Vice President & India Head, Government Affairs at SAP, emphasized the significance of strong institutions, saying, "You must always remember that the stronger the institution is, we all benefit more from it." He later added, "Education is a manifestation that is already there in man. You just need to realize that."
A Call for Action: Leadership Beyond Titles
 

In a concluding note, Prof (Dr.) Urvashi Sharma, Programme Coordinator, MBA - HRD, expressed, "Gratitude is the attitude that increases the altitude. I extend the vote of thanks for gracing the event. A leader is not a position in any organization; it's an action. It is important to know what practical aspects we must look at when we are working."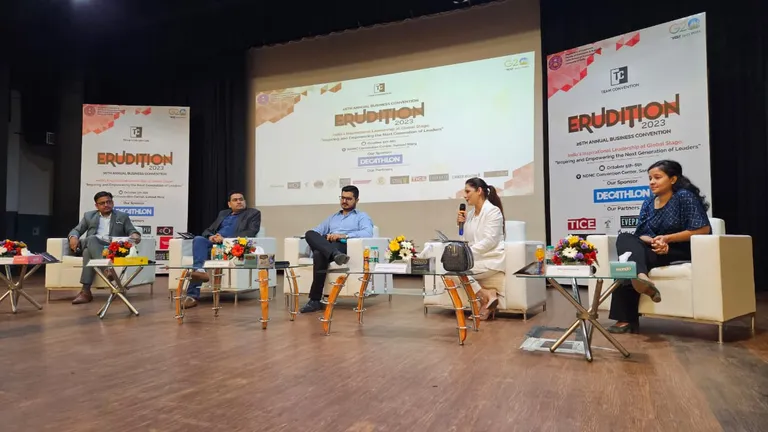 The convention featured two panel discussions on its first day. Panel 1 explored the "Aspirations of Yuva Bharat" and included distinguished participants and speakers such as Mr. Sanket Aggarwal, Mr. Shubhajit Bhattacharya, Nitesh Arya, Ms. Anamika Yaduvanshi, Ms. Neha Gupta, and Mr. Shashank Shekhar Sharma.
 

Nurturing the Spirit of Experimentation Mr. Nitesh Arya from Google advised, "20% of your time can be spent on experimenting. Have that bit of flexibility on your time for experimentation."
 

Balancing Health and Wealth: A Timeless Dilemma

 

Panel 1 also addressed the crucial question of Health versus Wealth, with Ms. Anamika emphasizing the need for a balance and wise investment in both health and wealth.

Ms. Neha from Deloitte advocated for better education and access to foreign universities, urging the government to be more liberal in allowing foreign universities to set up in India and collaborate with Indian universities.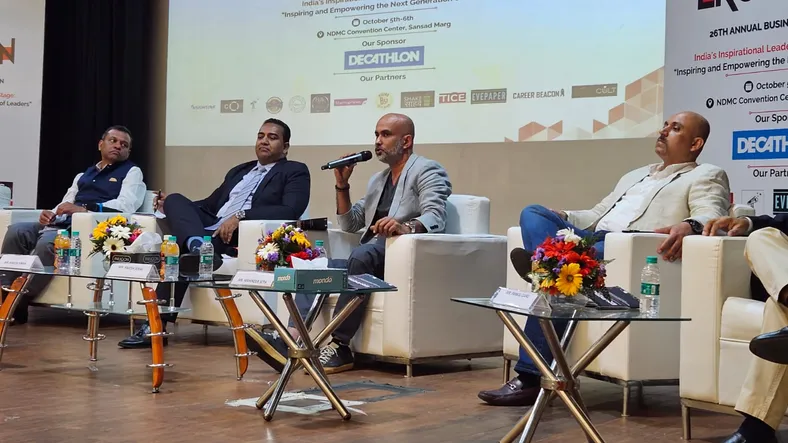 Leadership in the Algorithmic Age
The Panel 2, themed "Mentors in an Emerging Vishwaguru: Guiding Young India to leave a Mark on the World Stage," featured luminaries like Mr. Pankaj Garg, Mr Alok Varshney, Mr. Rakesh Sinha, Mr. Abhijit Das, Mr. Sameer Mathur, Mr Mahinder Seth, and Mr. Rajesh Joshi.
Leaders Adapting to the Digital Frontier
The discussions in Panel 2 revolved around the intersection of leadership and technology in an era of rapid digitalization, highlighting the importance of adaptable mindsets and data-driven decision-making for future leaders. Erudition 2023, with its insightful discussions and illustrious speakers, promises to inspire and empower the next generation of leaders, cementing India's position as an influential global leader in various domains.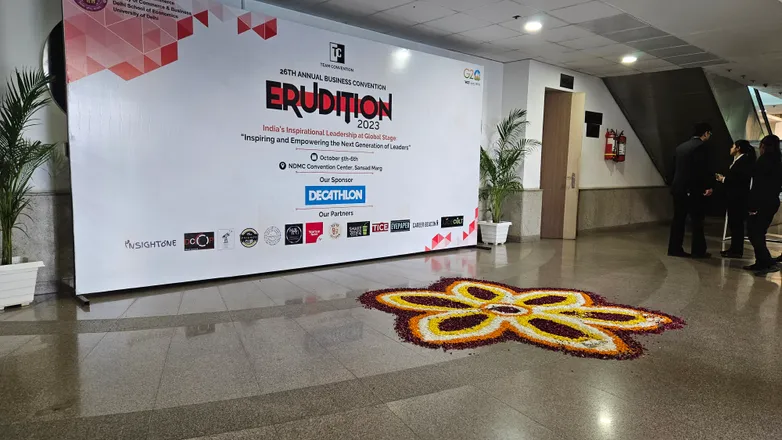 As the convention enters its second day, the anticipation remains high, and participants eagerly await more enriching discussions that will shape the future of leadership in India and beyond. Erudition 2023 is poised to leave a lasting mark on the world stage, echoing the sentiment that great leadership knows no boundaries.
Join Our Thriving Entrepreneurial Community

Follow TICE News on Social Media and create a strong community of Talent, Ideas, Capital, and Entrepreneurship. YouTube  | Linkedin | X (Twittrer) | Facebook | News Letters