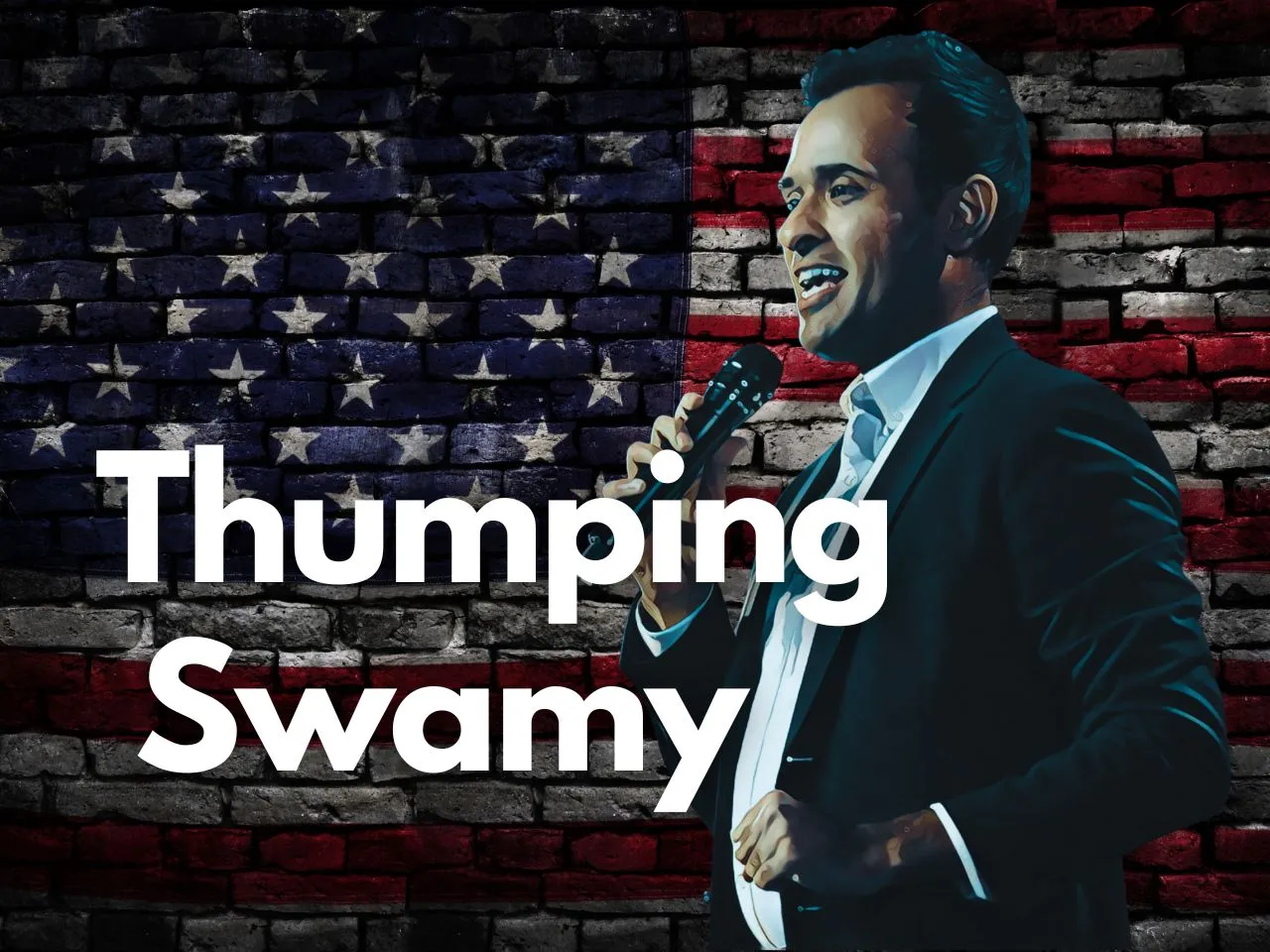 Vivek Ramaswamy: a name that can be heard everywhere in recent times. From India to the US, and across global forums, this name is consistently making headlines. Interestingly, he recently announced his candidacy for the 2024 GOP presidential nomination on February 21st. Yes, you heard it right, Vivek Ramaswamy – a guy with an Indian name – has declared his candidacy for the US General Election. Now, a common question arises in everyone's mind: Who is Vivek Ramaswamy?
Some say he is an entrepreneur, while others label him as an author. Ramaswamy even refers to himself as the "Trump of 2015." With all these intriguing facets to his identity, he emerges as an interesting figure. But who is he exactly?
Let's find out together!
Who Is Vivek Ramaswamy?
Vivek Ramaswamy was born on August 9, 1985, in Cincinnati, Ohio, to parents who had immigrated to the US from Kerala, India. He is an American businessman and a political candidate. He founded Roivant Sciences, a pharmaceutical company, in 2014. In February 2023, Ramaswamy declared his candidacy for the Republican Party nomination in the 2024 United States presidential election.
Ramaswamy started his campaign claiming that the United States is in the middle of a national identity crisis precipitated by what he called "new secular religions like COVID-ism, climate-ism, and gender ideology". He is also a critic of environmental, social, and corporate governance initiatives. In August 2023, Forbes estimated Ramaswamy's net worth at more than $950 million; his wealth comes from biotech and financial businesses.
After making millions in pharmaceuticals and biotech, he also wrote a book in 2021 titled Woke, Inc, which put him on the map of right-wing politics. In the book, he raged against the push for sustainable and equitable business policies, known as environmental, social and corporate governance, or ESG. From there, the Ohio-born and -raised Ramaswamy began appearing on right-wing media, including Fox News, where he would admonish liberals' focus on identity politics. His rhetoric also seized on conservatives' anger against university affirmative action policies, in which race is a factor in admissions, that the Supreme Court banned in June.
Vivek Ramaswamy's Entrepreneurial Journey
Vivek Ramaswamy's trajectory in the business world has been marked by diversity and impact. From fostering entrepreneurial aspirations among students to orchestrating biotech transformations and reimagining investment paradigms, Ramaswamy's journey exemplifies his prowess as a multifaceted entrepreneur.
In 2007, he co-founded Campus Venture Network, aiming to connect university students with entrepreneurial aspirations. This early endeavor highlighted his commitment to fostering innovation.
Transitioning to the financial realm, Ramaswamy thrived at QVT Financial from 2007 to 2014, co-managing the firm's biotech portfolio. His pivot to biotechnology came with the creation of Roivant Sciences in 2014. Through this company, he pioneered an innovative strategy of acquiring patents for underdeveloped drugs and successfully bringing them to market. His venture into Strive Asset Management in 2022 further cemented his entrepreneurial spirit, setting a unique "anti-woke" and "anti-ESG" tone in the investment landscape. Ramaswamy's journey remains a compelling narrative of adaptability and impact.
Vivek Ramaswamy Net Worth
From Entrepreneurship To US Presidential Race
An Unconventional Path to Politics
Vivek Ramaswamy, a recognized entrepreneur and author, has taken an unexpected turn by entering the Republican presidential race. This move was marked by a significant appearance on Tucker Carlson's Fox News show and an attention-grabbing video that centered on his opposition to social justice activism.
A Background of Success
With a background as a former biotechnology executive and a partner in hedge funds, Ramaswamy has built a notable profile. He made his mark in right-wing circles by challenging corporate initiatives aimed at promoting political, social, and environmental causes. In particular, he has expressed strong reservations about Environmental, Social, and Governance (E.S.G.) investing, which factors in the broader societal impact of investment decisions.
Ramaswamy is 2015's Trump
"I'm more similar to Trump in 2015 than Trump today is to Trump in 2015," Ramaswamy said of the former president in an interview this month with British actor and podcast host Russell Brand.
To this Russell replied, jokingly: "Trumper than Trump, trumping Trump on Trumpness."
Challenging Cultural Victimhood
Ramaswamy's campaign pivots around the notion that conservatives are facing cultural victimization. He points to an increasing focus on the effects of racism and other forms of prejudice as the underlying cause. His succinct announcement video, lasting three and a half minutes, boldly asserts that the nation is experiencing a crisis of identity. He contends that values like faith, patriotism, and hard work have given way to "Covidism," "climatism," and "gender ideology."
Ideologies as Religions
Ramaswamy's use of the term "religions" is strategic. He seeks to characterize diversity, equity, and inclusion initiatives, as well as efforts addressing racism and gender acceptance, as quasi-religious doctrines. This, he argues, would prohibit companies from imposing compliance with these ideologies on their employees.
Vivek Ramaswamy's Key Priorities
In a New York Times interview, Ramaswamy outlines his immediate priorities upon attaining the presidency. He aims to repeal Executive Order 11246, which mandates affirmative action and bans discrimination by federal contractors since 1965.
Unpacking His Terminology
Ramaswamy's discourse involves interpreting terms like "Covidism," "climatism," and "gender ideology." He frames "Covidism" as a once-prevailing, all-encompassing approach to the pandemic, which he acknowledges has shifted. Similarly, he views "climatism" as an unwavering pursuit of curbing climate change, advocating for innovative energy sources. Ramaswamy clarifies his view on "gender ideology," distancing himself from his previous mischaracterization.
Advocating for Political Expression
A distinctive aspect of Ramaswamy's platform is his call for "making political expression a civil right." He proposes that private companies should be legally prohibited from discriminating based on political affiliations.
"Anti-Woke" Stance and Distinct Vision
Ramaswamy's "anti-woke" perspective, encapsulated in his book "Woke, Inc.," aligns with prevalent Republican narratives. This narrative often scrutinizes measures such as mask mandates and transgender individuals' rights while also highlighting concerns of perceived conservative suppression on social media platforms.
Forging a Unique Path
What sets Ramaswamy apart, he argues, is his distinct vision of national identity, which he believes trumps other agendas. As his journey from entrepreneurship takes an unforeseen turn toward the US Presidential Race, its impact on the broader political landscape remains a compelling question.
Vivek Ramaswamy: Early Life & Education
As mentioned, Ramaswamy was born on August 9, 1985, in Cincinnati, Ohio, to Indian Hindu immigrant parents. His family belongs to Tamil-speaking Brahmins from Kerala. His father, V. Ganapathy Ramaswamy, worked as an engineer and patent attorney for General Electric after graduating from the National Institute of Technology Calicut. His mother, Geetha Ramaswamy, graduated from the Mysore Medical College & Research Institute and worked as a geriatric psychiatrist. Their journey to the United States started from the Palakkad district in Kerala, where their ancestral home nestled in the traditional town of Vadakkencherry.
During his schooling years, Ramaswamy attended public schools up to the eighth grade. Subsequently, he enrolled in Cincinnati's St. Xavier High School, a Catholic institution with a Jesuit affiliation, from which he graduated in 2003. His accomplishments during high school included being class valedictorian, excelling as a junior tennis player on the national stage, being recognized as a Coca-Cola Scholar, and earning distinction as a Byrd Honors Scholar.
In 2007, Ramaswamy earned a Bachelor of Arts degree, summa cum laude, in biology from Harvard University. He was also inducted into the Phi Beta Kappa society. During his time at Harvard, he became known for his outspoken libertarian views. He actively participated in the Harvard Political Union and eventually became its president. Ramaswamy identified himself as a contrarian who relished debates. Notably, he pursued a musical interest, performing Eminem covers and creating libertarian-themed rap music under the stage name and alter ego "Da Vek." Additionally, he gained experience as an intern at the hedge fund Amaranth Advisors and the investment bank Goldman Sachs.