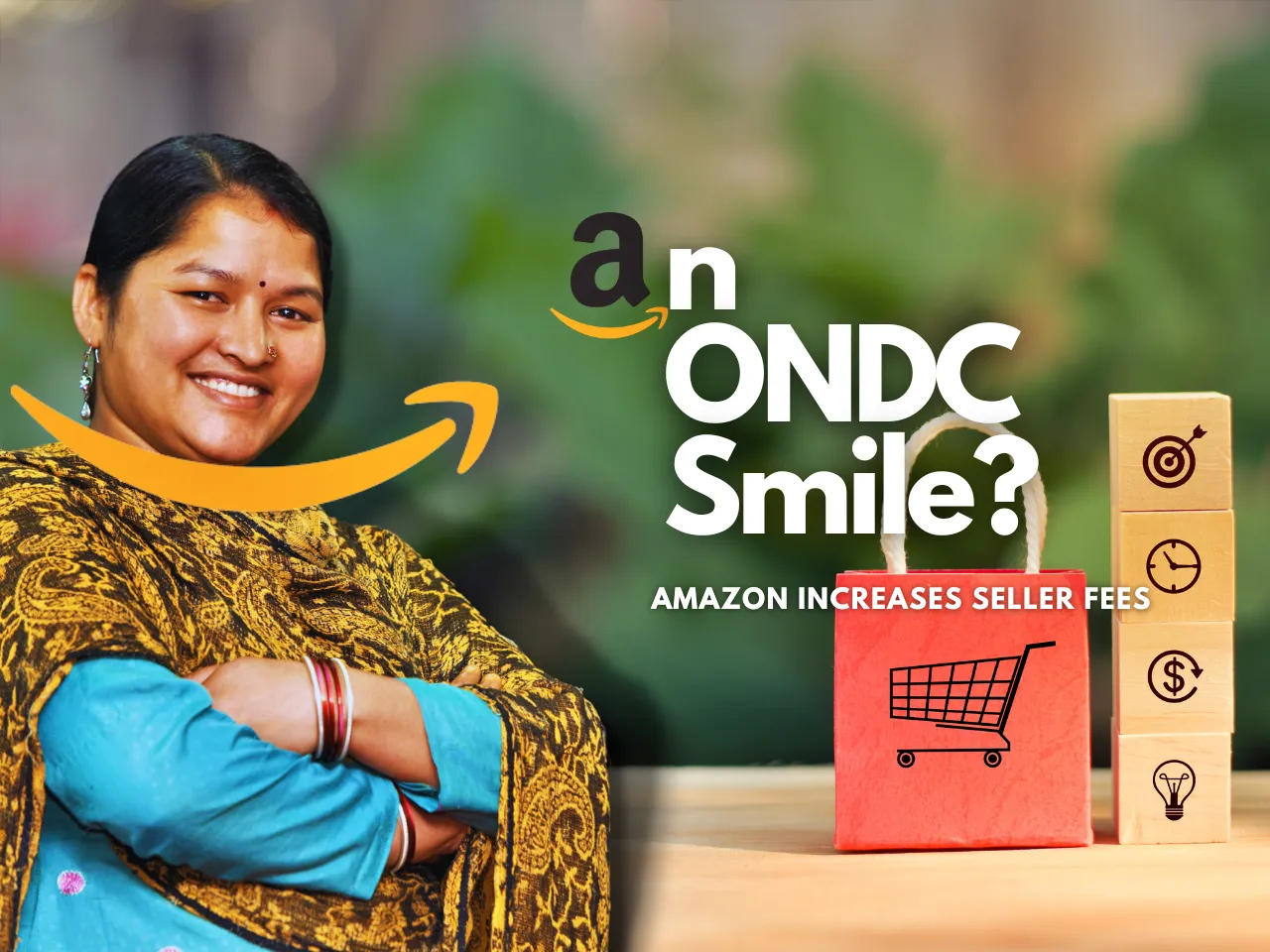 A move which could be a setback for the startups and small companies selling through e-commerce channels, the Indian arm of e-commerce giant Amazon has announced an increase in seller commissions across various significant categories. The company has introduced a revised seller commission policy, which is set to come into effect on May 31, 2023.
Can ONDC's Competitive Pricing Give It an Edge Over Amazon?
In the midst of Amazon India's announcement regarding increased seller commissions, the government-owned e-commerce platform, Open Network for Digital Commerce (ONDC), is making waves in India. ONDC is anyway on a mission to revolutionize the digital commerce landscape by bringing together manufacturers, retailers, logistics providers, and consumers on a single platform, prioritizing transparency, efficiency, and ease of doing business. 
As this rising star enters the battleground against established giants like Swiggy, Amazon, and Zomato, one of its key advantages lies in its ability to offer affordable prices to customers.
Unlike other platforms which often charge sellers hefty commissions, ONDC cuts out the middleman and eliminates excessive fees. This unique approach allows customers to enjoy products and services at more pocket-friendly prices, putting the power back into their hands. 
While increased seller commissions may create concerns for Amazon, the competition between ONDC and Amazon is set to intensify in the coming years. 
What is the Restructured Commission Tiers and how will it Impact the Sellers?
As part of the new policy, Amazon has restructured how it charges sellers commissions in certain categories and reduced commissions in some subcategories. However, the restructured tiers may result in sellers paying higher commissions overall.
Amazon's revenue is generated by charging sellers a percentage of the final sale price, including shipping charges, as commissions. The company regularly adjusts these charges based on market rates, with an additional 18% Goods and Services Tax (GST) separately applied. With the fee hike, consumers can anticipate increased prices on items available on the Amazon India platform, as sellers will adjust their prices to compensate for the higher commissions.

What are the Changes in Commission Rates and Categories?
According to the seller page on Amazon's website, the platform fees for over-the-counter medicines have seen the highest increase. Commissions for these items have risen from 5.5% of the item price to 12% for items priced below Rs 500, and 15% for items priced above Rs 500. Grooming and personal care appliances will be charged 9% for items priced above Rs 1,000, while sleepwear apparel will now be charged 15%, up from 13% earlier, for items priced above Rs 500. Additionally, all categories under apparel, including innerwear, accessories, and ethnic wear, have witnessed revisions.
On the other hand, commissions for apparel and appliances categories have slightly decreased for items priced below Rs 500. However, sellers have indicated that the reduction is marginal and will not significantly impact their businesses.
What are the Changes in Refund Costs and New Seller Tiers?
Amazon India has also raised the cost of refunds borne by sellers. Under the new fee structure, sellers are categorized into four tiers—basic, standard, advanced, and premium—based on the number of orders fulfilled, customer feedback, reviews, and returns. Previously, there was only one category for sellers.
What are the Increased Long-Term Storage Costs?
In addition to the changes in commissions and fees, Amazon India has increased the cost of long-term storage for items kept in Amazon-owned warehouses for more than 365 days. The cost has risen from Rs 30 per unit (850 cu.ft.) to Rs 40 per unit (1,105 cu.ft.).
Addressing sellers, Amazon stated on its website, "We value your feedback and strive to raise the bar of your selling experience, as well as the customer's experience on Amazon.in. We have made a few key changes to our fee structure. Please note, these changes will be effective from May 31, 2023, and they reflect our commitment to make Amazon.in one of the most preferred marketplaces for selling in India."
The implementation of the revised seller commission policy and the new fee structure aims to balance Amazon's operational costs while providing sellers with an enhanced selling experience. The changes reflect the dynamic nature of the e-commerce industry and the company's dedication to remaining competitive in the Indian market.
image widget