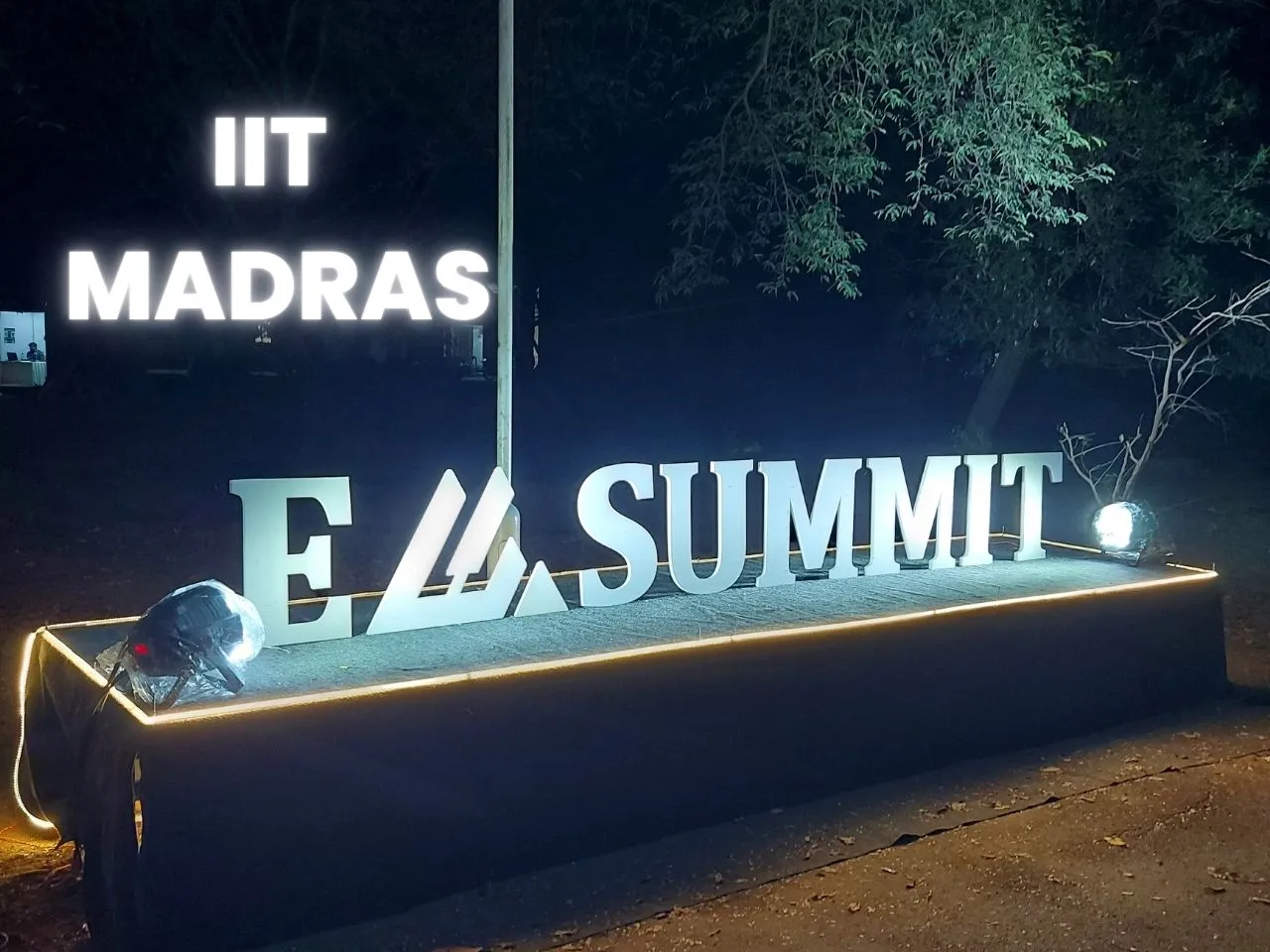 Indian Institute of Technology Madras Entrepreneurship Cell will host the eighth edition of its annual 'Entrepreneurship Summit' to promote innovation and entrepreneurship from 7th to 9th April 2023. After two years of holding the online summit, E-Summit 2023 will be happening in physical mode at the IIT Madras campus.
The E-Summit 2023 is the first-ever student-run entrepreneurial festival in India to have received all ISO, G20, and UNESCO Certifications. This Summit will cater to over 800 start-ups in various sectors with participation from over 400 colleges across India. 
IIT Madras Entrepreneurship Summit 2023
The event will feature over 35 investors, 40 highly notable speakers, and more than 50 events spread across four conclaves – Youth Conclave, Innovators' Conclave, Start-up Conclave, and Sustainability Conclave. 
Highlighting the importance of such student events, Prof. V. Kamakoti, Director, IIT Madras, said, "Innovation and entrepreneurship are very important for our Country in the journey through the Amrit Kal. In this direction, the E-summit provides a platform for exchange of ideas and sharing of best practices that would lead to successful start-ups."
WestBridge Capital, an Investment firm based in San Mateo, U.S., and Bengaluru, India, 1990 Alumni Batch of IIT Madras and DBS Bank, a leading financial services group in Asia providing a full range of services in consumer, SME, and corporate banking are also supporting E-Summit 2023. E-Summit 2023 is further supported by Zolvit, India's largest Legal, Compliance, and Tax services platform.
Speaking about this year's E-Summit, Prof. Nilesh J. Vasa, Dean (Students), IIT Madras, said, "Innovation and creative ideas are the basis of any new start-ups. E-Summit 2023 will provide an opportunity to exchange ideas among young minds towards product design and development."
Around 640 start-ups are participating in the 'Innovators Conclave' with another 400 participating in the 'Start-up Conclave.' The Youth Conclave has recorded around 2,900 registrations. In addition, the Sustainability Conclave has received over 600 ecological and entrepreneurial ideas toward sustainability.
Highlighting the unique aspects of E-Summit 2023, Prof. Ashwin Mahalingam, Faculty Advisor, E-Cell, IIT Madras, said, "India's entrepreneurship story is now gathering steam. It is no longer about learning but sharing, debating, and discussing entrepreneurial strategies. This is exactly what this year's E-summit is, with its assemblage of change-makers, aims to do."
E-Summit 2023 will also witness the inauguration of the seventh edition of the annual Entrepreneurship Insider, the Entrepreneurship Magazine of IIT Madras, featuring the ebbs and lows of entrepreneurs who took the world by storm along with the latest news in the Startup Ecosystem. The inauguration will kick-start on 7th April in the ICSR building at IIT Madras.
Highlighting the newer additions introduced this year, Nishant Gudipaty, Students' Head, E-Cell, IIT Madras, said, "In this edition of E-Summit, we have curated special events, masterclasses, and workshops for all baskets of the audience, including school students and rural entrepreneurs, along with our primary audience, to instil the spirit of entrepreneurship in everyone"
Adding on to these points, Bhagyesh Shisode, Co-Head, E-Cell, IIT Madras, said, "With an offline E-Summit, Networking and connecting with other like-minded participants has become very efficient, which will further lead to the birth of many innovations and  disruptions in the ecosystem."
E-Summit 2023 also brings forth the sixth edition of the prestigious pan-India fund-raising competition, 'Elevate,' featuring 300 startups from various domains. Elevate brings together eminent startups and Venture Capital Firms from across the nation, like Tital Capital and Special Invest, with a combined ticket size of 25 Cr. 
This year also marked the eighth edition of our Startup Accelerator Program, Bootcamp, which comprised 5 tracks - Fintech, Web3.0, Energy & Environment, AgriTech, and Sector Agnostic, featuring around 500 early-stage startups from across India. Conglomerates like ITC and SIDBI have supported the program, along with national incubators like the Wadhwani foundation, NSRCEL, and Deshpande Startups.
E-Summit is characterised by its line-up of flagship Inspirit lectures where industry leaders from across sectors give talks highlighting their personal travails in grappling with the central theme of the summit. This year's line-up will include:
Mr. Abhay Singhal, Founder of Inmobi Group
Mr. Pratham Mittal, Co-Founder of Masters Union
Mr. Gaurav B., CTO of Udaan
Mr. Vikram Gupta, Founder IvyCap Ventures
Mr. Harsh Singh, Co-Founder of Pristyn Care 
Mr. Sameer B., Managing Director of Nexus Ventures
Mr. Arjun Vaidyam CEO of Dr. Vaidya 's
Mrs. Shruti Seth, Actor and Host in several Bollywood movies
Mr. Viraj Sheth, CEO & Co-Founder of Monk Entertainment 
 Further details about E-Summit are available on the website: https://esummitiitm.org/   
Updates about E-Summit 2023 will also be posted on the social media channels – Instagram / Twitter / Facebook / LinkedIn / YouTube