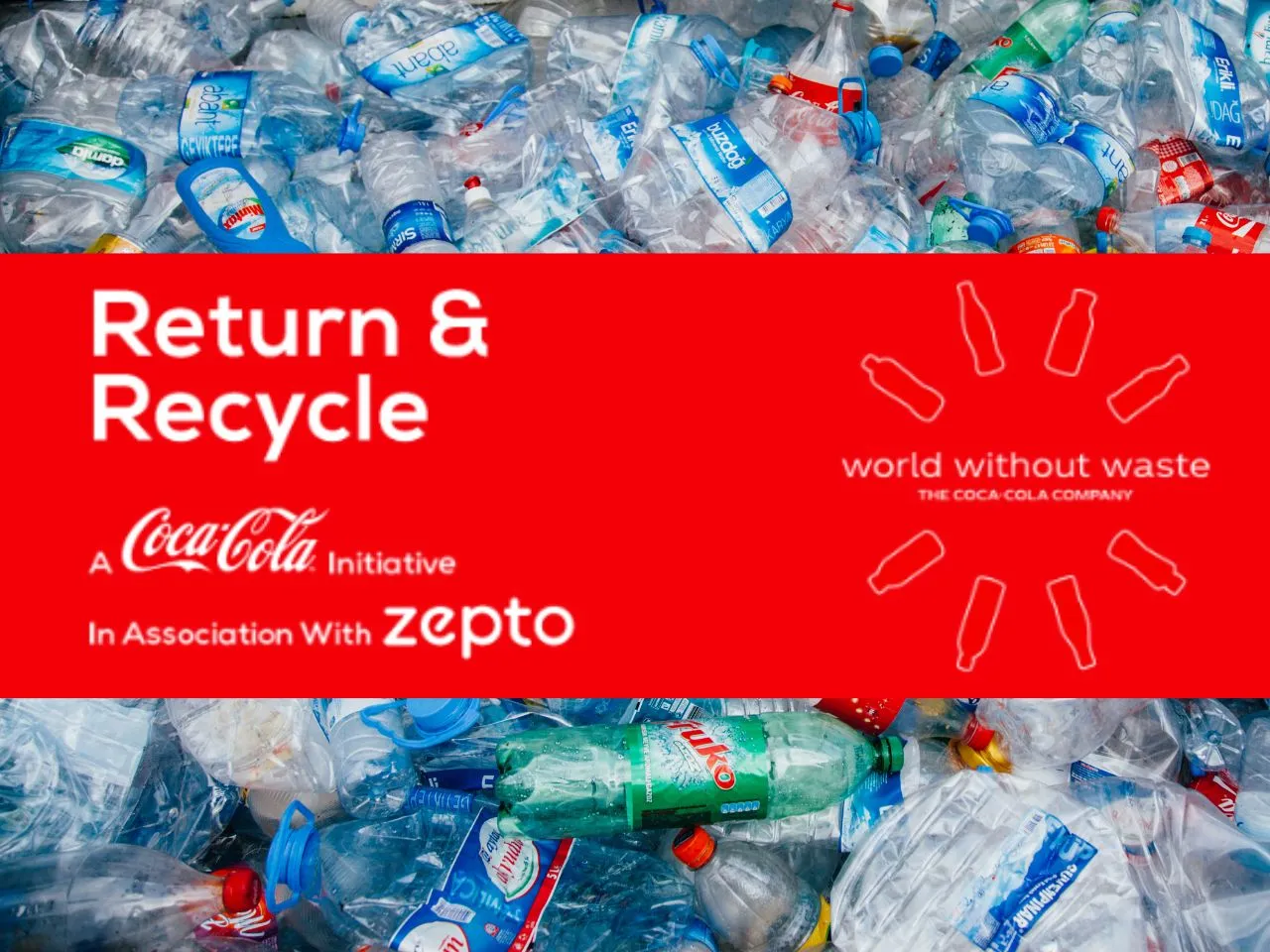 Coca-Cola India and Zepto have announced the expansion of their groundbreaking collaboration in India, aiming to strengthen their commitment to plastic circularity. The partnership's flagship initiative, 'Return and Recycle,' was initially launched as a pilot project in select locations of Mumbai in November 2022. 
The program introduced an organized process for collecting PET bottles with 100% traceability, ensuring efficient plastic waste management. The pilot received an overwhelming response from consumers, with over 100 kilograms of PET bottles collected and recycled within a 60-day period.
Driving Digitization of Collection Strategy through E-commerce Platforms
In a significant move toward digitization, Zepto and Coca-Cola are leveraging e-commerce platforms to drive the digitization of their collection strategy. This transition not only enhances the efficiency of the process but also raises consumer awareness about sustainable collection models, making them vital stakeholders in the journey toward sustainability.
Expanding Collection Bins across Major Cities
Building upon the pilot's success, the green partnership between Coca-cola and Zepto will now be scaled up with the deployment of collection bins across hundreds of Zepto delivery hubs in key cities including Delhi NCR, Mumbai, Bangalore, Hyderabad, Chennai, Pune, and Kolkata. This expansion will ensure a wider reach for collecting PET bottles and facilitate their effective recycling.
Abhishek Gupta, Chief Customer Officer at Coca-Cola India and Southwest Asia, expressed his delight about the initiative's expansion, emphasizing the strong synergies between Coca-Cola and Zepto in sustainability and social responsibility. He stated, "We are thrilled to extend our partnership to other cities, continuing our efforts towards plastic circularity. With the 'return and recycle' initiative across India, we are furthering the company's global goal of creating a world without waste."
Building a Circular Economy and Encouraging Recycling
Coca-Cola India's collaboration with Zepto aims to establish a circular economy for plastic by connecting all participants in the PET recycling value chain. Leveraging Zepto's two-wheeler distribution network, this self-sustainable initiative focuses on collecting empty PET bottles of any brand from consumers, which are then sent to recyclers as raw materials. The initiative aligns with the Government of India's Swachh Bharat Mission, which promotes recycling as a core principle. Moreover, it seeks to raise consumer awareness about the importance of recycling PET and its positive impact on the environment.
Vinay Dhanani, Chief Operations Officer at Zepto, expressed his enthusiasm for the collaboration, seeing it as an opportunity to showcase the potential of new-age e-commerce beyond business. He highlighted Zepto's commitment to embedding sustainable practices in all areas of its operations, including route optimization, EV and bicycle-led deliveries, sustainable packaging, and waste reduction. Dhanani emphasized the company's dedication to minimizing its environmental footprint and sharing its vision with brands and the Government of India.
Zepto & Coca-Cola Partnership To Fosters Sustainable Behavior
Coca-Cola India and Zepto's 'Return and Recycle' initiative not only aims to promote sustainable behavior but also to reduce the environmental impact of plastic waste through shared purpose. This collaborative program serves as a testament to the power of joint brand partnerships in fostering a culture of sustainability and responsible consumption.
By expanding their successful collaboration and scaling up the 'Return and Recycle' initiative across major Indian cities, Coca-Cola India and Zepto are taking a significant step toward revolutionizing PET bottle recycling in India and creating a greener future for all.
Disclaimer: This content is generated based on a press release shared by the company/organisation.