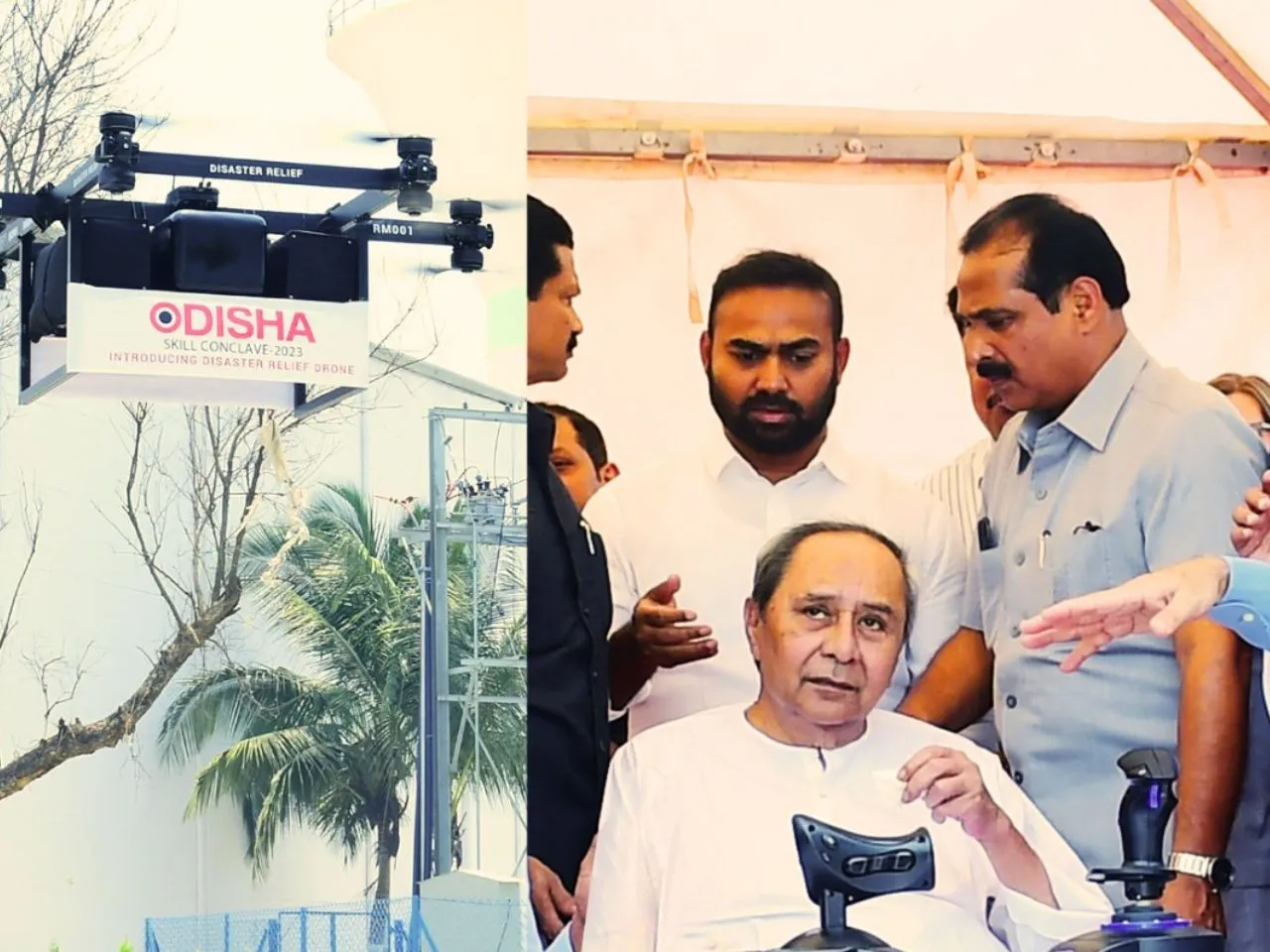 From Skies to Rescue: Odisha CM Launches BonV for Disaster Management, Emergency Evacuation, and Relief Operations
Odisha Chief Minister Naveen Patnaik launched India's first heavy-lift logisticseVTOL (electric Vertical Take-Off and Landing), BonV, at Kalinga Stadium today. The inaugural ceremony took place on the opening day of Odisha Skill Conclave, witnessed by a large gathering of dignitaries, industry experts, and locals. 
At present, the BonV drone has the capability to transport up to 50 kg over 10 km and will play a vital role in disaster management, emergency evacuation, flood relief, firefighting, and medical supply delivery to remote areas. 
CM Naveen Patnaik who launched the first flight of the eVTOL (Electric Vertical Take off Landing Vehicle) expressed his excitement and said,
"I am delighted to launch India's first heavy-lift logistics drone today. This drone will revolutionize the way we respond to emergencies and deliver critical supplies to people in need, especially in hard-to-reach areas or hilly Terrains with altitudes up to 14000 FT."
The event was organized by Odisha Government under the leadership of Hon'ble Chief Minister Naveen Patnaik, Odisha Skill Conclave 2023 seeks to establish Odisha as a global Skill Hub. This three-day event will bring together leaders from Industry, Academia, and International Organizations, as well as Skill Ambassadors and Partner Country Representatives. 
Speaking on the occasion, the CEO of the eVTOL technology company Satyabrata Satapathy, said,
"We are proud to be associated with the launch of BonV and are committed to supporting the government in its efforts to provide innovative solutions to the people of Odisha." 
The startup completed the successful test of their Electric Aerial Vehicle, known as "RM001", which was able to carry a 50-kilogram cargo at an altitude of 8000-10,000 feet in the Tawang area of the Eastern Command of the Indian Army's forward post in Arunachal Pradesh. The company plans to conduct further trials at higher altitudes of 14,000-16,000 feet. In the next phase of development, the startup intends to focus on creating its flagship platform, the "RM002", which has the capacity to transport 200 kilograms of cargo over a distance of 40 kilometers.
Overall, the launch of BonV marks a significant milestone in India's drone industry and sets an example for other states to follow. 
What is BonV? 
BON-V is Bon Voyage, a French word it's called upon a happy landing. BON-V is enabling carbon-free smart aerial mobility bringing new dimensions to speed safety and sustainability in goods & people transportation. BonV is a technological company pioneering autonomous electric air mobility and we bring you an Electric Vertical Takeoff Landing (E-
VTOL) vehicle and its ecosystem. Come and feel like a bird with the power of wings to fly!
The problem in cargo transportation that BonV is solving?
We all want our cargo to be shipped faster in an economical & sustainable way. But with the current road infrastructure where congestion and carbon-emitting vehicles cause the degradation of the environment resulting in high cost & inefficiency. Further on demand on time transportation is far fetched. The world annually loose $ 300BN due to congestion &
23% of greenhouse gas emissions contribute by vehicular traffic only.
BON-V RM001 is an Electric Vertical Take-off and Landing (eVTOL) vehicle meant for sustainable aerial cargo transportation of 200 KGs up to 100 KM on demand & on time. This electric aircraft is capable of cruising at an average speed of 120 KMPH & comes with state of art intelligence & autonomous flying capabilities. This makes cargo transportation carbon free & economic to distant/hilly / terrains, island transportation or in case of maritime & offshore logistics.