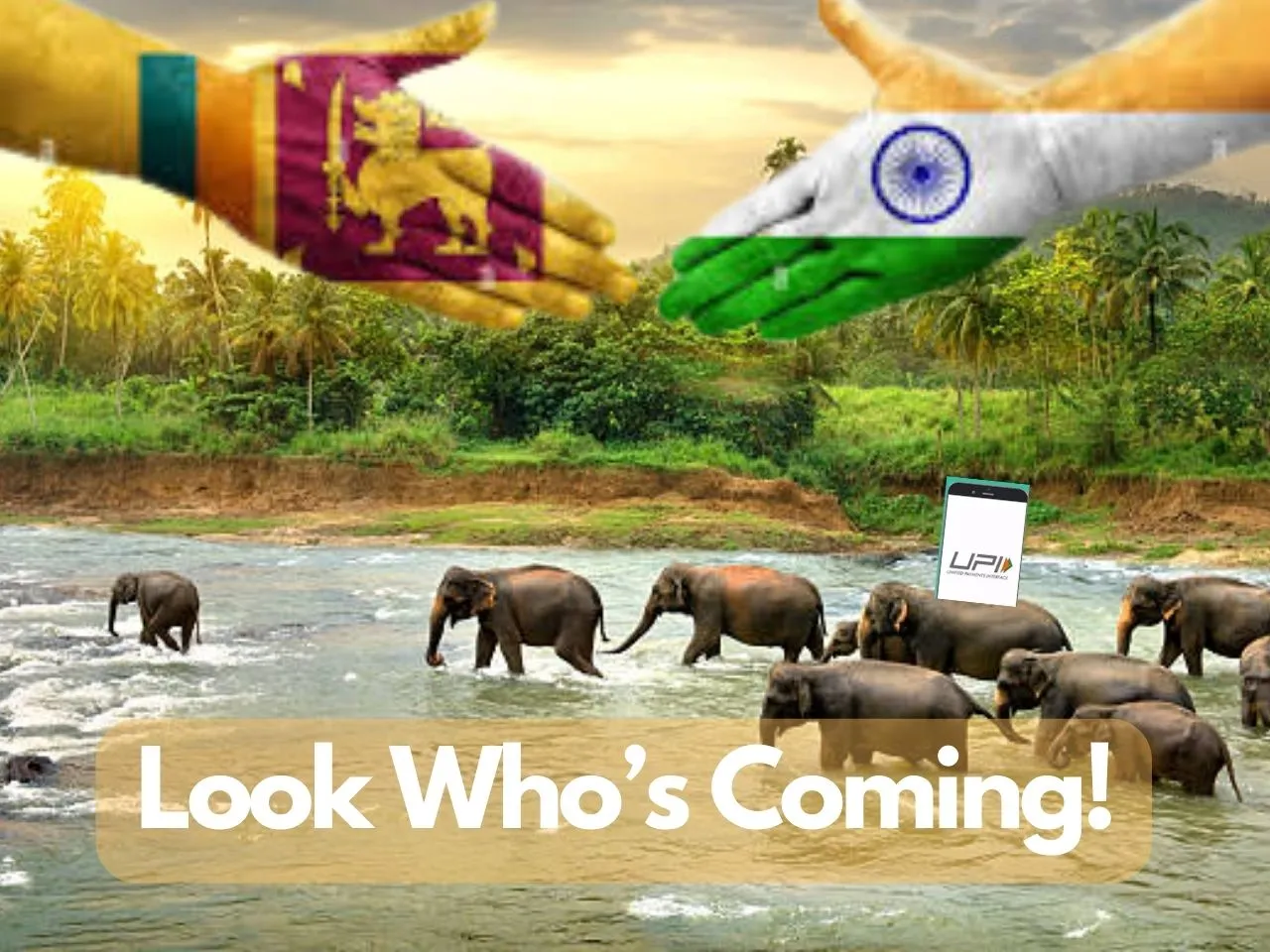 India's UPI is all set to make its debut in Sri Lanka soon. Finance Minister Nirmala Sitharaman announced a significant milestone in the economic and technological partnership between India and Sri Lanka during her visit to the island nation. She revealed that negotiations for the Economic and Technology Cooperation Agreement were progressing positively, and one of the key highlights of this collaboration would be the introduction of India's Unified Payments Interface (UPI) in Sri Lanka.
UPI: India's Zero to Digital Hero
This move marks a substantial step towards strengthening the bond between the two nations, with connectivity taking centre stage in their relationship. Sitharaman emphasized that enhanced connectivity between India and Sri Lanka would build bridges of experience and opportunity for their peoples, offering a future characterized by shared prosperity and the resolution of past challenges.
It was disclosed that India had already provided over USD 4 billion in financial assistance to Sri Lanka. Additionally, India's role as the first bilateral creditor to pledge financing assurance to the International Monetary Fund (IMF) laid the foundation for other countries to extend similar support, ultimately formalizing the IMF program for Sri Lanka.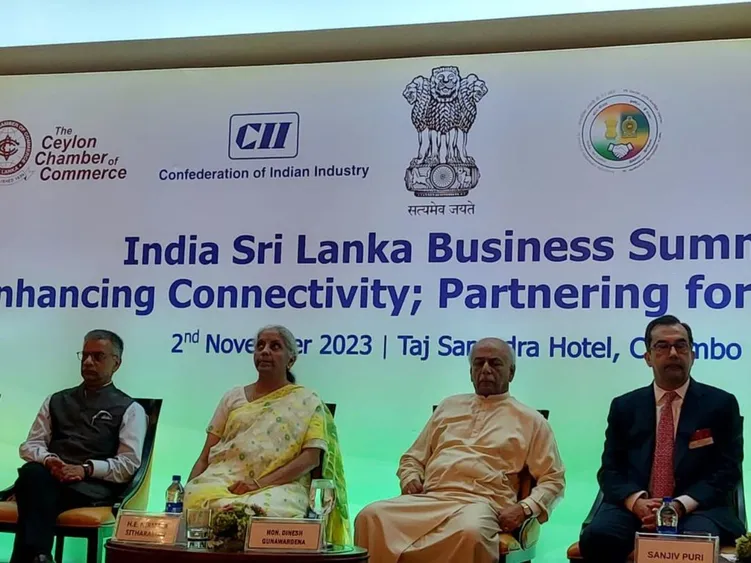 Speaking at an event to commemorate the 200th anniversary of the arrival of Indian-origin Tamils in Sri Lanka, Sitharaman said, "As we enhance connectivity between our two countries, we build enduring bridges of experiences and opportunities for our peoples. We weave a future with shared prosperity, overcoming the challenges of the past," said the minister, who is on a visit to Sri Lanka…. As a true friend, she said, India continues to work closely with Sri Lanka on its path to economic recovery. India rendered financial assistance of over USD 4 billion for Sri Lanka. We were the first bilateral creditor to convey financing assurance to the IMF, which paved the way for others to provide similar assurances that formalised the IMF programme for Sri Lanka." 
Watch: Smt @nsitharaman's full address at the India-Sri Lanka Business Summit jointly organised by @FollowCII, @ficci_india & @CeylonChamber in Colombo.@PIB_India @FinMinIndia @MIB_India @IndiainSLhttps://t.co/ubC3xrn8xu
— Nirmala Sitharaman Office (@nsitharamanoffc) November 2, 2023
UPI Expands Its Footprint Across the Globe
The expansion of UPI beyond Indian borders has not been limited to Sri Lanka. The journey of UPI has transcended national boundaries, taking its innovative digital payment system to various countries. This internationalization of UPI has significantly enhanced India's position on the global stage.
In October last year, Prime Minister Narendra Modi, during a ceremony to inaugurate ferry services between India and Sri Lanka, revealed plans to integrate UPI with Lanka Pay. This marked a significant step in fostering fintech connectivity between the two countries. The agreement to adopt UPI was originally signed during Sri Lanka President Ranil Wickremesinghe's visit to India.
Moreover, the international arm of the National Payments Corporation of India (NPCI) recently collaborated with Al Etihad Payments (AEP), a subsidiary of the Central Bank of the UAE, to advance the development of the UAE's Domestic Card Scheme. NPCI International Payments Ltd (NIPL) played a pivotal role in this initiative, offering support in fraud monitoring and data analysis.
In addition, UPI has also made inroads into countries such as France and Singapore, allowing users in these nations to make cross-border transactions. The success of UPI in expanding its reach has turned India into a digital payments' superpower.
UPI's Role in India's Ascension to a Digital Payments Superpower
India's remarkable journey from a cash-centric economy to a digital payments superpower is a narrative worthy of acclaim. Just as the country gifted the concept of zero to the world, it is now pioneering another historic masterpiece with the Unified Payments Interface (UPI).
The advent of UPI in 2016 heralded a transformation in India's financial landscape, making it a global leader in real-time payments infrastructure. With its attributes of being free, safe, swift, seamless, flexible, and convenient, UPI has risen to prominence in the digital payments ecosystem.
·

      
Key UPI Facts and Figures
·

      

The average UPI transaction amount is Rs 1,849.

·

      

A staggering 2,348 UPI transactions occur every second as of 2022.

·

      

UPI is supported by 360 banks and processes a monthly volume of 6.7 billion transactions, with a total value exceeding Rs 11.16 trillion as of September 2022.

·

      

In the fiscal year 2023, UPI facilitated transactions worth $1.7 trillion, with merchant payments accounting for $380 billion.

·

      

May 2023 witnessed a milestone with a record 9 billion transactions valued at Rs 14 lakh crore.

·

      

Monthly UPI transactions soared by over 58% year-on-year in May 2023, setting new records in both volume and value.
Cross Border Payments With UPI
One of the most remarkable aspects of UPI's success is its expanding international footprint. Countries across the world have embraced this digital marvel, resulting in a surge in cross-border transactions. This has greatly benefited Indian travelers abroad, who can now seamlessly manage their payments.
Countries like France, Bhutan, Nepal, Oman, the UAE, Vietnam, Singapore, Cambodia, Hong Kong, Taiwan, the United Kingdom, and Europe have all opened their doors to UPI payments. Furthermore, 13 other countries, including Malaysia, Thailand, the Philippines, South Korea, and Japan, have expressed their intent to adopt UPI for their digital payment systems. Nepal has already set an example by adopting UPI as its payment platform.
NRI-Friendly UPI
Non-Resident Indians (NRIs) are also enjoying the advantages of UPI's reach, particularly through its integration into global financial systems such as Western Union. This integration has made it significantly easier for NRIs and expatriate Indians to send and receive money.
Linking RuPay Credit Cards to UPI
The integration of RuPay credit cards with UPI marks a revolutionary step in the digital payments landscape. It not only simplifies online transactions for millions of users but also enhances transaction security by reducing reliance on physical cards.
UPI 123Pay – Offline Payments
Despite the widespread adoption of smartphones, many Indians still use feature phones. Recognizing this, the RBI introduced UPI 123Pay, which caters to feature phone users, making digital transactions more accessible across the country.
UPI AUTOPAY – Recurring Payments
UPI Autopay is another remarkable development in the UPI ecosystem, simplifying recurring payments and enhancing user convenience.
UPI One World – Empowering Foreign Travelers
The RBI has launched UPI One World, offering foreign travelers in India the convenience of seamless payments at merchant outlets accepting QR-based UPI payments.
The remarkable journey of UPI has significantly transformed India's digital payments landscape, promoting financial inclusion and propelling the nation towards a cashless economy. India, the land of zero's origin, has now become a digital payments hero, with UPI leading the way into a more connected future.
Join Our Thriving Entrepreneurial Community

Follow TICE News on Social Media and create a strong community of Talent, Ideas, Capital, and Entrepreneurship. YouTube  | Linkedin | X (Twittrer) | Facebook | News Letters