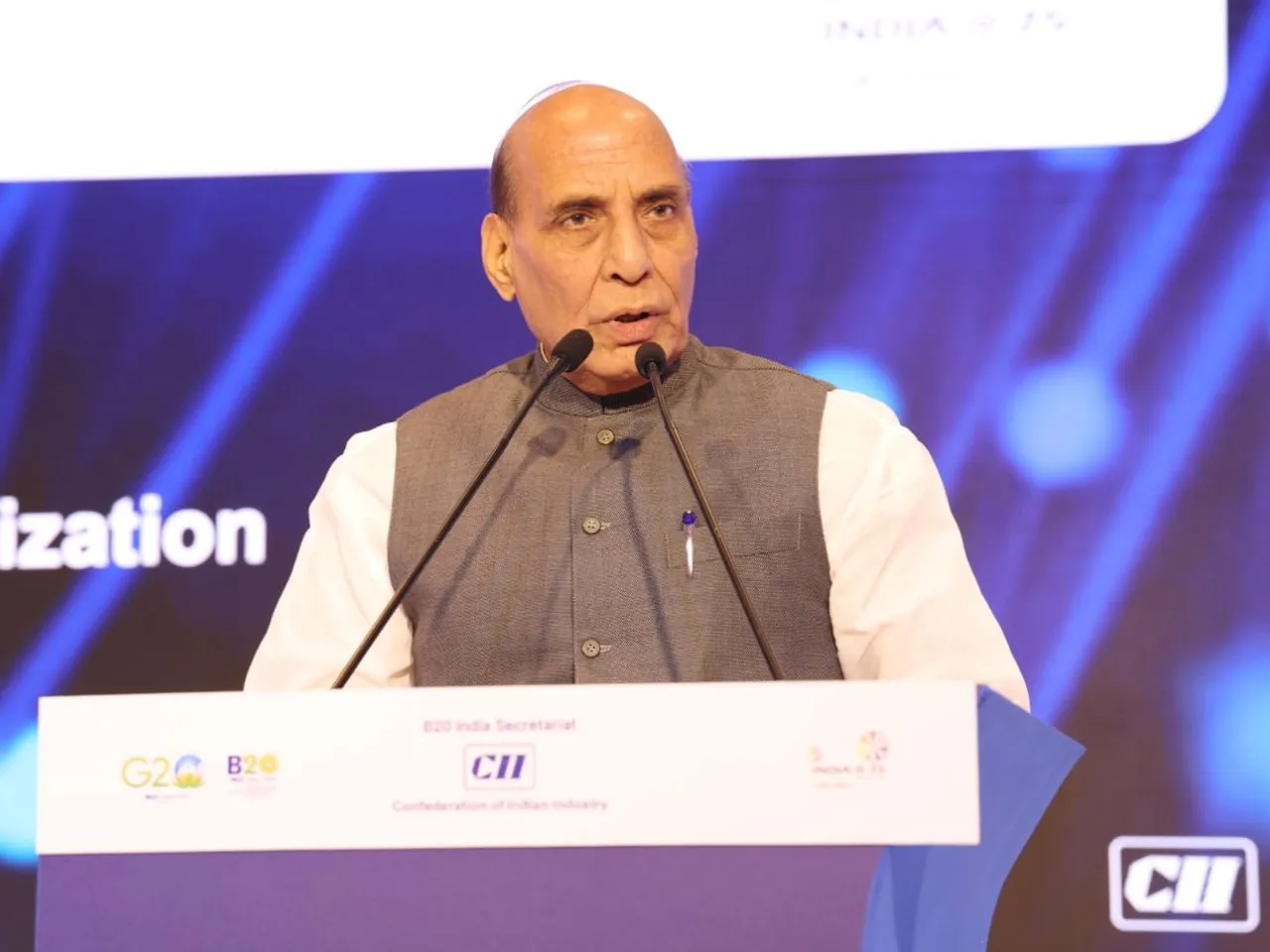 The industry players have a lesson to learn from Indian startups, as they can learn passion and dedication from these innovative ventures. Today, Raksha Mantri Rajnath Singh highlighted the youth as the cornerstone of India's demographic dividend, attributing the continuous growth of startups in the country to the potential, energy, and enthusiasm of young Indian minds.
With over one lakh start-ups, including more than 100 unicorns, he emphasized that these ventures, despite limited resources, compete with larger entities through their passion and dedication. Singh urged industries to match this level of commitment to compete with global giants.
"Today, there are about one lakh start-ups in the country; of which more than 100 are unicorns. Without much resources, our start-ups are competing with bigger entities with their passion. Our industries need to work with the same passion to compete with global giants," he said.
Rajnath Singh called upon industry leaders to drive innovation and transform India from an imitator to a leader in futuristic technologies. He was addressing the annual session of Confederation of Indian Industry (CII) today.
The session, themed 'Future Frontiers: Competitiveness, Technology, Sustainability and Internationalisation,' aimed to explore avenues for India's technological growth and preparedness to address global security challenges.
The Technology Incumbent Challenger Model
Drawing a comparison between global giants and Indian industries, the Raksha Mantri introduced the concept of the "Technology Incumbent Challenger model." While the global giants possess superior technology as technology incumbents, he identified India's relatively smaller industry as a technology challenger, possessing a greater incentive to invent new technologies.
The Changing Security Landscape and Technological Advancements
Singh emphasized that security equations are evolving rapidly in today's era, prompting countries worldwide to prioritize technological advancements in areas such as artificial intelligence, quantum computing, and genetics. He described this as both a challenge to avoid lagging behind in the technology race and an opportunity to establish a prominent presence, propelling the nation forward on the path of progress.
The Role of Research & Development (R&D)
Singh emphasized that cutting-edge R&D is the key to achieving India's technological goals. R&D opens new dimensions critical for a nation's development and security in today's times. By setting ambitious goals and pursuing them through innovative methods, Singh stressed the importance of being prepared to tackle challenges arising from the ever-evolving global situation. He highlighted the ability of R&D to transform perceived resources into valuable assets, acting as a force multiplier. Excelling in various fields, including defence, health, education, agriculture, commerce, and communication, through R&D would give India a competitive edge over other nations.
From Imitator to Technology Leader
Singh pointed out that the global technology paradigm consists of two faces: leader nations that seize opportunities and innovate, and imitators that follow suit. With new technological avenues emerging without established leaders, Singh urged industry captains to strive to position India as a technology leader rather than an imitator. He encouraged them to increase in-house R&D funding and explore new and untouched sectors, products, goods, and services using innovative technologies.
Key Requirements for Technological Leadership
The Raksha Mantri listed several key requirements for a nation to become a technology leader, including substantial capital, a robust R&D infrastructure, favourable demographics, and the ability to adopt, understand, and build upon existing technologies. He highlighted the government's initiatives, such as banking policies, regulatory policies, funding provisions, labor policies, education, and health policies, which provide a conducive environment for youth and industries to collaborate and elevate R&D in the country.
The Significance of Socio-Economic Technology
Singh also emphasized the importance of socio-economic technology, which encompasses good governance. He highlighted that India's population, once viewed as a liability, is now considered an asset. Leveraging the demographic dividend, policies have been implemented to maximize the utilization of this population. The government has focused on ease of doing business, ease of living, and reforms in education and health sectors, aiming to create an educated, healthy and skilled population.