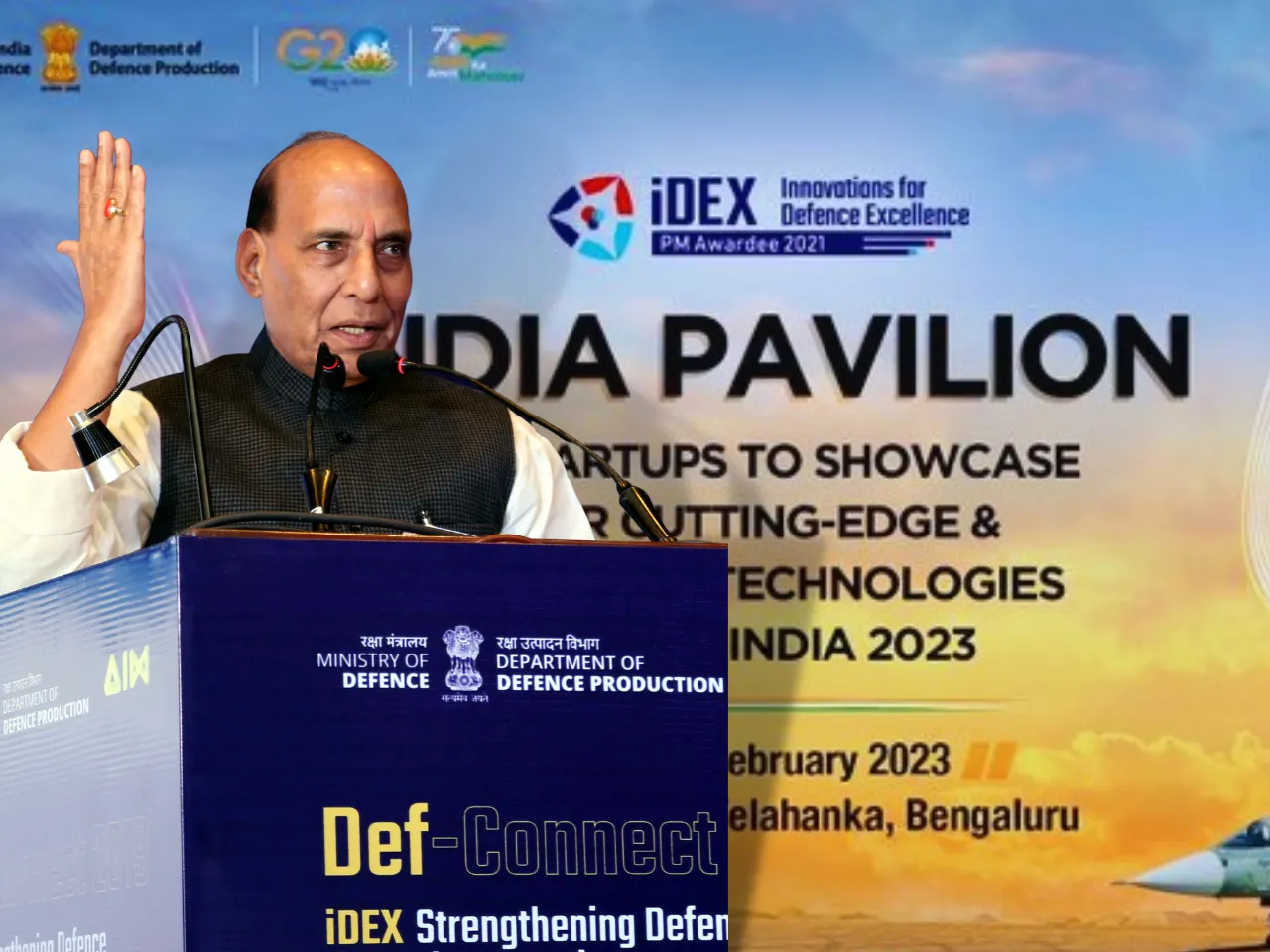 The much-awaited Aero India show in Bangalore this month brings great news for Startups in the Defence sector. A much-needed aspect related to a greater contribution by startups in making defence technology is going to be put in motion at the mega event. 
Defence minister Rajnath Singh will launch iDEX Investor Hub (iIH) at the event Manthan during AeroIndia 2023. The Investor Hub #iDEX startups to raise growth capital for building "Futuristic DefTech Solutions," Innovations for Defence Excellence said in a social media post. 
Significantly, the move has come at a time when India has been making rapid progress towards the indigenisation of its defence technology. On Wednesday itself, a remarkable feat was achieved. Naval Pilots for the first time carried out the landing of LCA(Navy) on INS Vikrant. Prime Minister Narendra Modi lauded the feat towards greater self-dependence. 
At this juncture a defence ministry-backed investor hub for startups can go a long way in strengthening India as a major defence superpower. 
Defence Ventures require Big Capital
A major reason why countries like the US, Russia and China have moved ahead of others in the defence sector is that they have systems in place where huge amounts of money can flow into defence projects. The revenues of the biggest defence companies in the US for instance Lockheed Martin or Raytheon goes into several billion dollars. Naturally, these companies have pockets deeper than any other to develop tech that is way beyond the reach of others. 
Startups thrive on innovation but lack funds and sometimes diverse expertise. An investor hub with a focus on defence tech will not only help nurture companies that can strengthen India in the defence sector but also ensure that India become an exporter in a vital sector where currently it is hugely dependent on imports. 
Significantly, technologies developed in the defence sector can also prove to be useful in other sectors and can have a multiplier effect.
Focus on Defence in Union Budget 2023
Innovation in defence was a key focus in the Union Budget presented by Finance Minister Nirmala Sitharaman on February 1.
The key areas included strengthening Research and Development in Defence by increasing the allocation by 9% to a total amount of Rs 23,264. 
To further foster innovation, encourage technology development and strengthen the Defence Industrial ecosystem in the country, iDEX and DTIS have been allocated Rs 116 crore and Rs 45 crore respectively representing an enhancement of 93% for iDEX and 95% for DTIS over 2022-23. 
This will fulfill the Ministry of Defence's vision to leverage ideas from bright young minds across the country, the government said.
The Union Budget 2023-24 also announced a National Data Governance Policy to unleash innovation and research by start-ups and academia. This will enable access to anonymized data which will further boost the Defence Start-ups and iDEX scheme.
Apart from startups, the budget also sought to boost the small businesses in the defence sector. 
The Union Budget announced that the revamped Credit Guarantee scheme for MSMEs which will take effect from 1st April 2023 through infusion of Rs. 9,000 Crore in the corpus. This will enable additional collateral-free guaranteed credit of Rs 2 lakh crore. Further, the cost of the credit has also been reduced by about 1 per cent. 
This scheme is expected to give a further fillip the MSMEs associated with the Defence Sector.