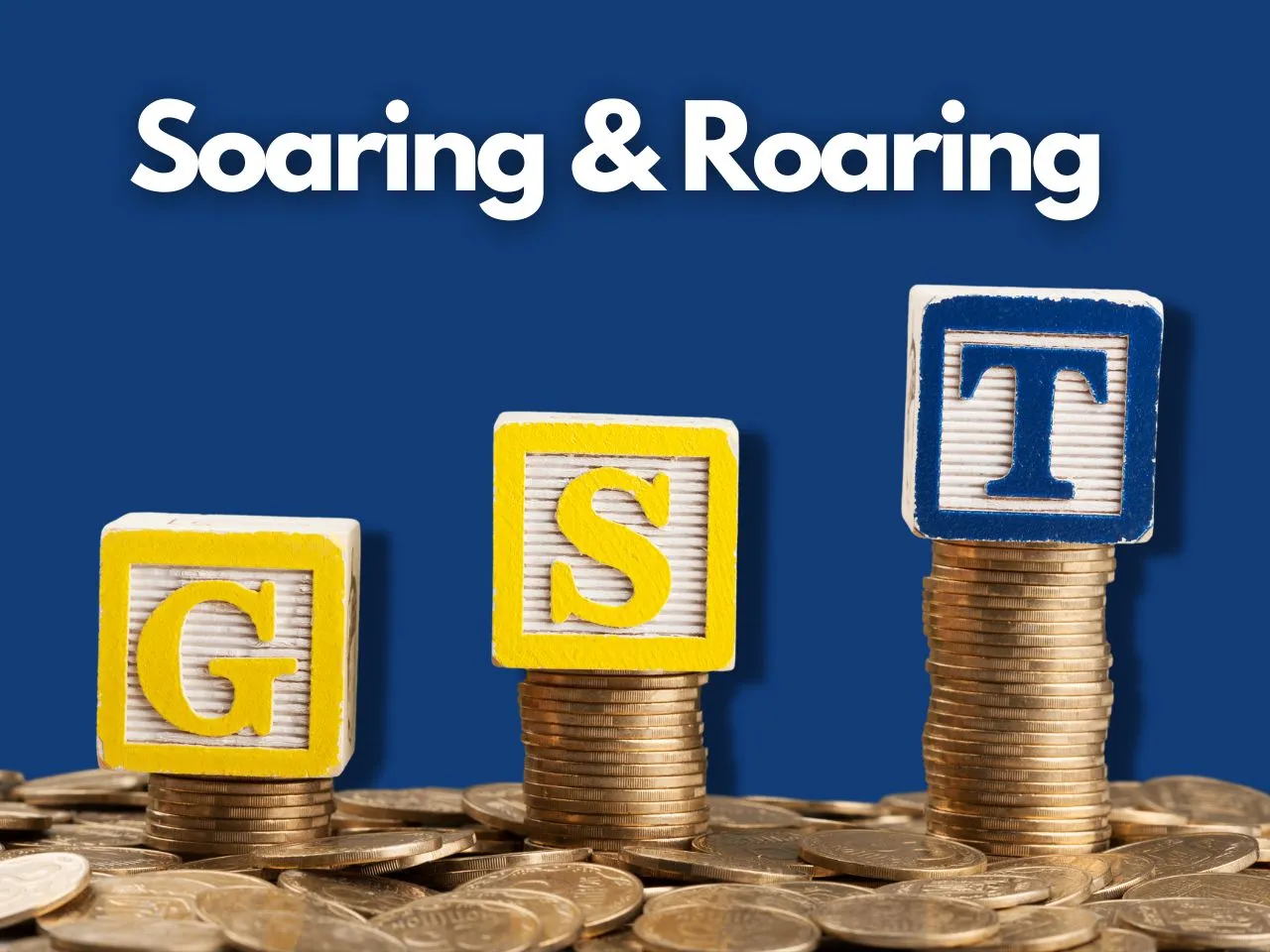 India's Goods and Services Tax (GST) collection rose to a record high of ₹1.87 lakh crore in April 2023, marking the highest monthly revenue since the introduction of the indirect tax system. This figure reflects a 12% increase in GST revenue compared to the same month last year.
Breakdown of Revenue Collection
Of the total revenue collected, ₹38,440 crore is CGST, ₹47,412 crore is SGST, ₹89,158 crore is IGST (including ₹34,972 crore on imported goods), and ₹12,025 crore is cess (including ₹901 crore on imported goods). The government has settled ₹45,864 crore to CGST and ₹37,959 crore to SGST from IGST.
Furthermore, after regular settlement, the total revenue collected by both the Centre and the States was ₹84,304 crore for CGST and ₹85,371 crore for SGST.
PM Modi On GST Collection
Prime Minister Narendra Modi tweeted his congratulations, stating that the rising tax collection despite lower tax rates is indicative of GST's success in increasing integration and compliance.
Great news for the Indian economy! Rising tax collection despite lower tax rates shows the success of how GST has increased integration and compliance. https://t.co/xf1nfN9hrG

— Narendra Modi (@narendramodi) May 1, 2023
Domestic Transactions & E-Way Bills
The revenues from domestic transactions, including import of services, have risen by 16% compared to April 2022. In addition, the total number of e-way bills generated in March 2023 was 9.0 crore, which is an increase of 11% compared to February 2023.
Highest Ever Single Day Tax Collection
On April 20, 2023, the Indian government collected ₹68,228 crore through 9.8 lakh transactions, marking the highest ever single day tax collection. This figure surpasses last year's highest single day payment of ₹57,846 crore, which was collected through 9.6 lakh transactions on the same date.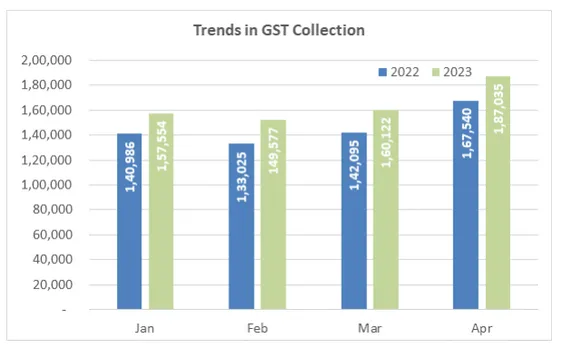 State-wise GST Collection Figures
The following table shows the state-wise figures of GST collected in each state during April 2023, compared to the same month in the previous year:
| State  | April 2022 | April 2023 | Growth |
| --- | --- | --- | --- |
| Jammu and Kashmir | 560 | 803 | 44 |
| Himachal Pradesh | 817 | 957 | 17 |
| Punjab | 1,994 | 2,316 | 16 |
| Chandigarh | 249 | 255 | 2 |
| Uttarakhand | 1,887 | 2,148 | 14 |
| Haryana | 8,197 | 10,035 | 22 |
| Delhi | 5,871 | 6,320 | 8 |
| Rajasthan | 4,547 | 4,785 | 5 |
| Uttar Pradesh | 8,534 | 10,320 | 21 |
| Bihar | 1,471 | 1,625 | 11 |
| Sikkim | 264 | 426 | 61 |
| Arunachal Pradesh | 196 | 238 | 21 |
| Nagaland | 68 | 88 | 29 |
| Manipur | 69 | 91 | 32 |
| Mizoram | 46 | 71 | 53 |
| Tripura | 107 | 133 | 25 |
| Meghalaya | 227 | 239 | 6 |
| Assam | 1,313 | 1,513 | 15 |
| West Bengal | 5,644 | 6,447 | 14 |
| Jharkhand | 3,100 | 3,701 | 19 |
| Odisha | 4,910 | 5,036 | 3 |
| Chhattisgarh | 2,977 | 3,508 | 18 |
| Madhya Pradesh | 3,339 | 4,267 | 28 |
| Gujarat | 11,264 | 11,721 | 4 |
| Dadra and Nagar Haveli and Daman and Diu | 381 | 399 | 5 |
| Maharashtra | 27,495 | 33,196 | 21 |
| Karnataka | 11,820 | 14,593 | 23 |
| Goa | 470 | 620 | 32 |
| Lakshadweep | 3 | 3 | -7 |
| Kerala | 2,689 | 3,010 | 12 |
| Tamil Nadu | 9,724 | 11,559 | 19 |
| Puducherry | 206 | 218 | 6 |
| Andaman and Nicobar Islands | 87 | 92 | 5 |
| Telangana | 4,955 | 5,622 | 13 |
| Andhra Pradesh | 4,067 | 4,329 | 6 |
| Ladakh | 47 | 68 | 43 |
| Other Territory | 216 | 220 | 2 |
| Center Jurisdiction | 167 | 187 | 12 |
| Grand Total | 1,29,978 | 1,51,162 | 16 |