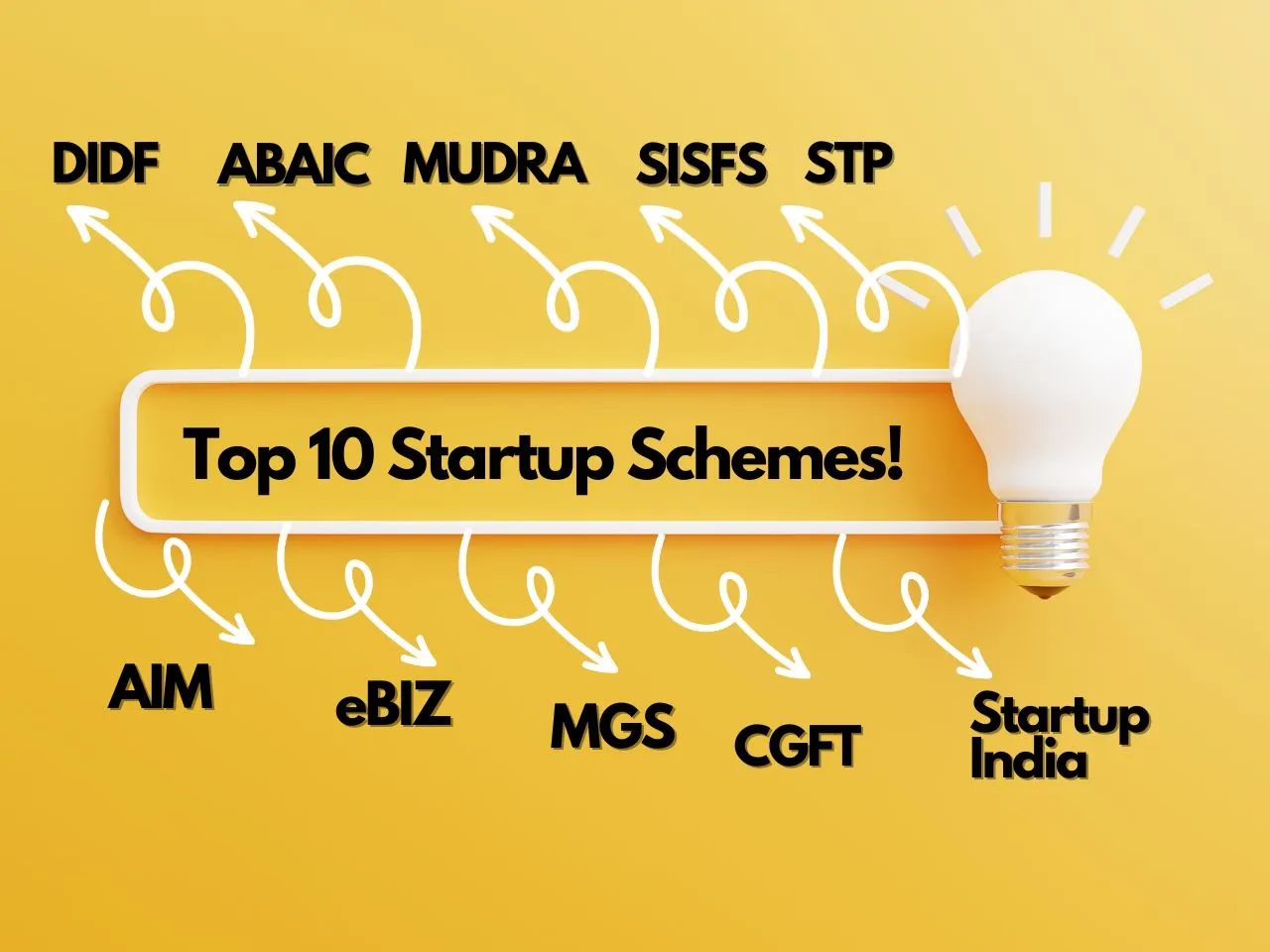 Do you always desire to establish your own business but lack funding has prevented you from doing so? Don't worry, the Indian government has introduced the Startup India Scheme to assist entrepreneurs in dealing with such situations.
What is Startup India Scheme?
In 2016, the Indian government established the Startup India scheme to provide financial assistance to aspiring businesspersons. Potential business owners and organizations can receive various forms of financial aid, including loans and subsidies, through the Startup India Scheme. This program has also helped increase job opportunities and generate wealth within the Indian economy.
Let's understand more about the top 10 Start-up India Schemes.
Aatmanirbhar Bharat App Innovation Challenge
On July 4th, 2020, the Aatmanirbhar Bharat App Innovation Challenge was introduced by Prime Minister Narendra Modi to encourage Indian startups to collaborate and create "Made in India" solutions that benefit people not just in India, but also globally. The Prime Minister urged all tech and startup firms to participate in the challenge by developing innovative mobile applications. The competition was launched as part of the Digital India mission by the Atal Innovation Initiative (AIM), a project of Niti Aayog, and the Ministry of Electronics and IT. The company/app that won the competition received ₹20 Lakhs, while the second and third place winners received ₹15 Lakhs and ₹10 Lakhs, respectively.
Atal Innovation Mission (AIM) 
The Atal Innovation Mission (AIM) was launched by NITI Aayog in 2016 as part of the Start-up India Scheme with the aim of promoting India's entrepreneurial and innovative culture. This scheme has been established to foster innovation by developing new programs and policies to support development in various economic areas. AIM provides a platform for collaboration among numerous players in the entrepreneurial sector.
Under the AIM scheme, selected firms are granted financing of up to ₹10 Crores over a five-year period. Emerging organizations in fields such as health, agriculture, transportation, education, and others are eligible to apply for this scheme.
Startup India Seed Fund Scheme
On January 16, 2021, the Indian government introduced the Startup India Seed Fund Scheme for early-stage enterprises. The government has allocated a budget of ₹945 Crores for this scheme, with the aim of providing funding to 3600 businesses and 300 incubators.
Selected entrepreneurs will receive funding of up to ₹5 Crores. Startups will also be eligible for grants of up to ₹20 Lakhs for developing concepts or demonstrations, as well as up to ₹50 Lakhs for scaling up their products or services.
Startup India Initiative 
The Startup India Initiative was officially launched by the Prime Minister on January 16, 2016. As of June 3, 2021, over 50,000 firms have been recognized under this program, which provides tax benefits to entrepreneurs for a little more than five years.
Moreover, the maximum age limit for startups has been increased from two to seven years. Biotechnology companies have a longer age restriction of 10 years from the date of establishment. Due to its numerous benefits, this initiative is considered one of the most beneficial government-sponsored schemes for business owners.
eBiz Portal 
The eBiz Portal is the first online platform for government-to-business (G2B) collaboration launched in India. Its purpose is to modernize the country and create a user-friendly online environment for businesses. The eBiz Portal was developed by Infosys through public-private collaboration. It acts as a communication hub for all business investors and entrepreneurs in India.
The eBiz Portal has introduced 29 services in five different Indian states, namely New Delhi, Tamil Nadu, Andhra Pradesh, Haryana, and Maharashtra. The government plans to expand the scheme's services gradually over time.
Software Technology Park (STP) 
The Software Technology Park (STP) is a 100% export-oriented system that aims to enhance the export of computer software and technical services through physical media or communication infrastructure. The course material is unique as it focuses solely on one business or product, namely computer software.
The government's initiative for this program includes the concept of Export Processing Zones (EPZ) and the proposal of Science Parks or Technology Parks, which are already established in various parts of the world.
Dairy Processing and Infrastructure Development Fund (DIDF)
The Indian government launched the Dairy Processing and Infrastructure Development Fund with an allocated budget of ₹11,184 Crores, to support dairy cooperatives and ensure their long-term competitiveness for the benefit of farmers. The program, which will be executed from 2018-19 to 2022-23, is open to milk-producing companies, multi-state milk cooperatives, state dairy federations, NDDB subsidiaries, and others who meet the eligibility criteria.
MUDRA Banks
The MUDRA Scheme is a crucial part of the Indian government's Start-up India Scheme, which aims to increase the availability of loans and promote small business growth in rural areas. Its primary goal is to assist small businesses in India with financing and other resources they need to grow. MUDRA banks provide loans to non-farm microenterprises, small businesses, and corporations up to ₹10 Lakhs. The loans are classified into three categories, namely Tarun, Shishu, and Kishor, to cater to businesses' specific financing requirements.
Credit Guarantee Fund Trust for Micro and Small Enterprises 
The Credit Guarantee Fund Trust for Micro and Small Enterprises (CGTMSE) has introduced a Start-up scheme to provide loans to MSME firms. This initiative enables businesses to obtain loans at significantly reduced interest rates without the need for collateral, including zero-collateral business loans. The government has collaborated with the Small Industries Development Bank of India (SIDBI) to provide a maximum loan amount of ₹100 Lakhs to promote new businesses and revive existing ones.
Multiplier Grants Scheme (MGS)
The Multiplier Grants Scheme (MGS) is a government initiative introduced by the Department of Electronics and Information Technology to encourage partnerships between academia or institutions and industry for research and development (R&D) purposes, leading to the creation of new products or services. The objective of MGS is to promote and stimulate the development of indigenous products and services. Each project under this scheme can receive up to ₹2 Crores in funding from the government, and the project's duration is expected to be less than two years. Industrial organizations are expected to bear a cost of ₹4 Crores over a three-year period for each project.
Final Words
The Indian government is committed to promoting entrepreneurship and creating a thriving business environment in the country. With this goal in mind, a range of schemes have been introduced to encourage aspiring entrepreneurs, startups, and students across all disciplines to pursue the vision of Atmanirbhar Bharat. These initiatives are designed to support and foster the growth of the Indian startup ecosystem, and pave the way for a new era of successful entrepreneurs and businesses in India.