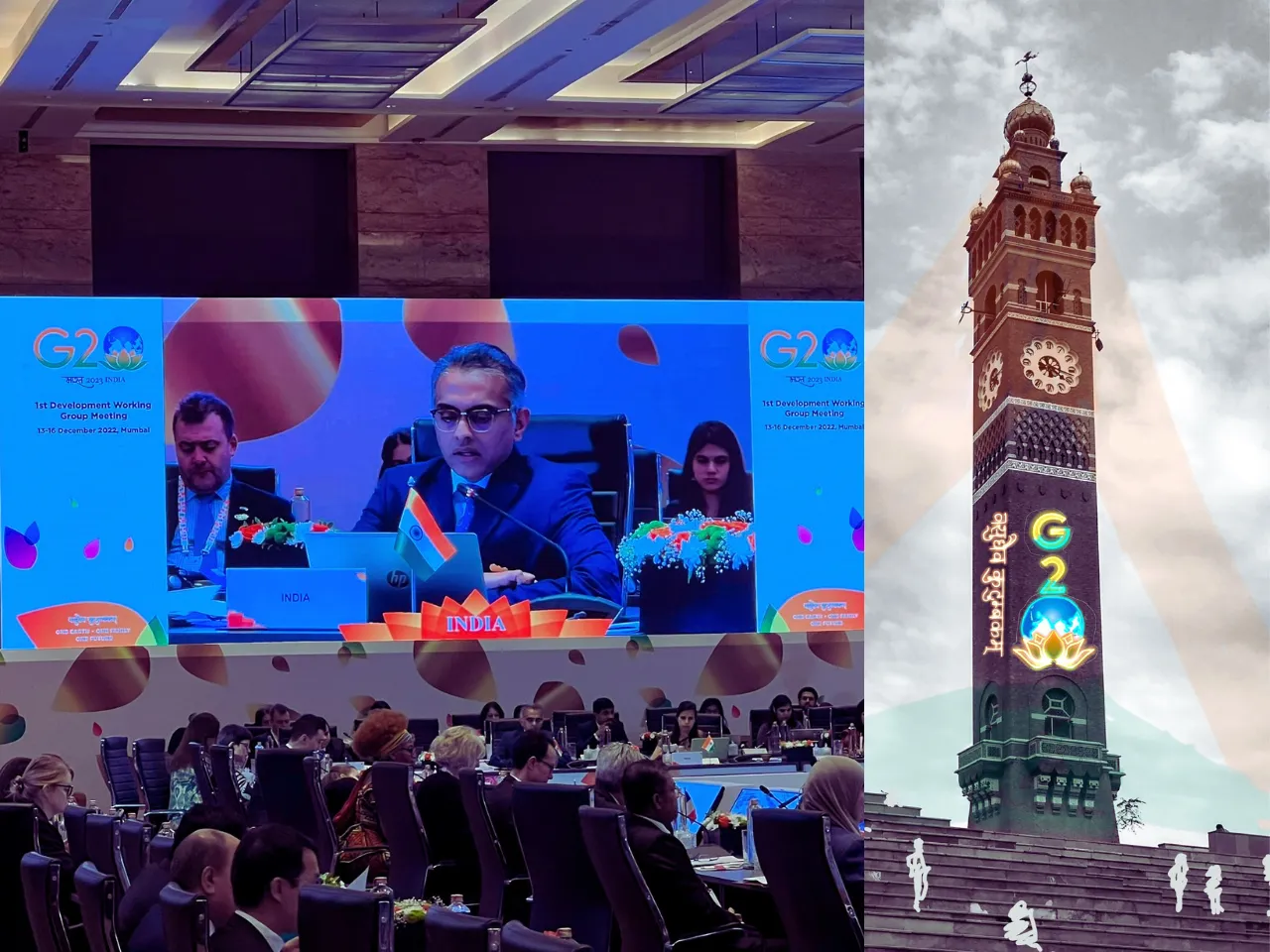 With India taking over the G20 Presidency for the next one year, startups and and the medium and small scale enterprises are also looking forward to this historic tenure expecting new global business opportunities, investments and hassle-free trade between these countries.
The good news is that not only the Indian startups but also those abroad can expect a new areas of collaboration. 
Startups that have been facing challenges in their global expansion plans naturally are keenly looking at the opportunities. 
TICE NEWS spoke to some of them. 
"We are into event management, vendorship and business advisory for the last 5 years. Thanks to the digitisation that we are able to provide business advisory to companies from all across the globe but the other two arms of our business i.e. vendorship and event management, which cannot be operated digitally, are lagging behind. Because we do not find any right channel to expand such physical services to other countries," says Piyush Gupta who runs Efficient Business Boost.
Our research shows that vendorship and event management businesses have great opportunities in North America, especially Canada but startups and MSMEs that are not backed up with strong financial support are not really capable of leveraging those opportunities, Gupta adds.
Expressing hope, he says, "But we are quite hopeful to see how India has introduced the Startup 20 initiative even before officially taking up the G20 presidency."
Textile and Merchandising Industry
The presidency stint will play an important role for the textile, apparel and merchandising industry. India can scale up its merchandise exports to G20 nations to $500 billion by 2030 from the current $212 billion and significantly reduce trade deficit, according to industry body PHDCCI.
Rakesh Mishra, who is a veteran in the textile industry with over three-decade experience, says India's role as G20 president is crucial for global stability and the Startup 20 initiative is going to generate unique business opportunities for the startups across the sectors. However, it may take a little longer for the smaller businesses to realize the importance of the G20 presidency, he says.
Mishra explains the importance of G20 and Startup 20 for the textile sector. "Most G20 member countries are the main business hub for the Indian textile industry and with the Startup 20 programme, Indian textile startups will get global collaboration opportunities which will not only help them boost their business but will also lead to a net gain in employment opportunities." he says.
The program will also facilitate introduction of modern and efficient manufacturing machinery and techniques in the Indian textile sector, he adds. As India is going to lead G20 countries for the next one year, we are aiming to grab the attention of investors from countries like the US, Australia and France. 
"Vasudhaiva Kutumbakam" or "One Earth, One Family, One Future" is the theme for the G20 presidency this year. We are hoping that with this theme, India will endorse schemes inviting foreign investments, tax exemption and other benefits for small businesses to boost the overall economy.
Service Sector Expects Peace & Economic Stabilization
Founded in 2017, Efficient Business Boost, which sets out itself to be a leading vendorship firm, in the various service sectors as well as the FMCG and F&B industry, expects more foreign investments and a smooth international business across G20 nations under the Indian presidency.
Piyush Gupta, CEO and Director of Efficient Business Boost said, "We are already planning to expand our business to Canada and some other regions of North America. While we had many challenges on our way to go global, it seems that now, after India's Startup 20 initiative, there will be some relief."
"Today, with the emergence of digitisation, mostly service-providing companies are operated digitally and we are able to crack clients from all across the world while just sitting in our offices in India. But when it comes to vendorship and event management, which includes travelling and doing physical business in other countries, it becomes impossible for us to expand our arms globally due to the complex policies and agreements between the countries. 
"While it's not as difficult for the bigger companies because they have enough resources and dedicated legal teams to handle the complexities, it's a major challenge for smaller businesses who have immense talent but no resources to understand and overcome the complexities. But with this presidency, we expect the government to endorse trade agreements making international business easier for MSMEs too," he elucidated.
Gupta said that presently, the world is witnessing a perceptible shift in geopolitical alignment. "In such a situation, India's presidency will play a critical role in establishing global stability. After two years of global disturbance due to the unprecedented pandemic and Ukraine-Russia war, India is going to play a significant role to convert uncertainties into opportunities" he told TICE.
However, how things will unfold is yet to be seen but as one of the fastest growing economies in the G20 nations, India has a lot of expectations to meet. As far as smaller businesses and startups are concerned, he shares, the present central government has always been pro-enterprise. It introduced many schemes that have helped grassroot businesses like ours to grow significantly. 
"For example, the Startup India program has helped me to get a loan to establish my dream venture which I couldn't think of otherwise. Now, with this G20 presidency to India, many small-scale businesses in the service sector are looking for new schemes to help them go global," he said.
Startups like ours are also expecting macroeconomic coordination from global partners," he added.
Tourism Industry Plans To Woo tourits
India, being a culturally rich country, has always been a favorite destination for tourists from all across the world. With the G20 presidency, the country also gets an opportunity to promote its culture and tourism in different manners. 
Rajiv Aggarwal, owner of Hindustan Air Travel, a Delhi-based travel company, says, "tourism industry has been one of the severely hit sectors during the COVID-19 pandemic."
"While the sector has already started matching the pre-COVID levels, India's takeover of the G20 presidency will help us go beyond the pre-COVID growth numbers, feels Aggarwal.
"The last three years have not only left socio-economic impacts on tourism but also disturbed the millions of livelihoods that the tourism sector sustains. But the G20 presidency comes as a golden opportunity to revive the sector by grabbing the attention of tourists from G20 nations. While it will help big travel companies to gain more profits, smaller businesses like ours will be able to strengthen our local business across the nation."
So this is how the G20 can help not just one but various industries to grow and go global! It's noteworthy that not just travel, textile, or service sectors, the G20 Presidency has a lot of expectations from startups and MSMEs from across the sectors. 
Read more on TICE G20 TRACKER