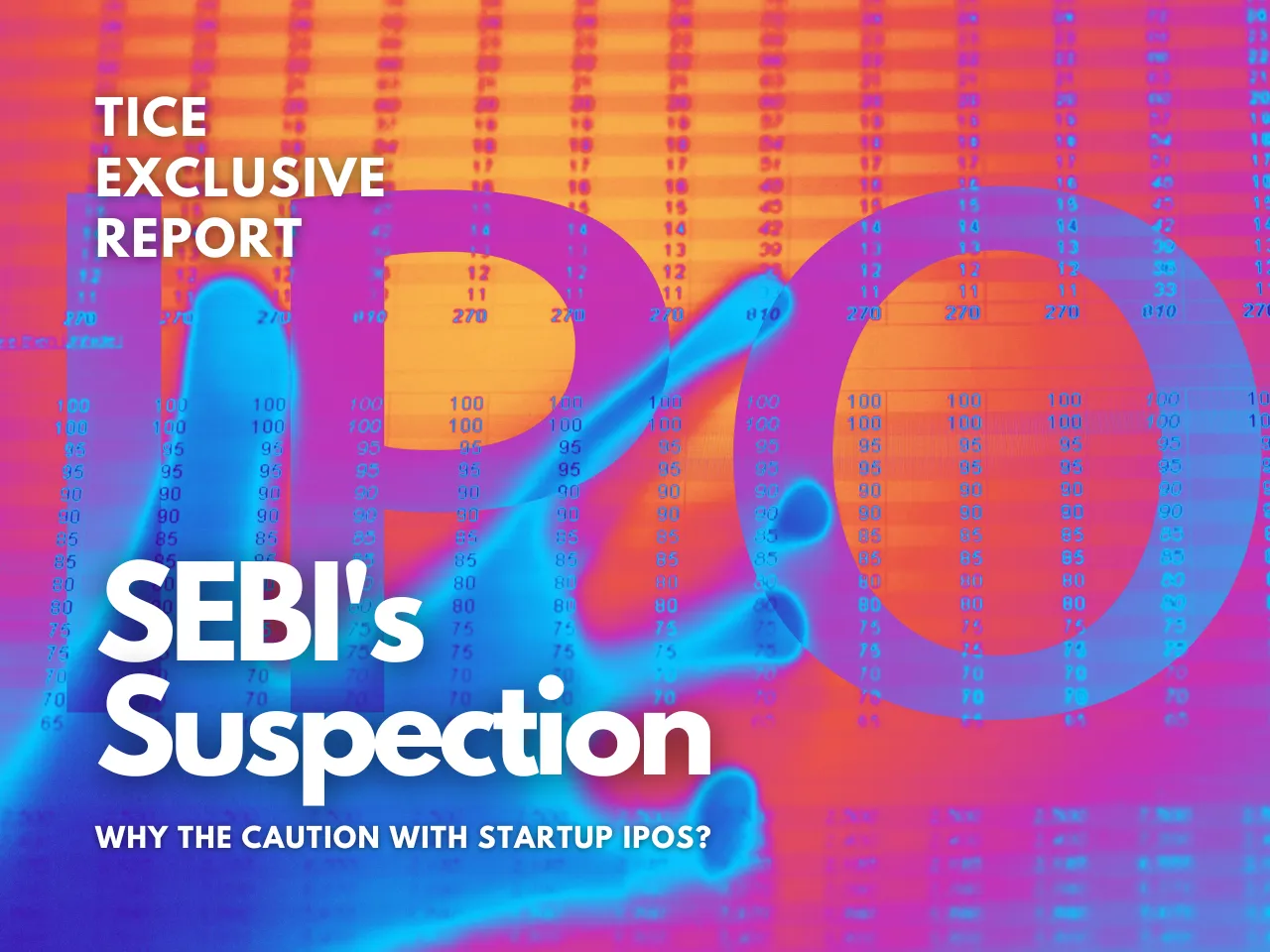 The Securities and Exchange Board of India (Sebi) is taking a more stringent approach towards startups willing to launch their Initial Public Offerings (IPOs). The market watchdog is asking the startups to identify their promoters before filing their documents with the bourses. But why? Is SEBI trying to protect the investors or making it difficult for the vulnerable startups to fulfill the compliance norms? What are the industry experts advising the startups and what will SEBI's ask mean for the startups?
What Requirements Is SEBI Imposing on Startups for IPOs?
According to investment bankers and other industry players, the capital markets regulator has tightened its grip on IPO filings and is insisting that companies identify promoter entities wherever possible.
Additionally, it has been returning draft red herring prospectuses (DRHPs) with inadequate filings and keeping a tight vigil on company comments in the run-up to their IPOs.
SEBI is asking the startup founders with over 10% stake should classify themselves as promoters. This change means that startup founders have a higher level of disclosure requirement, which can be a significant hurdle for companies looking to list in the Indian markets.
What Does SEBI's Consultation Paper Say?
SEBI, in February this year, released the Consultation Paper on Strengthening Corporate Governance at Listed Entities by Empowering Shareholders – Amendments to the SEBI (LODR) Regulations 2015.
In the Consultation Paper SEBI said, "Agreements which, either directly or indirectly or whose purpose and effect is to, impact the management or control of the listed entity or impose any restriction or create any liability upon listed entity shall be disclosed to the Stock Exchanges, whether or not the listed entity is a party to such agreements."
"Provided that revision (s) or amendment(s) and termination(s) of such agreements shall also be disclosed. Provided further that only such agreements which are binding and entered into by the shareholders, promoters, promoter group, related  parties,  directors,  key  managerial personnel,  any  other  officer  of  a  listed  entity  or  of  its  holding,  subsidiary,  associate company, solely or jointly with the listed entity or a third party shall be disclosed," the Consultation Paper adds.
Investors Protection 
The move by Sebi to tighten regulations around IPOs is to ensure better investor protection and prevent the type of meltdown that occurred with new-age technology companies. The regulatory body is also pushing for more transparency and better disclosure from companies seeking to list on the Indian markets.
When launching IPOs, it's the public money or the shareholder's money which is at stake, so more caution is needed. A large amount of funding for these startups comes from foreign investors too. So, SEBI's intention is to get startups to disclose the promoters or investors who have stakes in the startups. This will have startups willing to launch their IPOs put their management in place and follow all the compliance norms.
Expert Insight On

The Impact of SEBI's Move
The shift in Sebi's approach towards IPOs (Initial Public Offering) has been welcomed by industry players, who believe that it will bring greater transparency and accountability to the Indian markets and at the same time safeguard the public money too. TICE News spoke to experts to get insight and impact of SEBI's move
Mr Anil Joshi, Managing Partner at Unicorn India Ventures, said, "If you look at the general IPOs, SEBI insists on minimum dilution of 25 % and promoters should hold a certain percentage over the time before it gets dilutes. But when you look at startups, unlike other companies, they start with promoters' money and then they build their ventures through internal approvals and debt financing. In case of startups, they build their ventures based on VC or private equity money and as they grow in process they get diluted to a great extent. If you look at big companies, its normally single promoter who holds substantial company. When it comes to any startup, by nature they have at least 2, 3 or even 4 co-founders. If collectively they are holding 30% shares, individually they will end up holding 7% to 8 % only."

"If it's not that categorized then it's like that super minority kind of situation, where the founders and unicorn founders end up getting in single digit. In value terms it's a great number even if it is a single digit but from company's perspective, promoters doesn't hold reasonable stake then it may land up in compromising certain governance and it may land up compromising certain minority shareholders," he adds.

Mr Joshi further adds that, "How do you recognize a company without a promoter. From that perspective, classifying a promoter with reasonable stake, I think that's the intention of SEBI. These companies are 10, 14 or 15 years old. So, SEBI is trying to protect incoming investors' interest, protecting minority shareholders' interest and at the same time is also giving recognition to promoters which binds them together for the growth of the company."

 Dr Yerram Raju, Founder Director, Telangana Industrial Health Clinic Ltd cum Policy Economist and Risk Management Expert, said,  "Startups are not matured enough to really go to the IPO from the beginning, they must run their organizations for some time. They should be able to create a future for themselves. They should have the vision for their own institutions. Most of these startups have really come up in the IT sector. In manufacturing sector there are very few startups. They need to have clear vision about the industry, without which it will be difficult for them to go to the IPOs."

Dr Raju adds, "SEBI wants to know who are the people behind the venture, who are on their boards and what are their capabilities. Just coming forward and saying they are startups and they have 2-3 partners and they want to launch IPOs cannot happen. They should have the thinking of governance."
Experts' Word of Advice for The Startups
Startups are newly established and rapidly growing companies that are typically founded by new-age entrepreneurs or college pass outs who are seeking to develop innovative products, services or business models. These companies are usually characterized by their focus on innovation, risk-taking, and the pursuit of high-growth potential. Startups often operate in emerging or disruptive markets, and they rely heavily on technology and digital platforms to create new opportunities and disrupt existing industries. 
Startups are adopting a new approach to doing business, with less emphasis on management, board, and governance. Sometimes, in order to convert ideas into a viable business model, startups dilute their ownership stakes quickly while raising seed funds. This risk-taking approach can have both positive and negative implications for the startup, but it poses significant risks to the stock market, as it puts people's investments at stake once the startup goes public.
What Startups Should Do Before IPO? Expert Advice on How to Prepare for an IPO!
Advising the startups willing to onboard the stock exchanges, Dr Raju says, "Startups will have to put their boards in position, and their directors' capabilities in position. The Directors should be of integrity and if the startup follows all these conditions, they can launch their IPOs."

Mr Joshi's advice to the startups is, "One cannot run away from the policy of regulators. If you want to get listed you need to follow guidelines set by the SEBI. Law of land, if it's well known from the beginning is better. I would certainly suggest founders to work on governance, make it professionally run from the beginning so that as company progresses, they are able to bring in more and more good practices, while building profits."

Mr Joshi adds that, "The startups also need to be careful while getting diluted. Of course, the companies cannot have same flexibilities because certain companies do need money at regular interval of times.  At the same time don't get too much diluted. The startups need to stay as a Promoter, Founder and continue with the longevity of the organization. Following governance, building good professional practices and not getting too much diluted, I think are some useful things I would strongly recommend to the startups."
SEBI Guidelines For Startups? 
Startups are often small teams comprising one or two individuals, working out of co-working spaces with minimal staffing. The increased disclosure requirements and compliance regulations imposed by SEBI may discourage some of these companies from listing in the Indian markets.
Startups raise funds from various investors, both domestically and internationally. However, any capital that comes from outside the country is subject to  RBI regulations, which adds an additional layer of compliance for startups. These disclosures can become complex, particularly when cross-border regulations come into play, posing challenges for startups to navigate SEBI's compliance requirements
Notwithstanding these concerns, SEBI's emphasis on enhancing transparency and accountability in IPO filings is viewed as a crucial measure towards bolstering the Indian capital markets and safeguarding the interests of investors.