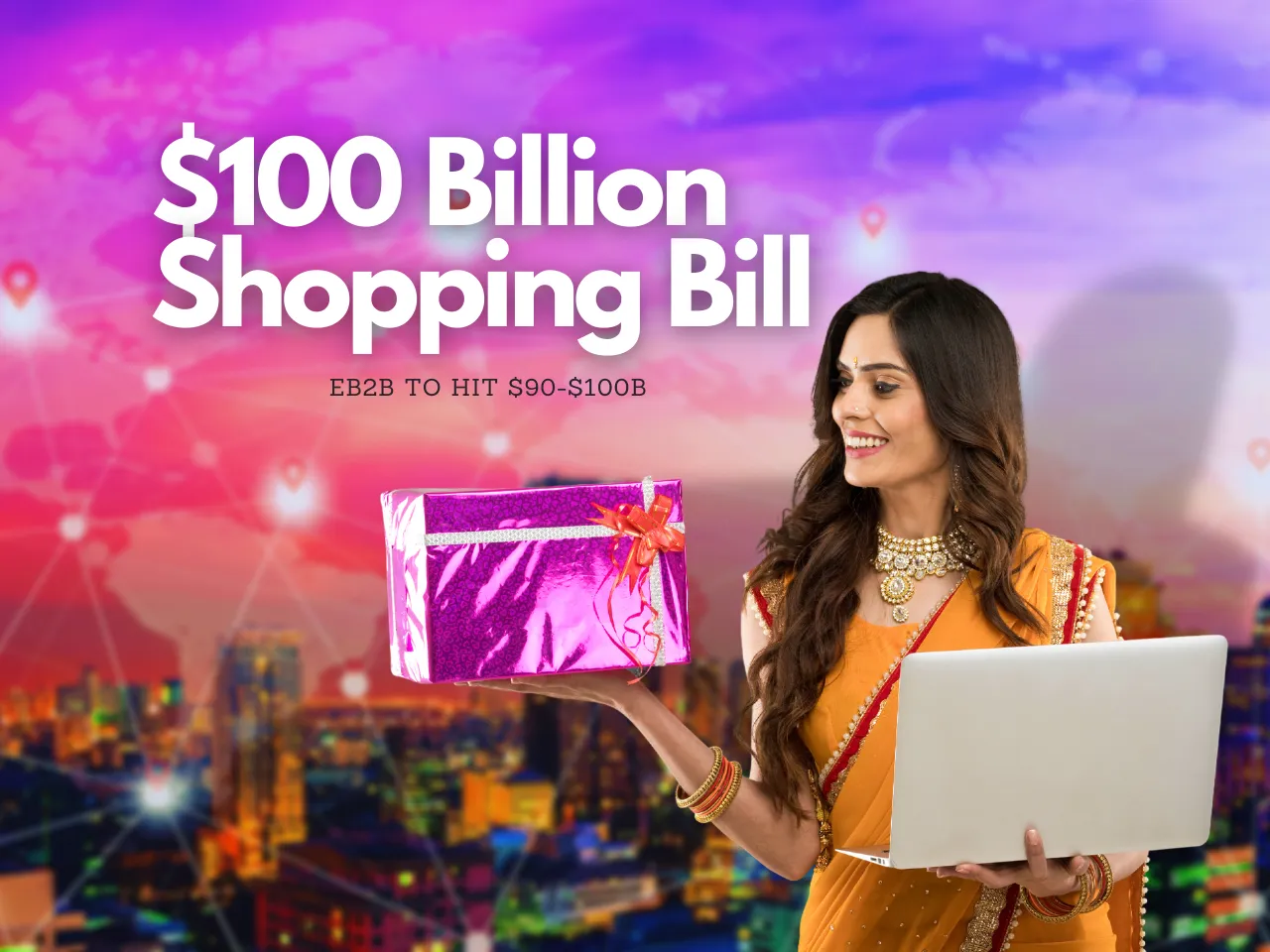 Highlights 
Indian e-commerce market poised to be the world's second-largest, reaching $133 billion by 2034.
Growth driven by factors like a growing middle class, increased internet penetration, and government initiatives.
eB2B market expected to reach $90-$100 billion by 2030, primarily serving retailers.
Deeper market penetration and increased spending on eB2B platforms to drive sector growth.
Importance of building customer trust through secure payment gateways and data privacy measures.
Logistics and delivery sector experiencing significant growth due to e-commerce rise.
Challenges include infrastructure development and regulatory compliance.
Emerging technologies, rural e-commerce growth, and cross-border trade shaping the industry's future.
E-commerce empowers SMEs and startups with new opportunities for growth and success.
From Retail Revolution to Digital Dominance
As the Indian e-commerce market continues to expand at an unprecedented rate, it is poised to become the world's second-largest e-commerce market by 2034, according to a recent survey by Shiprocket. The industry is projected to reach a market size of $133 billion, with an annual growth rate of 23%. This remarkable growth can be attributed to various factors, including a burgeoning middle class, increasing internet penetration, and government initiatives such as Digital India and Make in India.
India's eB2B Market Set to Reach $100 Billion by 2030: Redseer Report
India's business-to-business e-commerce (eB2B) market, in particular, is set to soar, with a projected market size of $90-$100 billion by 2030, as reported by Redseer Strategy Consultants. Currently growing at a compound annual growth rate of 40-45%, the eB2B market is largely occupied by platforms serving retailers, constituting nearly 70-80% of the market. The remaining share comprises platforms catering to wholesalers.
Deeper penetration among retailers across different segments and increased spending on eB2B platforms are expected to be the driving forces behind the sector's growth, as highlighted by Mrigank Gutgutia, Partner at Redseer. The retail market in India is currently worth $950 billion and is predominantly occupied by general trade. Although there are fewer platforms providing multi-category products such as groceries, electronics, and fashion, this approach helps improve credit costs and go-to-market strategies.
Exploring India's Remarkable Growth in E-commerce: Key Trends and Future Outlook
Building customer trust will be crucial for sustained growth in the e-commerce sector. This can be achieved through secure payment gateways, hassle-free returns, and robust data privacy measures. As consumers increasingly rely on e-commerce for their shopping needs, ensuring a safe and trustworthy online experience will be vital.
The rise of e-commerce has also given a significant boost to the logistics and delivery sector in India. With the increasing number of online orders, there is a growing demand for efficient and reliable logistics services to ensure timely delivery. This has led to the development of innovative solutions and partnerships in the logistics industry, presenting opportunities for further growth and improvement.
E-commerce's Impact on Indian SMEs & Startups 
India's e-commerce sector has witnessed phenomenal growth in recent years, driven by various factors and supported by favorable market conditions. Major players like Flipkart, Amazon India, and JioMart dominate the market, while smaller businesses and startup entrepreneurs have also benefited from the e-commerce boom. The democratization of entrepreneurship has allowed SMEs to reach a wider customer base and tap into the immense potential of online selling.
Addressing Challenges and Embracing Opportunities: India's E-commerce Industry
Despite the tremendous growth and opportunities, the e-commerce industry in India faces certain challenges. The need for robust logistics infrastructure, including last-mile delivery capabilities, remains a pressing concern. Ensuring data security, addressing the issue of counterfeit products, and complying with regulatory frameworks are ongoing challenges that require constant attention and innovation. However, these challenges also present opportunities for collaboration and the development of solutions that can drive the industry forward.
The Future of E-commerce in India: Trends, Technologies, and Growth Prospects
Looking ahead, the future of e-commerce in India appears promising. The rising adoption of mobile internet, increased digital literacy, and the integration of technologies like artificial intelligence and machine learning are set to reshape the industry. The inclusion of social commerce, voice-based shopping, and personalized recommendations will further enhance the consumer experience. Additionally, the growth of rural e-commerce and the expansion of cross-border trade will open up new avenues for growth and diversification.
The e-commerce revolution in India has transformed the retail landscape and provided consumers with convenience, choice, and competitive pricing. With the right strategies, investments, and a continued focus on addressing challenges, India is well-positioned to become a global e-commerce powerhouse in the coming years. The sustained growth of the e-commerce sector will undoubtedly contribute significantly to the overall economic development of the country.