In the dynamic world of startups, where innovation knows no bounds, "Open Innovator," featuring on TICE, brings remarkable journeys of visionary entrepreneurs who are shaping the future. In the latest edition of this series, we bring you a story of two young engineers who have given a new definition to the drone technology by integrating drone solutions with farming. The startup, BharatRohan uses hyperspectral imaging technology to bring a revolution in the farming sector. They help farmers identify the daily life probelms related to their crops such as pest attack, crop diseases and other upredictable issues before time so that they can find right solutions to the problems.
From Sky to Soil: Use Of Drone Technolohgy In Agriculture
Amidst the growing buzz around drones, a unique technology is rising in the fields of India - Hyperspectral Imaging. It all started when two young engineers, Amandeep Panwar and Rishabh Choudhary, witnessed the real time problems of the Indian farmers.  As drones soared into the skies, Amandeep and Rishabh noticed a critical gap that had been overlooked for too long. While the world is exploring new possibilities with drones, farmers, the backbone of the nation, face daily challenges that include pest attacks, crop diseases, and unpredictable weather wreaking havoc on their livelihoods.
After witnessing all these challenges of farmers, Amandeep and Rishabh started BharatRohan - a startup which brings the power of drone technology to the very people who needed it most—the farmers. Both the founders believe that in the 21st century, farming should be more than a traditional practice; it should be a fusion of modern technology and age-old wisdom.
How BharatRohan Started?
BharatRohan is not just a startup; but a vision and a mission to redefine farming. But how it all started? Well! During their graudation, the two founders used to test their drones near farmer lands, seeing them doing something new and innovative, curious farmers gathered around, peering at the futuristic contraptions with curiosity. In between their casual conversations with farmers, the founders discovered how farmers face crippling crop issues, like pest attacks, but had no reliable solution to diagnose these problems in their early stages. Their only recourse was to seek advice from nearby agri-chemical retailers, relying on age-old, unscientific methods.
Amandeep and Rishabh were shocked that in the 21st century, farmers were still grappling with such archaic practices. As engineers and innovators, they felt a deep sense of responsibility to bridge this technological gap. And so, the seeds of BharatRohan were sown.
The duo envisioned a future where drones could be used to assist farmers in diagnosing crop issues. Their journey began with the integration of hyperspectral imaging technology. This breakthrough means that drones can provide farmers with detailed, real-time information about their crops, allowing them to take proactive measures to protect their harvest.
What is Hyperspectral Imaging?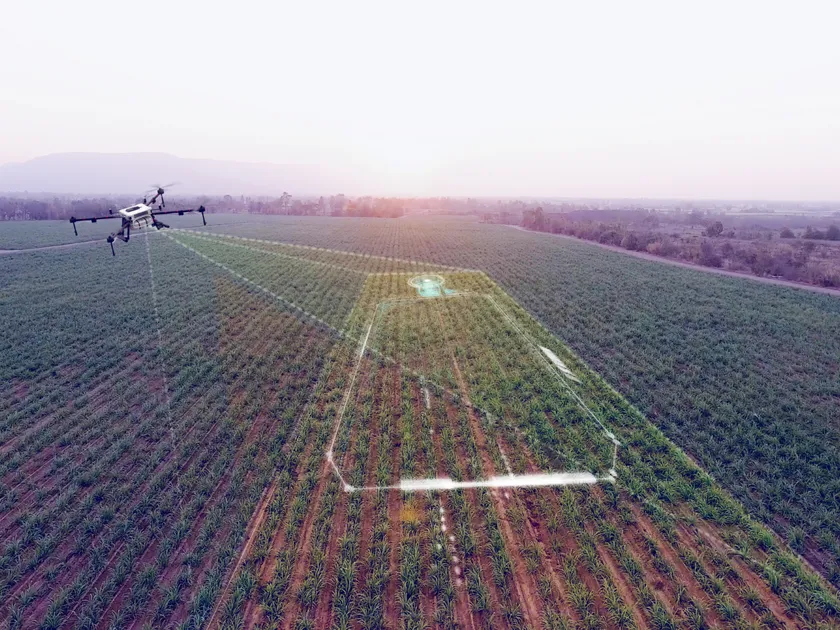 Hyperspectral imaging is the key to unlocking the potential of precision agriculture. It provides a glimpse into the invisible world of crops, revealing stress, diseases, and other issues long before they became apparent to the human eye. With this technology, BharatRohan aims to empower farmers and make agriculture not just a profession but a science.
BharatRohan's Innovative Solutions for Farmers
India's agricultural landscape is as diverse as its culture, and working with farmers from various regions presents a unique challenge. Well! Considering the diversity in India, nothing can be a one-size-fits-all solution. Looking at the challenges, Amandeep and Rishabh realized that they had to adapt and innovate continuously. Therefore, they are working on developing unique solutions for different states and regions. 
Boosting Regional Growth
To meet the specific regional needs for each state, BharatRohan hires local talent, individuals who intimately understand the nuances of each region. This localized approach help them tailor their solutions to the specific needs of farmers in different farmlands as well as to generate local employment opportunities in each region. They don't just serve the farmers; they have became a part of the farming ecosystem, learning from the land and the people who tended it.
With each region, they discover new crops, new challenges, and new solutions. The core of their operation are the farmers, and the heart of their work was always in creating solutions that were deeply rooted in the local context.
BharatRohan's dedication and innovative approach earned them a clientele that included industry giants like Suhana, Dabur, Aachi, Advanta, ITC, and many more. These partnerships clearly reflect the impact they are making in the world of agriculture.
The story of BharatRohan, the agritech startup that dared to dream, continues to unfold, proving that the sky is not the limit; it is just the beginning of a remarkable journey from the sky to the soil.
Join TICE Entrepreneurial Community
Follow TICE News on Social Media and create a strong community of Talent, Ideas, Capital, and Entrepreneurship. YouTube  | Linkedin | X (Twittrer) | Facebook | News Letters