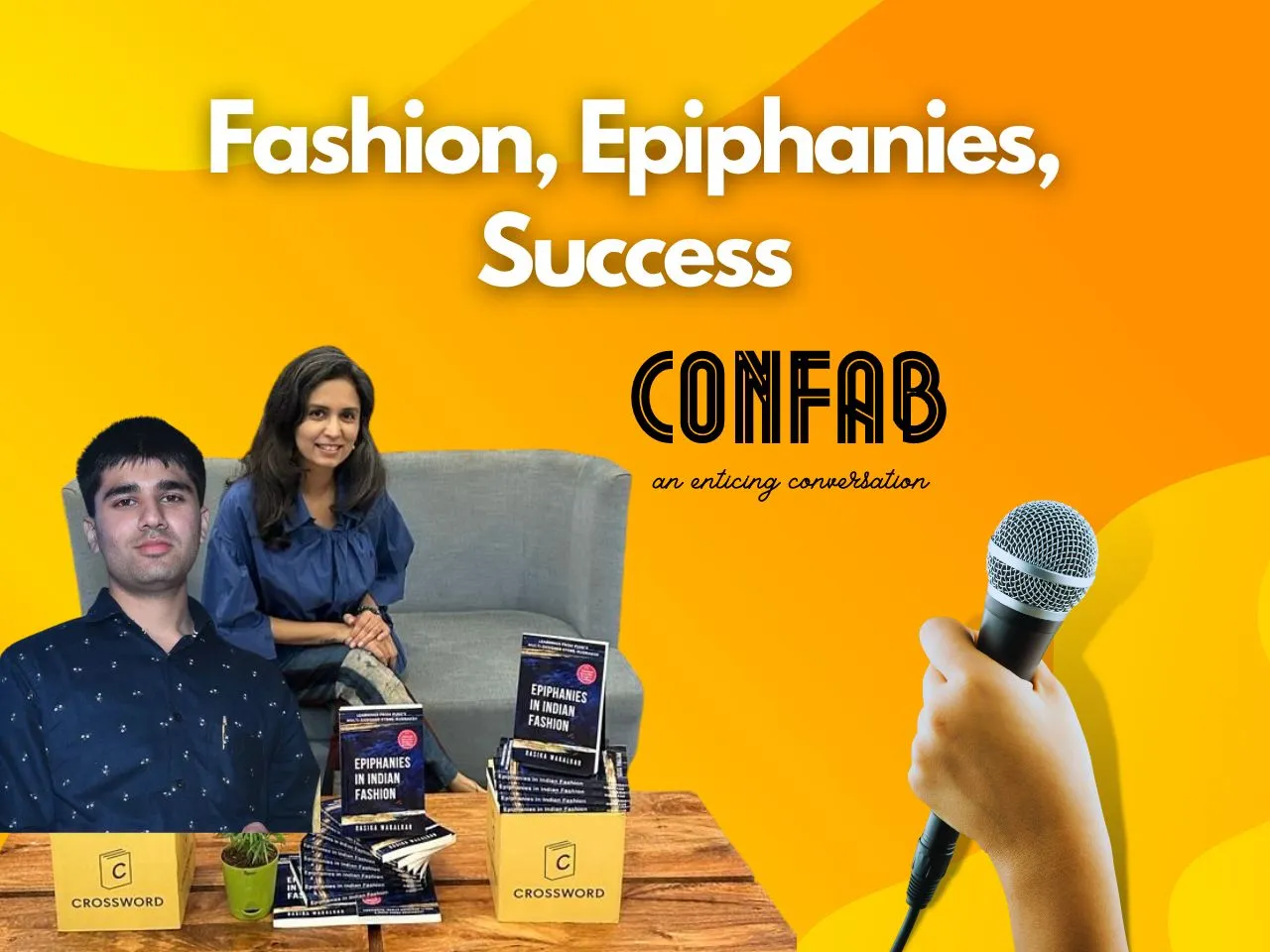 The world of fashion is an complex, it is like a web of creativity, trends, and commerce. Amidst the glamour, it's also a fiercely competitive and complex sector. Starting a fashion business, especially from scratch, is an exciting yet challenging endeavor. From design and production to marketing and retail, the fashion industry demands a deep understanding of consumer behavior, market dynamics, and a keen eye for innovation.
TICE recently got into a conversation with Rasika Wakalkar and Manan Verma, both prominent figures in the fashion and publishing world, to know their experiences in navigating this labyrinthine domain. Their stories offer inspiration and guidance to those embarking on their own fashion business journey.
Rasika Wakalkar is the author of "Epiphanies in Indian Fashion," and the visionary behind Rudraksha, Pune's iconic multi-designer store. Manan Verma, an Indian author and entrepreneur, played a significant role in bringing Rasika's book to life. 
A Diverse Journey
Rasika's journey in the world of fashion and entrepreneurship spans over 23 years, marked by her evolution through various roles. Her career began as an educator in her 20s, where she gained a profound understanding of the gaps and potential for course correction in the educational landscape. 
In her 30s, she embarked on a new venture as the founder-owner of Rudraksha, Pune's only multi-designer store. Her hands-on experience in the fashion industry allowed her to interact with clients, designers, and celebrities, each interaction providing valuable lessons.
Epiphanies in Indian Fashion
Rasika's book, "Epiphanies in Indian Fashion," draws its title from the moments of clarity and enlightenment she experienced throughout her journey. These epiphanies, often referred to as "aha moments," served as the inspiration for her book. The title encapsulates the essence of the book, focusing on these pivotal moments within the context of Indian fashion. Rasika defines an epiphany as a moment of truth, a clear revelation, or the unveiling of something in its full glory. 
The Book's Inspiration
When asked about the inspiration behind her book, Rasika's answer is straightforward - Indian fashion. She recognized gaps and opportunities within the industry, combined with her own personal experiences, to provide a guide for anyone interested in fashion, from starting a store to becoming a designer.
The book's creation was a labor of love, written and curated over four and a half years, with Rasika taking a hands-on approach without the use of ghostwriters. 
Sharing about his experience of working with Rasika, Manan explains that the book's publication under the his foundation was initially meant to be a straightforward publishing project. However, during their collaboration, Manan recognized the opportunity to establish the foundation as a full-fledged publishing house. This decision to facilitate the book's publishing under their foundation marked a critical turning point in their partnership.
Challenges Faced
The discussion delves into the unique challenges faced by female authors and entrepreneurs in the Indian fashion industry. Rasika believes that fashion is an all-inclusive industry that doesn't discriminate based on gender. While there might be gender biases in other sectors, she hasn't encountered significant challenges related to her gender in the fashion industry.
Manan shares his perspective, emphasizing the importance of acknowledging the learning curve and embracing the challenges as part of the entrepreneurial journey. 
The Role of Mentorship
Both Rasika and Manan highlight the crucial role of mentorship in the fashion industry. Rasika stresses that having the right mentor at the right time can prevent unnecessary mistakes and accelerate one's progress. She encourages aspiring fashion professionals to be open to mentorship opportunities.
Manan explains that mentorship is essential, as it helps entrepreneurs navigate challenges and find solutions. In the case of Rasika's book, their collaboration extended beyond just publishing, exemplifying the valuable support he provided.
Rudraksha: A Personal Journey
Rasika provides insight into the birth of Rudraksha, her multi-designer store. The store was conceived out of a personal need, as she couldn't find suitable clothing during her pregnancy. Rudraksha caters to the gap in the market for comfortable and stylish clothing. Rasika's faith in Indian design talent and the growing trend of self-care among women contributed to the success of her venture.
As an author, entrepreneur, and working mother, Rasika emphasizes the importance of prioritization, organization, and delegation in managing her roles. She believes in striking a balance and not overburdening herself. She acknowledges the support of her family, particularly her children, who eagerly encouraged her to complete her book.
Opportunities in the Fashion Industry
Rasika highlights the diverse opportunities within the fashion industry, suggesting that students and aspiring entrepreneurs explore various roles beyond traditional fashion designing. She believes the industry requires professionals in fashion communication, fashion buying, merchandising, and fashion journalism, offering a broader scope for career development.
Key Takeaways for Readers
When asked about the key takeaways from her book, Rasika encourages readers to leverage the book as a tool for speeding up the learning curve. Her 15-year journey in Indian fashion, shared in her book, simplifies complex concepts for students and offers valuable insights for aspiring designers, entrepreneurs, and fashion enthusiasts.
In closing, Rasika and Manan offer their parting thoughts. Rasika advises viewers to "trust the process" and remain patient, while Manan emphasizes the importance of quick decision-making and learning from mistakes. Their insights serve as valuable guidance for aspiring entrepreneurs, authors, and individuals interested in the world of fashion.