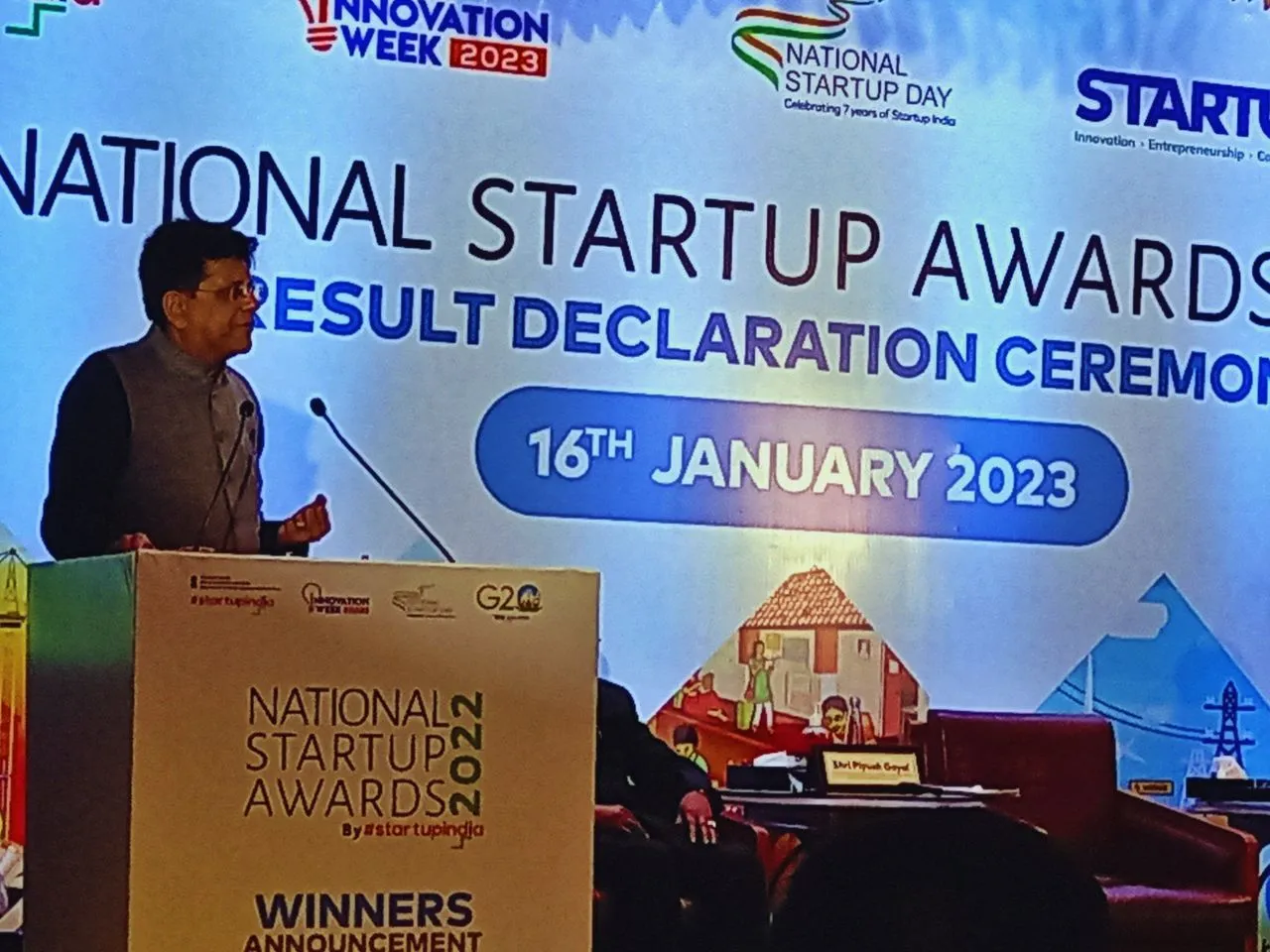 Commerce Minister Piyush Goyal said today that the Modi Government thinks like a startup, relentlessly focusing on newer and better ideas and striving to saturate them throughout the country to improve efficiency, productivity, transparency and integrity of systems and processes. 
He was addressing the gathering after distributing the National Startup Awards 2022 in New Delhi today. 
Lauding Prime Minister Narendra Modi as being both a generator and incubator of brilliant innovations to address the challenges that we as a nation face, Goyal said that under his visionary leadership, the idea of startup India had taken root throughout the length and breadth of the nation. 
The Minister observed that many more innovative ideas and initiatives must be nurtured to ensure that the nation grew at a much faster pace than ever before in the Amritkaal and to meet the aspirations of a young India.
Goyal noted that the Prime Minister placed great focus on speed, skill and scale in the execution of projects. Citing the example of Digital India Mission launched in 2015, he said that early on, the Prime Minister had recognized that unless Digital India was taken to the remotest corners of the country, the vision of equitable development wouldn't become a reality. 
Initiatives like Digital India, 4G and now 5G rollout, broadband connectivity in villages drove the growth of this highly technology dependant startup ecosystem, especially in small towns and in remote parts of the nation, he opined.
The Minister said that the government came up with highly impactful innovations like COWIN app, One Nation, One Ration Card (ONORC), PM GatiShakti National Master Plan, UPI which has powered so many startups and unicorns, Open Network for Digital Commerce (ONDC) which will democratise e-Commerce and save millions of mom and pop stores across the country and JAM Trinity that ensured that the truly deserving received assistance from the government directly, ushering in honesty, integrity and transparency in entire system.
The Minister appreciated the 'MAARG' portal and said that it would help focus, refine and fine-tune ideas. He referred to the investor connect portal and said that it would help innovators from remote parts get access to crucial opportunities and give many deserving startups access to the funding ecosystem. 
Referring to the MAARG portal, the Minister said that the focus of the government is to simplify the interaction of citizens with the government. In line with this approach of the Government, PM had removed the need to notarise documents, placing trust in the common man and this has never been misused, he noted.
He urged startups to give suggestions to improve processes to make it simple, economic.  He also mentioned that over 39000 compliances have been reduced, he asked for suggestions on what more can be decriminalized to reduce compliance burden.
The Minister emphasized on the need for a more robust database on startups to connect them in a better manner with the government, industry bodies and the general public and to capture more ideas of our innovators. Shri Goyal concluded by reiterating that this is a government that listens and wants to engage more with everyone to build the future of India.  
Shri Som Prakash, Minister of State for Commerce & Industry, spoke about how government has been providing handholding and support to the startups of the country, in terms of funding, mentorship and much more. 
The MAARG platform which stands for Mentorship, Advisory, Assistance, Resilience, and Growth was also launched during the felicitation ceremony today. This platform is envisioned to facilitate mentorship between startups and entrepreneurs across sectors, stages, and functions. There are over 600 mentors and over 800 startups registered on the platform currently. The portal will now allow for live matchmaking of mentors with startups, helping startups to access the guidance that will help them grow and increase their impact in India and globally.
The Department for Promotion of Industry and Internal Trade (DPIIT) had conceived the National Startup Awards to recognize and reward outstanding Startups. 
A total of 2,667 applications were received from startups, incubators, and accelerators from 31 states and union territories across the country. These applications were screened and evaluated by more than 50 jury members. These jury members include senior Government officials, Venture Capitalists (VCs), startup CEOs, Industry stalwarts, and renowned educationists, among others.
In this third edition, 41 startups, 2 incubators, and 1 accelerator were recognized as winners in their respective categories. Winners have emerged from Tier-2 and Tier-3 cities, indicating the spread of the spirit of entrepreneurship and innovation across the last mile in the country.
The winning startups (per category) will be awarded Rs. 5 lakh each, and the winning incubator and accelerator will be awarded Rs. 15 lakhs respectively. The results for National Startup Awards 2022 can be found on the Startup India website. 
National Startup Awards 2022
Some startups who won include FruvetechPrivateLimited in Agriculture category, Hydrogreens Agri Solutions Private Limited in Animal Husbandry, Himalayan Hemp Industries Private Limited in construction category.
In the Education and Skill Development category, Trestle Labs Private Limited, Testbook Edu Solutions Private Limited, MakerInMe Technologies Private Limited and Trascender Services Private Limited emerged as the winners.
Corover Private Limited, Renkube Private Limited, KBCols Sciences Private Limited, Whrrl Fintech Solutions, Prantae Solutions (OPC) Pvt Ltd, JC OrthoHeal Private Limited, Amace Solutions Private Limited etc are some other startups who won big during Startup Awards 2022.
Special Category Awards
In the special category of "Women-Led Startup", the winner is...Algorithmic Biologics Private Limited! This startup is revolutionizing the biotechnology industry by bringing the power of algorithms to the field of biological data.
In the categories of "Impact in Rural Areas" and "Startups from North-East & Hilly States and UTs", the winner is... Natura Crop Care! This innovative startup has developed biological and botanical products that meet the demand for residue-free produce, helping farmers across the country improve the health and nutrition of their crops.
Ecosystem Enabler Winners
And the winners of the Ecosystem Enabler category are...drumroll please! Out of the 50 incubation centers vying for the top spot, only two emerged victorious. T-Hub and Centre for Cellular & Molecular Platforms (C-CAMP) stood tall as the champions of innovation.
T-Hub, an incubator with a mission to empower and enable startups and stakeholders, and C-CAMP, an initiative supported by the Department of Biotechnology, dedicated to fostering cutting-edge life sciences research and innovation.
And let's not forget Cisco LaunchPad, the B2B Corporate Accelerator program that propels deep-tech startups working in disruptive technologies, also emerged victorious. These winners truly embody the spirit of innovation and progress. Congratulations to all the winners!