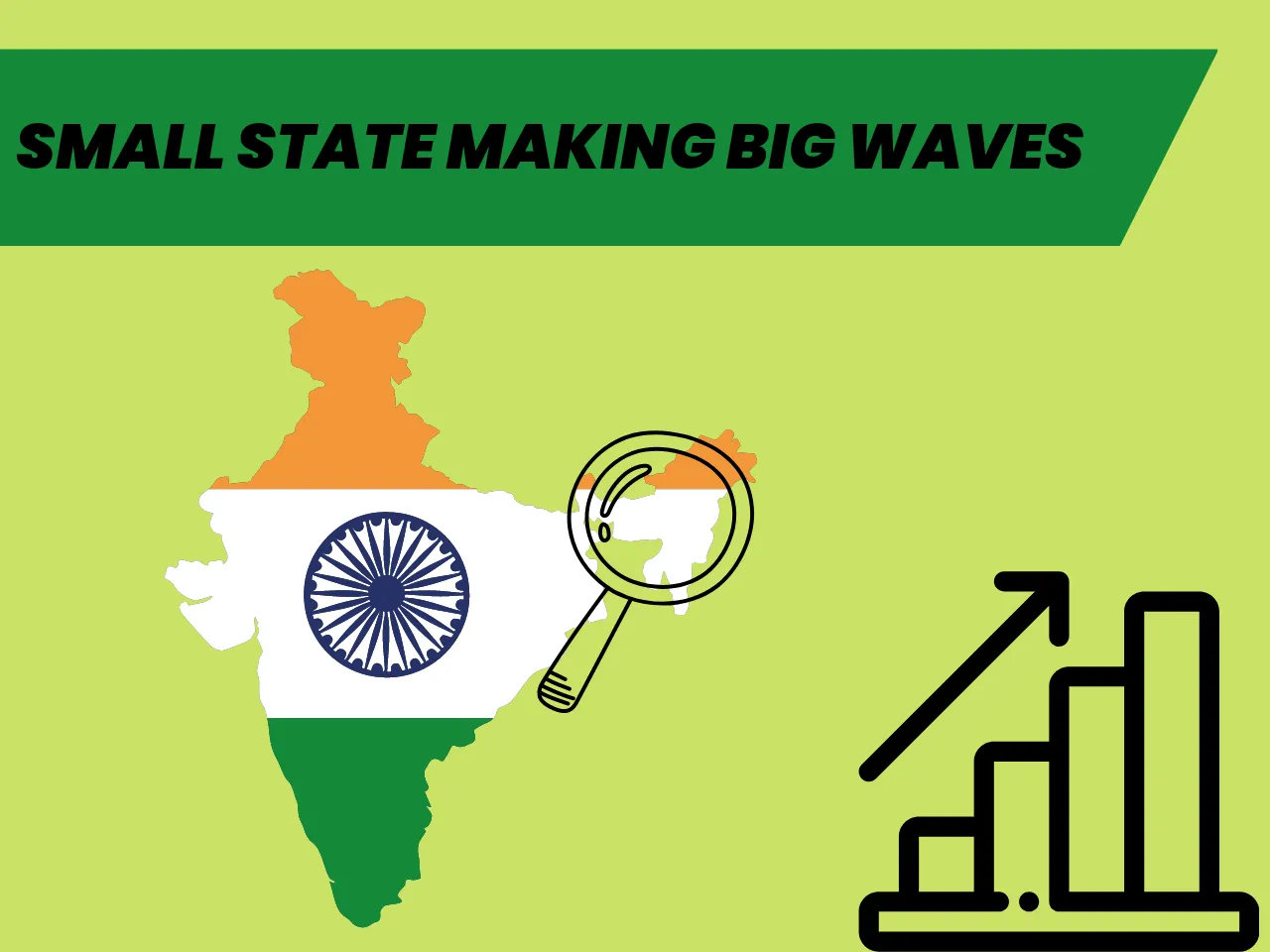 In the lush, green hills of Meghalaya, a revolution is brewing. Young entrepreneurs, fueled by their passion and determination, are rising up to tackle the challenges facing their community. They are the startups of Meghalaya, and they are on a mission
Amidst the breathtaking beauty of this northeastern state, a new generation of visionaries is emerging. With their innovative ideas and cutting-edge technologies, they are driving progress and transforming the landscape of Meghalaya.
From agriculture to healthcare, education to tourism, these startups are tackling some of the most pressing issues facing their communities. And despite challenges, they remain undaunted, driven by a fierce determination to succeed.
Here are the startups of Meghalaya that have made quite an impact in a short time: 
AD Enterprise
AD is an enterprise, founded by a couple, designing and manufacturing waterproof bags with a cultural and traditional story line and artwork. The epic journey of Aiban Khraw Kupar Kharnarry and Daphilinia Jones Mylliemngap began when they were struck by the revelation that the bags of their city, Shillong, were not fit for its weather, nor did they bear the traditional designs that the couple held dear. Undeterred by the challenges that lay ahead, they launched AD enterprise, determined to bring the rich folkloric heritage of their culture to life through the creation of handmade products.
Through tireless effort and unfaltering dedication, Aiban and Daphilinia cultivated their craft, fashioning a range of bags that they proudly displayed on their Instagram page. And as word of their talent spread, so too did the demand for their work. Today, the duo is running a successful business by selling bags over social media platforms.
Ka Ktien Media
From the visionary mind of Babatdor Dkhar Ka Ktien arose Halfandone.com, a revolutionary online journalism portal that defies the norms of traditional media. Offering a cornucopia of alternative content in the form of documentaries, articles, short films, comic strips, poetry, and crossword puzzles, HalfandOne is a haven for those seeking a deeper understanding of the world around them. From the pressing issues of climate change and education, to the arts, culture, and music that enrich our lives, this platform shines a bright light on a wide range of topics, captivating national and international readers alike. HalfandOne stands as a beacon of timeless journalism, guiding us on a journey of discovery and enlightenment.
Ama Foods
Nestled in the heart of rural East Garo Hills, Meghalaya lies Ama Foods, a village enterprise like no other. Founded by the indomitable Baldilla T Sangma, this women-led company is on a mission to transform regional seasonal products like jackfruit, tapioca, pineapple, and banana into high-shelf life delicacies like chips and powders. And with best-selling products like spicy tapioca chips, plain banana chips, and jackfruit chips, it's clear that Baldilla's culinary genius knows no bounds. But her talents don't end there - she is also skilled in the production of traditional fruit wines made with aloe vera, mango, and amla.
Ama Foods is more than just a business - it is a force for good. As a FSSAI certified unit, it is dedicated to preventing the waste of precious resources like jackfruit, which can be lost at a rate of up to 80% during the harvesting season in Garo Hills. Baldilla T Sangma and her team at Ama Foods are truly changing the world, one delicious, sustainably-made product at a time.
When Meghalaya made it to "Best Performers" in Startup Rankings
All thanks to the innovative startups hailing from Meghalaya that the state got recognition in the startup rankings. In 2021, it was a moment of celebration and triumph for the state of Meghalaya to be crowned the best performer in the 3rd edition of the STATES' STARTUP RANKING 2021. With a total of 24 states and 7 UTs participating in the exercise, Meghalaya stood out among the competition as a leader in fostering innovation and entrepreneurship. Through their focus on institutional support, access to market, incubation support, funding, mentorship, and capacity building, Meghalaya has established itself as a hub for startups and a driving force in the startup ecosystem.
Joining Meghalaya in the 'Best Performers' category were the states of Gujarat and Karnataka, solidifying Meghalaya's position as a top player in the startup world. This achievement is a proud moment for the state and a testament to the hard work and dedication of its entrepreneurs and innovators.
What has the government done so far?
The Government of Meghalaya introduced the Meghalaya Startup Policy in 2018 to make Meghalaya one of the leading 'Startup Hubs' in India by 2023. To make this dream come true, the government has actively worked to strengthen the ecosystem in the state.
PRIME
PRIME, or the Promotion and Incubation of Market-Driven Enterprises, is a game-changing program introduced by the Honorable Chief Minister of Meghalaya, Conrad K. Sangma. Launched in January 2020, this program has a bold vision: to make entrepreneurship a preferred career choice for the youth and people of the state.
Through the creation of a dynamic and collaborative ecosystem, PRIME aims to support the growth and success of startups by providing access to credit, relevant technology, and high leverage markets. But PRIME's impact extends beyond just supporting businesses – it is also highly supportive of women-led startups and grassroot level innovators, with 20% of funds allocated to the PRIME Kickstart Grant and the PRIME Innovation Scaleup Loan reserved for women-led startups, and 10% of funds reserved for grassroot level innovators.
PRIME is more than just a program – it's a movement, one that is driving the growth and success of startups in Meghalaya and empowering the next generation of entrepreneurs to make their mark on the world.
E-Champion Challenge
The Chief Minister's E-Champion Challenge program is a beacon of hope for aspiring entrepreneurs in Meghalaya. This annual event gives local talent the opportunity to showcase their ideas and pitch them to a panel of industry experts, successful entrepreneurs, and government officials.
Through a rigorous selection process, only the most promising entrepreneurs are chosen to join the PRIME Startup Incubation Program, a 9-month intensive program designed to nurture and support their growth. Out of a pool of 100 applicants, only the top 50 are selected to participate in this exclusive program.
This initiative has helped to create a thriving entrepreneurial ecosystem in the state, and continues to be a driving force in supporting the growth and success of startups in Meghalaya.
Incubation
According to Startup India government data, more than 50 startups have received incubation support from the State.
Incubation support is provided in the form of financial and infrastructural support to startups and State Supported incubators. The State/UT Governments have been supporting incubators to set up or upgrade existing facilities through funds and incentives to enhance the incubation infrastructure. The support provided by the State/UT to the incubators through programs and incentives is in turn helping startups in scaling up and thereby, contributing to the growth of the State/UT startup ecosystem.
Final Words
The startup ecosystem in Meghalaya is thriving and full of potential. From innovative ideas to cutting-edge technologies, Meghalaya's startups are tackling some of the most pressing issues facing their community and driving progress and change. With initiatives like the Chief Minister's E-Champion Challenge and the PRIME program providing support and resources, Meghalaya is well on its way to becoming a hub for entrepreneurship and innovation. It is a truly exciting time for startups in Meghalaya, and the future looks bright with endless possibilities.