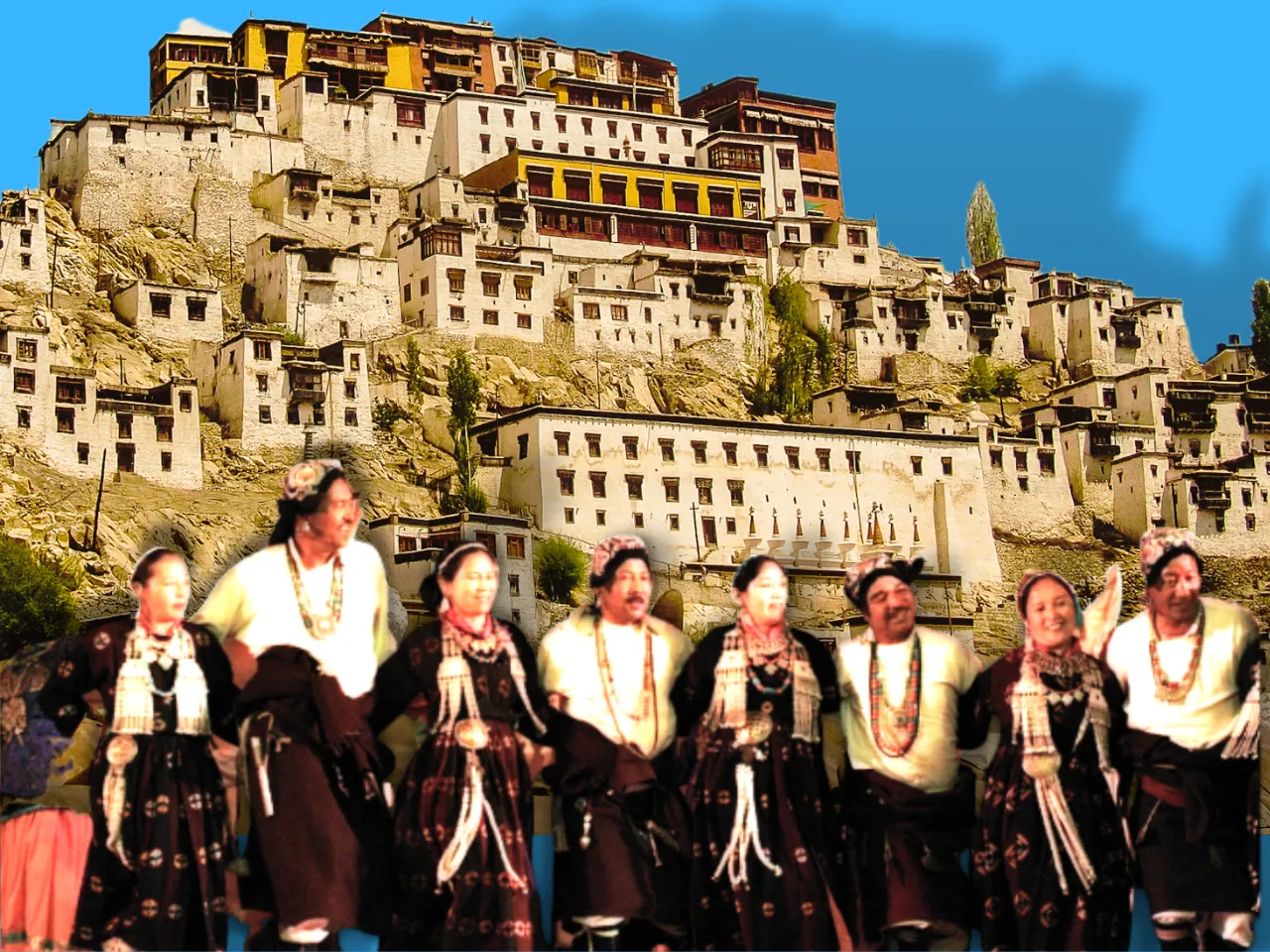 The union territory of Ladakh in northern India is known for its exiquisite beauty. While the region is often talked-about for its scenic destinations, the entrepreneurial ventures that are now preserving and promoting the amazing local craft now need as much of a mention. 
TICE news looks at the new ventures that are leading in creation of  a fabulous identity for the region. 
Looms of Ladakh
Looms of Ladakh is a women's cooperative. Started by the cashmere enthusiasts - Prasanna Ramaswamy, an Indian Administrative Service (IAS) officer, his wife, Abhilasha Bahuguna, and other like-minded people, the startup brings forward the hand knitting and weaving skills of the region. 
When Looms of Ladakh was founded, it faced challenges galore. Distance between production centers at altitudes varying from 9000 ft-17000 ft to lack of funding were just a couple of them. However, the determination and expertise of the founding team ensured that not only was this startup able to streamline manufacturing in such tough terrain but was also able to turn it into its USP. 
Abhilasha Bahuguna, who is a founding member of the venture, says, "after working hard for years, we are now moving strongly towards business sustainability. Business mind with the heart set on working for resilient societies drives our member owners."
If we talk about the growth metrics, the membership base for Looms of Ladakh has increased from 150 initial members to 400 member-owners and decentralized village centers have increased from 8 initial villages to 22 villages.
"Understand the context of your socio-ecological region. Rise above yourself to build well meaning partnerships," suggests Bahuguna to aspiring entrepreneurs.
Nomadic Woolen Mills
Can there be a more appropriate name for a venture that is functioning from one of the remotest regions of Ladakh. 
But when it comes to Pashmina, this extraordinary venture now is the choice of many people in countries like Japan, Thailand, Germany and many others. 
Nawang Phuntsog found this venture. Born in a partly nomadic family of farmers and herders in Teri, a village around 90 kilometers from Leh, Phuntsog grew up as the third among his seven siblings. He spent most of his childhood taking care of his herd of sheeps and goats. Since his childhood, he used to see his people making some direct cash income from the ghosts and sheeps. Naturally, he learned all about Pashmina, its processing and weaving methods. 
When he was in class 12, he was selected for the Pashmina Dehairing Project which was led by a cooperative - All Changthang Pashmina Growers Marketing Society and supported by the Ministry of Textiles. Later, he traveled across the country to train in cashmere production and then started his own business, training local people and providing them employment in his own venture. Presently, he works with three self-help groups, creating employment in the region. 
The entrepreneur owns an outlet in the Main Bazar of Leh. He has also partnered with German entrepreneur Nana Ziesche to set up a Yangla Shop for selling Pashmina products across the world, according to the website of Nomadic Wollens.
Pashmina Goat Project
Pashmina Goat Project is another startup which celebrates pashmina of Ladakh. It is a handmade sustainable Luxury fashion brand, which has become a movement in itself. #PashminaGoatProject is co-founded by a community headed by Dr. Henna Anjum & Dr. Babar Afzal, mentored by a Global Advisory Council of the #PashminaGoatProject.
The project became sensitive to the UN Global Goals through one of its Co-founder, Dr. Babar Afzal, who quit his Silicon Valley career and became a shepherd a decade ago, says the startup's website. He decided to guard the roots of the ecosystem and give the perfection that is Pashmina to the world and in the process give back as much to the community that has selflessly given the world the finest fabric known to man. 
Belonging from the hills, the project is presently handled by its small yet talented team based in India and London. 
Government Fostering Local Businesses
The journey of each one of these startups started from the grassroots level. The government has also played a crucial role in fostering the startup culture which is taking root.
Bahuguna from Looms of Ladakh says, "We are grateful for the subsidized showroom by the government. We have now reached a level where we want to pay competitive rent for it and shall be forever grateful for encouraging our efforts in employment generation through building this decentralized textile industry."
"Prime Minister Modi is very vocal about promoting skills. It is reflecting at field level and is very promising to see so much skill development training. The government is also bringing a new dehairing plant for Ladakh Pashmina in Leh. It is very timely," she adds. 
"The administration has to step up research and development for testing and traceability of Ladakh Pashmina and Yak Wool. Indian start-up Kosha Technologies Bangalore has come up with a traceability technology based on immutable ledger. Geographical Indication, local lab testing, traceability of the raw material from herder to dehaired stage to final product and testing at outlets with RTPCR, all may be clubbed together for the niche positioning of Ladakh Pashmina. 
All these will work well only in an integrated manner. Nepal Chyangra project promoted a lot of entrepreneurs in marketing and opening outlets. I have studied about raw material being sourced from outside despite having their own Chyangra Pashmina by the Nepal entrepreneurs' studios which give consistent employment to very few people," she explained.