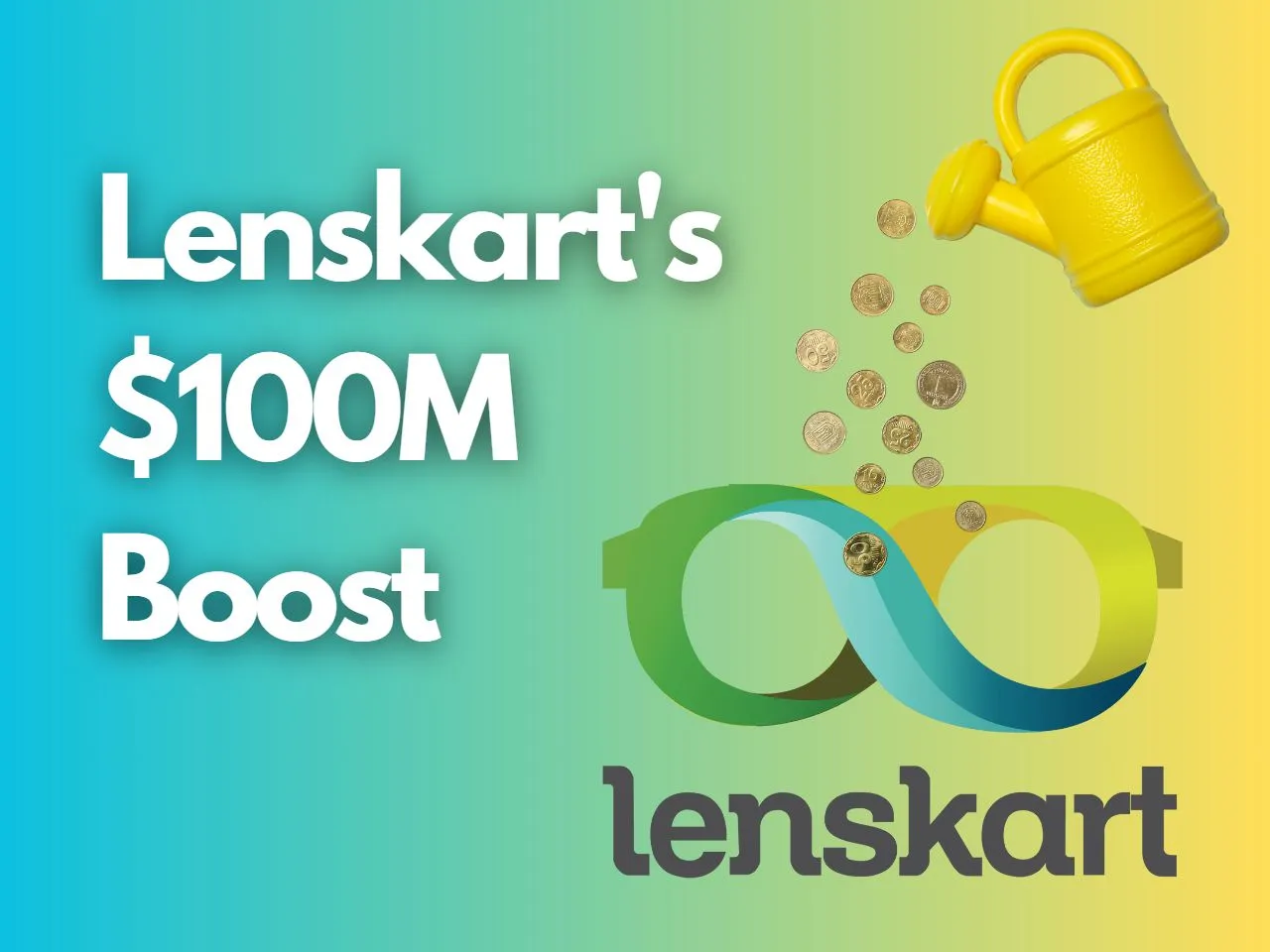 India is facing a significant eyesight issue, with a staggering number of cases of near-vision loss. According to data analysis conducted by the Vision Loss Expert Group (VLEG) and the International Agency for the Prevention of Blindness (IAPB), India alone accounts for 137.6 million cases out of the total 507 million worldwide. However, amidst this challenge, Lenskart, a pioneering startup founded by Peyush Bansal, is at the forefront of addressing this problem. 
LensKart Funding
Lenskart aims to make a profound impact on the lives of millions in India by providing accessible and affordable eyewear solutions and in this bid, the eyewear startup has secured a significant investment of $100 million from ChrysCapital, further propelling its growth and international expansion plans. 
What are the previous fundings raised by Lenskart? 
This latest funding round brings Lenskart's total raise in the past year to an impressive $850 million. The Indian venture firm, ChrysCapital, will acquire shares worth $100 million in Lenskart through primary and secondary transactions. Notably, this investment follows Abu Dhabi Investment Authority's announcement of a $500 million investment in Lenskart, contributing to the substantial valuation of the Indian startup at approximately $4.5 billion.
Peyush Bansal, the founder and chief executive of Lenskart, expressed his privilege in having ChrysCapital on board, stating, "ChrysCapital is one of the most esteemed Indian equity partners, and it is my privilege to have them by our side. Incidences of myopia are rapidly growing globally, especially in Asia, including India, with big unsolved problems of access, affordability, and awareness. We believe that with the help of technology, customer centricity, and big investments in supply chain and talent, we can eradicate the problem of vision correction."
Lenskart: Revolutionizing the Eyewear Industry
Lenskart, a 12-year-old Indian eyewear startup, has gained considerable traction by offering a wide range of eyeglasses, sunglasses, contact lenses, and other eyewear accessories. Backed by prominent investors like SoftBank and Alpha Wave Global, Lenskart has emerged as one of the leading players in India's eyewear market. The startup has disrupted the industry by providing premium eyewear at affordable prices, effectively undercutting the competition.
One of the key factors enabling Lenskart to maintain its competitive pricing is its focus on enhancing efficiency within the eyewear sector. In a recent interview with TechCrunch, Bansal highlighted the firm's ability to manufacture its own eyeglasses and contact lenses, allowing for cost optimization. 
A Growing Presence and Visionary Goals
Currently operating in India, Southeast Asia, and the Middle East, Lenskart sells its eye products through an online platform and a network of over 2,000 stores, with a majority of them located in India. The company continues to expand rapidly, opening more than seven stores per week. Moreover, Lenskart has ambitious plans to manufacture an impressive 20 million pairs of glasses next year.
While the demand for vision correction in India is immense, a significant portion of the population remains underserved. Lenskart aims to bridge this gap by scaling its operations in India and its existing international markets. Bansal emphasized that Lenskart's unwavering commitment to exceptional customer satisfaction, affordability, and reliability will continue to drive its growth and expansion efforts.
Rapid Adoption and Diversification
Bansal further noted the remarkable pace at which Indians are embracing glasses, which has been instrumental in Lenskart's success and the eyewear industry at large. Individuals are now purchasing up to four pairs of glasses every two years, with the figure expected to increase to five. This surge in demand is reminiscent of the growing popularity of sneaker purchases in the country.
Rajiv Batra, SVP at ChrysCapital, expressed excitement about supporting Lenskart's management team, emphasizing their commitment to exceptional customer satisfaction, affordability, and reliability. 
Batra stated, "ChrysCapital is excited to back a strong execution-focused management team that has established dominant market leadership in the eyewear segment. Lenskart has been instrumental in developing this market, driven by its unwavering commitment to exceptional customer satisfaction, affordability, and reliability. With the acquisition of Owndays, there is an opportunity for Lenskart to expand across 10+ Asian countries in addition to the already large Indian market."
Lenskart's partnership with ChrysCapital, along with previous investments, demonstrates the strong confidence and support garnered by the Indian eyewear startup. With its focus on leveraging technology, customer-centricity, and strategic investments, Lenskart aims to address the challenges of access, affordability, and awareness in the global eyewear market.