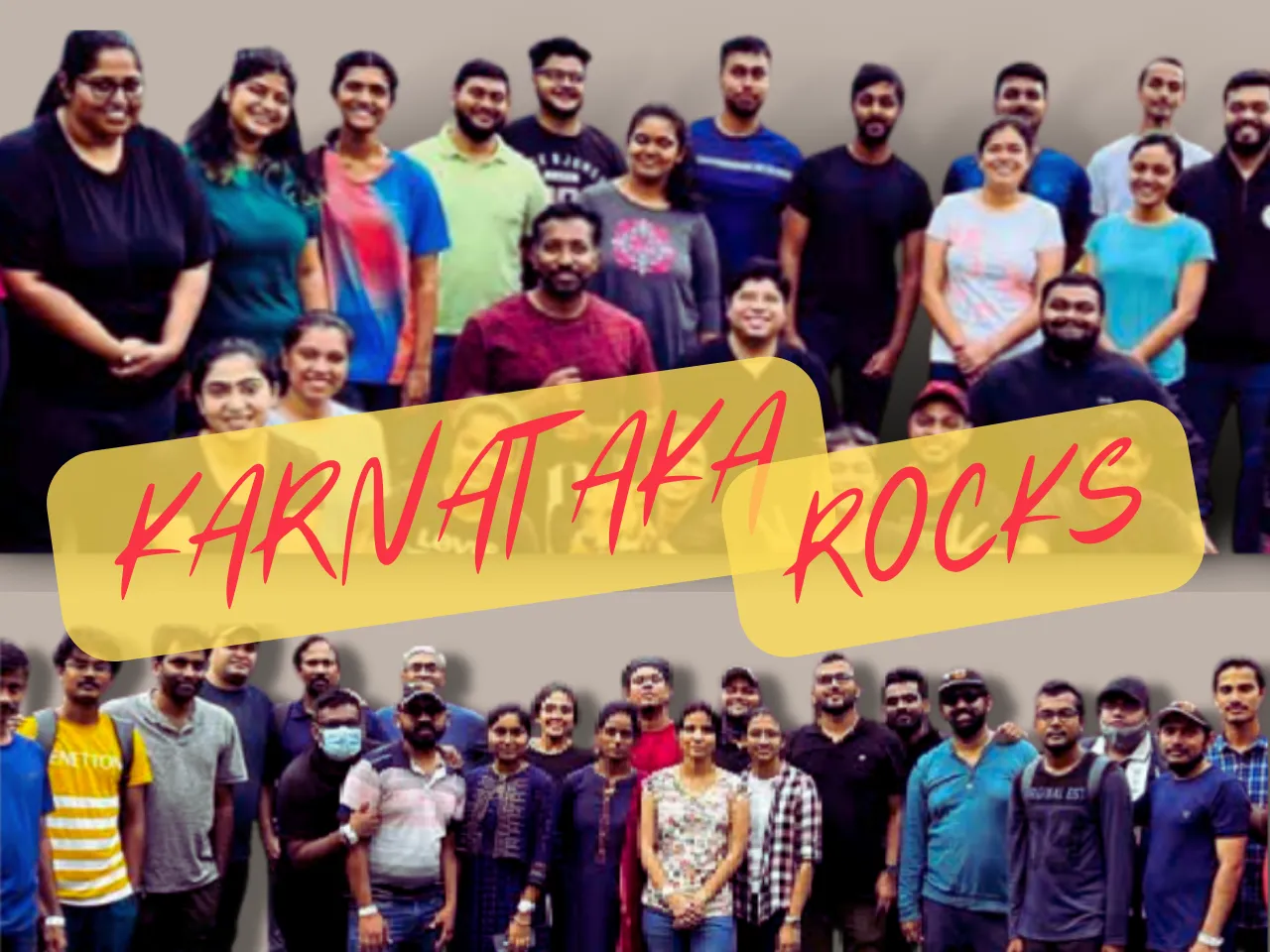 Karnataka, a land of opportunity and innovation. Its capital, Bengaluru, a pulsing metropolis where entrepreneurs, investors, and innovators gather to create a business community unlike any other.
But this is not just a city of promise, it is a city of achievement. Karnataka has risen to the top, a beacon of hope and inspiration, as it claims the throne of startup excellence. The state has secured an awe-inspiring 18 out of 46 national startup awards, leaving all others in its wake. 
The Centre was inundated with a staggering 459 nominations from the state's startups alone, out of a total of 2177 applications from across the entire nation. Karnataka, a true leader in the world of startups.
With India now home to over 108 unicorns, a majority of which are from Bengaluru, including Byju's, Zerodha, Cred, Big Basket, and Ola Electric, the state government has ambitious plans to double the number of startups to 200 this year under its different initiatives for funding support. 
This year, Karnataka has attracted an astounding Rs 1.60 lakh crore in FDI, which is more than half of what flowed into the entire country.
TICE brings you a list of winners from Karnataka that helped the state outshine its peers!
Natura Crop Care
Natura Crop Care is a sustainable farm input manufacturing startup from Bengaluru founded in 2017 by Manoj Kumar Rupa & Gavaskar Jayakanthan. With its unique understanding of microbial plant interactions in nature, Natura is validating the current scenario of increasing global sustainable agriculture horticulture production. Natura has developed biological and botanical products to meet the demand of residue free produce. These products are serving farmers across the globe in plant-soil health management and plant nutrition management.
Wolkus Technology Solutions Private Limited
Wolkus Technology Solutions is an agri-tech startup from Bengaluru founded in 2018 by Ananda Prakash Verma & Shilendra Tiwari. The startup under the brand named 'Fasal', develops an AI-powered IoT platform for precision agriculture. Fasal started with a simple idea - removing guesswork from farming. Farming is not easy and involves a lot of uncertainties. It offers a cloud platform that collects the microclimatic data captured by the on-field sensors.
Hydrogreens Agri Solutions Private Limited
Hydrogreens Agri Solutions is a Bengaluru-based enterprise founded in 2019 by Vasanth Kamath, with the objective to solve the supply gap of quality fodder for small and marginal livestock farmers in a sustainable manner by providing them with the right technologies and solutions to produce excellent fodder. The startup is hyper localizing the availability of fresh feed that is affordable and harvested responsibly in an environment friendly manner.
Makerinme Technologies Private Limited
MakerInMe Technologies is an edtech startup from Bengaluru founded in 2016 by Parag Gulhane & Harish Rawlani. The startup provides a complete STEM (Science + Technology + Engineering + Math) solution and makes the learning easy for students & teachers through its product.
Log 9 Materials Scientific Private Limited
Log 9 Materials is a nano-materials manufacturing and research & development startup from Bengaluru founded in 2015 by Dr Akshay Singhal & Kartik Hajela. Log9 Materials is a vertically integrated startup with proven in-house capability for materials development, device prototyping and production/assembly.
Renkube Private Limited
Renkubeis a renewable energy startup from Bengaluru founded in 2017 by Balaji Lakshmikant & Dr Lakshmi Santhanam. The startup is a pioneer in the field of Motion Free Optical Tracking (MFOT) of solar panels. It is committed to contribute to a sustainable future by producing cutting edge products in the renewable energy field. Renkubeis exclusively focused on developing and commercializing MFOT-based solar technology. MFOT technology will allow module manufacturers to significantly improve the price performance ratio of their solar panels.
Nextscm Solutions Private Limited
Nextscm Solutions is a data and technology startup from Bengaluru founded in 2016 by Rajul Jain and Anshuman Agarwal. The startup focuses on improving inventory efficiency for fashion brands and retailers. Its supply chain management platform broadly includes verticals such as technology-led merchandising and pricing, design intelligence, fulfillment technology, and services. The startup aims to help brands with their merchandising and fulfillment operations and to build systems for gathering data and have relevant algorithms for recommendations.
Tylumia Intelligence Technology Private Limited
Stylumia Intelligence is AI-led fashion intelligence startup from Bengaluru founded in 2015 by Ganesh Subramanian. The startup enables product decision makers with actionable consumer demand intelligence using proprietary data and AI models, to help brands and retailers reduce the humongous economic and environmental wastage by 30-40% , caused by ill-informed decision making.
Corover Private Limited
Corover is an AI and ML Startup from Bengaluru founded in 2016 by Ankush Sabharwal. CoRoveris the world's first and the highest ROI delivering human-centric conversational AI platform. The startup builds conversational AI Chatbot across text and voice to improve customer engagement, increase conversions and reduce support requests. The startup is on the mission to enable users to talk to any system the way they talk to an intelligent person.
Changejar Technologies Private Limited
Changejar Technologies is an investment tech startup from Bengaluru founded in 2021 by Nishchay AG & Misbah Ashraf. The startup promotes micro-savings through its application-based product. The startup aims to help millions of Indians rediscover the undeniable, cumulative advantages of saving some amounts every single day. The startup intends to reintroduce this generation to the concept of piggy banks, by helping them save in digital gold and staying bank agnostic so that no matter who a user banks with, they can always save using Jar.
Mallipathra Nutraceutical Private Limited
Mallipathra Nutraceuticals is a Bengaluru based startup founded in 2016 by Dr Mousumi Mondal. The startup is cultivating the world's costliest, high medicinal value instilled cordyceps mushrooms. Cordyceps are known to have several medicinal properties such as anticancer, antioxidants, enhance immunity and enhance stamina among people.
Algorithmic Biologics Private Limited
Algorithmic Biologics is a deep tech startup from Bengaluru founded in 2021 by Manoj Gopalkrishnan, & Bhanu Priya Vaddiparthi. The startup provides cloud-delivered services to diagnostic labs that increases their efficiency by 20 times without any additional capex investment and leads to a 90% reduction in operating cost, effort, and analysis time per sample. The startup is seeking to enhance molecular technologies and enable innovation for healthcare, agriculture, animal husbandry, pharma, food safety, and other verticals where molecular information is significant.
Yourdost Health Solutions Private Limited
YourDOST Health Solutions is a healthcare startup from Bengaluru founded in 2015 by Richa Singh & Puneet Manuja. The startup provides an online counseling and emotional support platform designed to foster mental wellness With 900+ experts on the platform, users can reach out to them 24x7, for guidance related to anxiety, relationships, career, academics, sexual wellness, and self-improvement, among other things. YourDOST has touched over 20 lakh lives through its services so far. The startup has helped over 300+ corporates, educational and government institutes to build resilient communities.
Amace Solutions Private Limited
Amace Solutions is a 3D metal printing startup from Bengaluru founded in 2018 by Lagadamane Shankarnarayana Umesh. The startup is an end-to-end metal additive manufacturing solutions provider, and is a part of the Ace Micromatic Group. The startup is one of the first-of-its-kind in the country to launch its own indigenously developed metal 3D printing machine based on uncapitalised power bed fusion technology, the STLR-400.
Sandlogic Technologies Private Limited
Sandlogic Technologies is an AI and ML startup from Bengaluru founded in 2016 by Devaki Kamalakar & Radhika Kanigiri. The startup provides a web-based interface that is easy to adopt & scale on any kind of web browser or system. It uses state of the art, scalable architecture as a backbone which enables customers to go from a minimum of 1 camera to 1000 cameras at one go. It also provides functionality that can add 40+ EHS compliances with a simple click on Graphical User Interface (GUI).
Lab To Market Innovations Pvt Ltd
Lab To Market Innovations (L2M Rail) is an industry 4.0 startup from Bengaluru founded in 2016 by Sreenivasa Rao Ganapa & S K Sinha. L2M Rail is a robust engineering and R&D startup working on Industry 4.0 technologies based on complex Cyber-Physical Systems (CPS)—the revolutionary combination of internet of things (IoT), artificial intelligence (AI), machine learning, big data & analytics, cloud computing, 5G and physical objects.
Qunu Labs Private Limited
Qunu Labs (QNu Labs) is a cyber security startup from Bengaluru founded in 2016 by Sunil Gupta & Mark Mathias. The startup provides quantum-safe and quantum resistant data encryption, secure key generation and quantum key distribution solutions and services to the financial industry, telecom service providers, large and medium enterprises, defense, and government organizations worldwide to protect their assets from current vulnerabilities and future attacks that may arise.
Cogos Technologies Private Limited
COGOS Technologies (COGOS) is a hardware and technology startup from Bengaluru founded in 2016 by Prasad Sreeram & Dr Rama Mohan Katta. The startup offers a one stop destination for intra city transportation. Keeping up with the pace of changing requirements, it has built a robust technological background with the intelligently integrated advanced sensors, IoT, AI/ML based analytics and third-party applications to accelerate the upliftment of our fellow trucker entrepreneurs and clients.