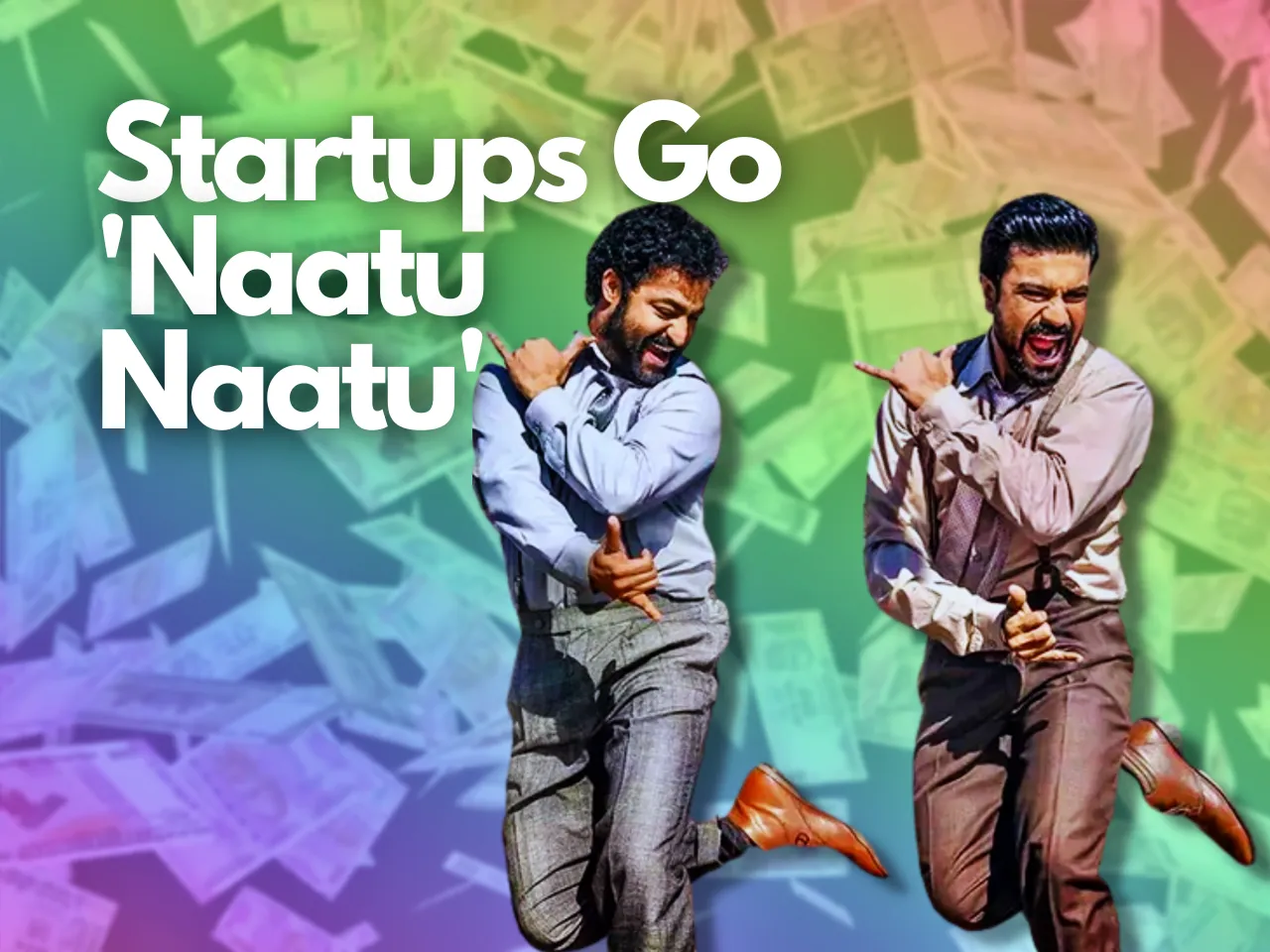 India's success at the Oscar Awards 2023 was evident when RRR's Naatu Naatu won the award for Best Original Song. But Indian achievements are not limited to just the Oscars, as the country's startup ecosystem is also experiencing positive developments on the global forum. 
Just as the song Naatu Naatu from RRR won big at the Oscars, Indian startups are going "Naatu Naatu" (strong and steady) in their own space. 
Despite a slowdown in global funding, Indian startup funding have shown stability and growth, with a 16% quarter-on-quarter increase in funding for tech startups in Q4 CY22, totaling $2.9 billion. This is a clear indication that Indian startups are continuing to thrive and make their mark on the global stage. Although there were no new unicorns this quarter, the steady growth of funding is a positive sign for the Indian startup ecosystem.
Late-Stage Deals on the Rise
Although there were no new unicorns in Q4 CY22, the NASSCOM data shows an increase in late-stage deal values, which were up by 120% from Q3 CY22, by the total value of funding. Additionally, deal volume was up by 17% Q-o-Q, with an increase in the number of early-stage deals, with 196 early-stage deals in the fourth quarter of 2022, compared to 104 deals in Q4 CY21. The average deal value remained constant in Q4 CY22 over Q3 CY22 at $11.5 million.
India Versus the Global Tech Landscape
Tech funding in India increased by 16% in Q4 CY22, whereas it decreased by 6.4% globally. Meanwhile, deal volume in India increased by 17% Q-o-Q, as opposed to a decrease of 15% globally. This indicates that India's tech startup ecosystem is growing at a stable pace, even amid the funding winter at the global level.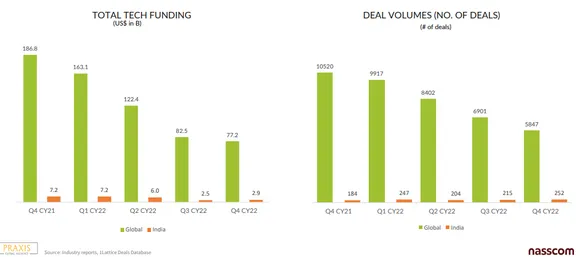 Diversified Funding Across Sectors
The funding data shows that the Indian tech startup ecosystem is diversifying across sectors. FinTech and RetailTech sectors saw high traction, with average deal values of approximately $17 million and $14 million, respectively. FinTech startups witnessed investments of approximately $662 million in Q4 CY22, with the Lending & Collection micro-vertical being the highest contributor. This space is picking up as funding raised grew by 83% year-on-year (y-o-y), even though funding in FinTech shrunk by 62% y-o-y.
Funding in the RetailTech sector grew 8X compared to Q3 CY22. Companies with innovative business models and proven financials are gaining investor support, which is leading to increased funding.
Indian Startup Ecosystem Is Resilient and Mature
Overall, the data shows that the Indian tech startup ecosystem is stabilizing amid the global funding winter. Although there were no new unicorns this quarter, the increase in late-stage deal values and early-stage deals indicates that startups are maturing, and investors are confident in their growth prospects. Additionally, the diversified funding across sectors suggests that investors are interested in startups beyond the traditional tech industry, such as RetailTech and FinTech.
It is important to note that the growth in FinTech despite a decrease in funding highlights the sector's resilience and potential for long-term growth. Meanwhile, the significant growth in RetailTech funding indicates that Indian consumers are increasingly adopting digital solutions for their retail needs.
Source: NASSCOM