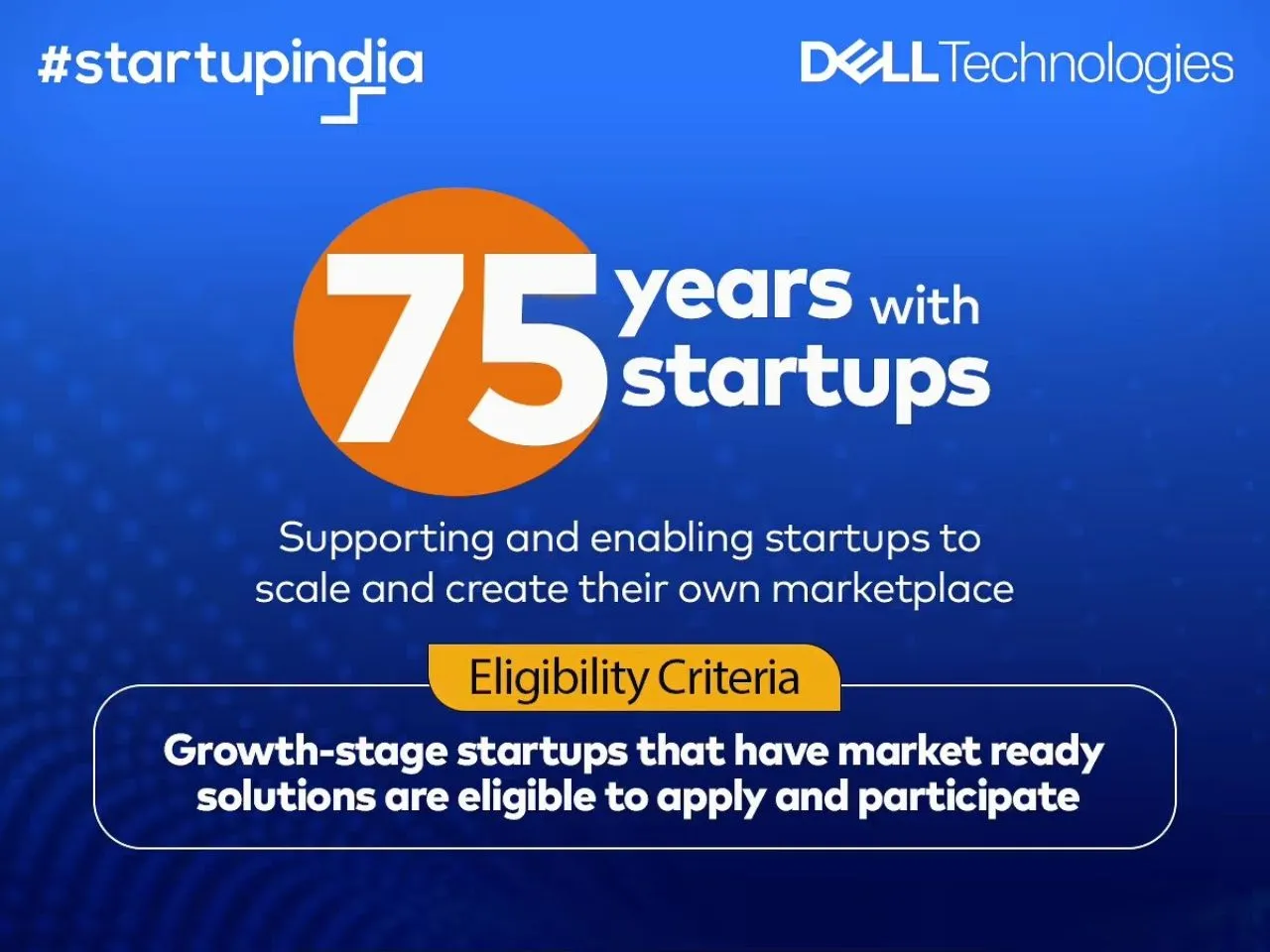 Dell Technologies has partnered with Startup India Mission, to create a platform that will help Indian technology startups scale and create their own marketplace. The collaboration aims to engage with startups that are in the growth stage, providing them with opportunities to build their business and generate working capital via market access collaborations.
The startups that are registered with the Department for Promotion of Industry and Internal Trade (DPIIT) are eligible for the programme.
Under the programme, market opportunities for matured, yet early growth start-ups will be created. This would enable them to not only build their early credentials but also put them on a path to generate initial working capital.
Shortlisted Startups To Receive Consulting & Counseling
The partnership focuses on supporting and enabling 75 startups, which will be shortlisted based on an application form. Dell will provide exclusive technology consulting sessions, known as Tech-Teardown, as well as expert engineering counseling that focuses on technology scalability issues. In addition, startups will be able to benefit from go-to-market collaborations with Dell's customer ecosystem.
Shortlisted Founders For Dell Business Masterclass 
Fifteen of the shortlisted startups will receive access to a business masterclass organized by Dell Technologies and powered by the Indian Institute of Management Udaipur (IIM Udaipur). The business masterclass will provide startups with training in multiple domains, such as finance, marketing, and entrepreneurship.
Startup Winners To Recieve Micro Tinkering Lab Fund Assistance 
The top seven startup winners will receive a micro-tinkering lab worth $5K USD each. The micro-tinkering lab will include workstations, tower servers, and accessories, among other tools.
Growth-stage startups with market-ready solutions are eligible to apply and participate in the program. The themes for the challenges are open innovation startup challenge, and the incentives include an exclusive 2-hour Technology Consulting session (Tech Teardown) for selected 75 startups, go-to-market collaborations with Dell Technologies, and 5 hours of engineering expert counseling for a focused technology scalability issue.
The program aims to create market opportunities for early growth startups that are ready to generate initial working capital.
Procedure Post Submission
The 75 startups will be shortlisted to begin the challenge and will be provided with program support. The 15 startups will be shortlisted based on potential, progress, and a pitch presentation for the business masterclasses with IIM Udaipur. The top seven startups will be shortlisted via an external jury as the challenge winners.
Eligible Sectors For

Dell Business Masterclass 
Analytics AR VR (Augmented + Virtual Reality), Automotive Animation, Computer Vision, Agriculture, Aeronautics Aerospace & Defence, AI, Green Technology, Finance Technology Enterprise, Software Education Technology, Hardware Healthcare & Lifesciences, Internet Of Things, IT Services, Media & Entertainment, Retail Professional & Commercial Services, Logistics Security Solutions, Robotics.
Relevant Stakeholders, To Apply For The Programme
The Ideation Stage Startups, Validation Stage Startups, Early Traction Startups, and Scaling Stage Startups can apply for the Dell-Startup India programme.
This partnership between Dell Technologies and Startup India is a significant step towards supporting the Indian startup ecosystem. The program will not only provide startups with access to technology consulting, engineering counseling, and business masterclasses but also with the opportunity to collaborate with Dell's customer ecosystem in India. This will enable startups to build their businesses and generate working capital, contributing to the growth of the Indian economy.