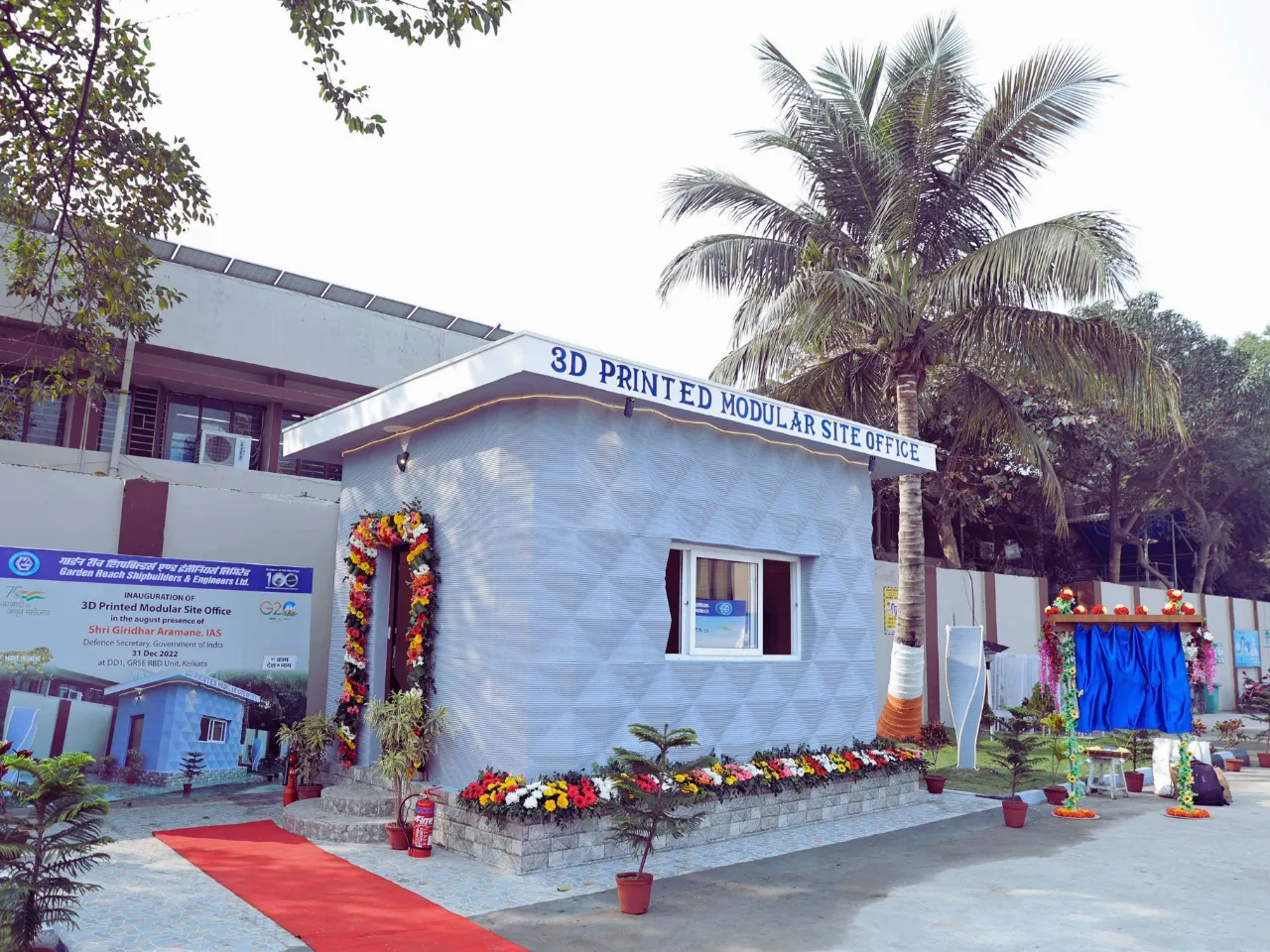 Deep Tech Startup Tvasta Manufacturing Solutions, which specializes in Construction 3D Printing, has constructed Kolkata's first 3D Printed structure at Garden Reach Shipbuilders and Engineers (GRSE) Limited, a nationalised shipyard. This is the first project in a series of potential large-scale construction projects using 3D printing for GRSE.
Shri Giridhar Aramane, IAS, Defence Secretary, Government of India, inaugurated the Structure during a ceremony on 31st December 2022. The 3D printed Site Office Project, which was built as a technology Demonstrator, would be utilized by GRSE for monitoring Anti-submarine Warfare Shallow Water Crafts (ASWSWCs).
The 3D Printed Modular Site Office was designed and executed in 10 days. It has a size of 180 sq ft and has a customized design providing a comfortable working space for 6 to 8 people. An Offsite Construction Methodology was followed for this project.
The printing of modules of the structure was completed in 2.5 days at Tvasta's factory in Chennai. It was transported to the site location in the form of modules, which enables swift assembly and finishing and efficient use of labor.
Garden Reach Shipbuilders and Engineers (GRSE) Limited is a Mini Ratna Category 1 Company that has so far delivered 108 warships to India and other countries. It is an integral part of Indian Defense preparedness to produce the most modern warships through indigenization for the country aimed at self-reliance     
Elaborating on the need for such projects, Mr. Adithya VS, Co-Founder and Chief Executive Officer, Tvasta Manufacturing, said, "This project depicts the necessity and capability of advanced construction technology in the infrastructure development of the country across various sectors. The execution strategy for the current project incorporated an optimal use of durable materials to ensure robustness and sustainability, thereby generating less wastage and a lower carbon footprint. Tvasta is currently focusing on modular construction such as this structure which will be a useful solution for quick infrastructure and 'assemblable buildings'."
Construction 3D printing is an additive manufacturing process where the material is added layer by layer to build a structure. Operated through an automated system, this is a purely Industry 4.0 era technology and can be termed as 'digitized construction.' 3D Printing is a modern technology adapted to automate the construction process to a considerable degree.
Founded in 2016 by IIT Madras Alumni, Tvasta developed a 'Made in India' technology focusing on leveraging Automation and Robotics in 3D Printing Platforms for faster, economical and sustainable construction methods compared to conventional technologies. The start-up is currently based out of Chennai and Bengaluru.
India's First 3D Printed House was constructed by Tvasta in the IIT Madras Campus, demonstrating its capabilities and feasibility in the actualization of a physical structure. This pilot structure along with the indigenously developed technology also marks the start-up's endeavours in highlighting a potential alternative solution that may address India's housing and infrastructure challenges.
Additionally, Tvasta has successfully constructed India's first 3D printed Monument, "Ananta Siras" for the 75th Anniversary of The India Cements Ltd. in Chennai last year.
ABOUT TVASTA
Tvasta is a deep-technology start-up focusing on Construction 3D Printing and manufacturing solutions. Instituted in 2016 by three alumni from IIT Madras, its primary interests lie in the development and leveraging of 3D Printing Technology Platforms that target specific high-value industry applications. The company's current portfolio includes verticals such as Construction, where Tvasta has showcased multiple product prototypes addressing specific technology needs.
As India's leading fullstack developer of indigenous 3D printing solutions with end-to-end platform technology, Tvasta has complete ownership of its technological resources instrumental in the actualization of physical structures – the machinery, material, software and printing strategy.
Tvasta was co-founded by three IIT Madras Alumni - Mr. Adithya VS (Dept of Mechanical Engineering), Chief Executive Officer, Mr. Vidyashankar C. (Dept of Electrical Engineering), Chief Operating Officer, and Mr. Parivarthan Reddy (Dept of Mechanical Engineering), Chief Technology Officer.
Tvasta has developed indigenously, an entire technological value-chain in the area of Construction 3D Printing. This includes Production and Assembly Strategy – the Construction 3D Printer, Proprietary raw material of a special mix design used for printing, the Software – and the Printing Strategy. As the leading End-to-End Technology, Product, Platform and Solutions Developer for Construction 3D Printing in India, Tvasta's cornerstone is its substantial Intellectual Property Portfolio.
Tvasta envisions an Indian Construction Industry that is 'Industry 4.0 ready.' As a budding start-up in a country focused on 'Make in India', Tvasta intends to develop further indigenous technologies to disrupt the construction sector and automate 80 percent of all processes, catapulting the industry into a new era of 'Atma Nirbhar Bharat.'
"Narrating your story is our Passion" - Read More on TICE