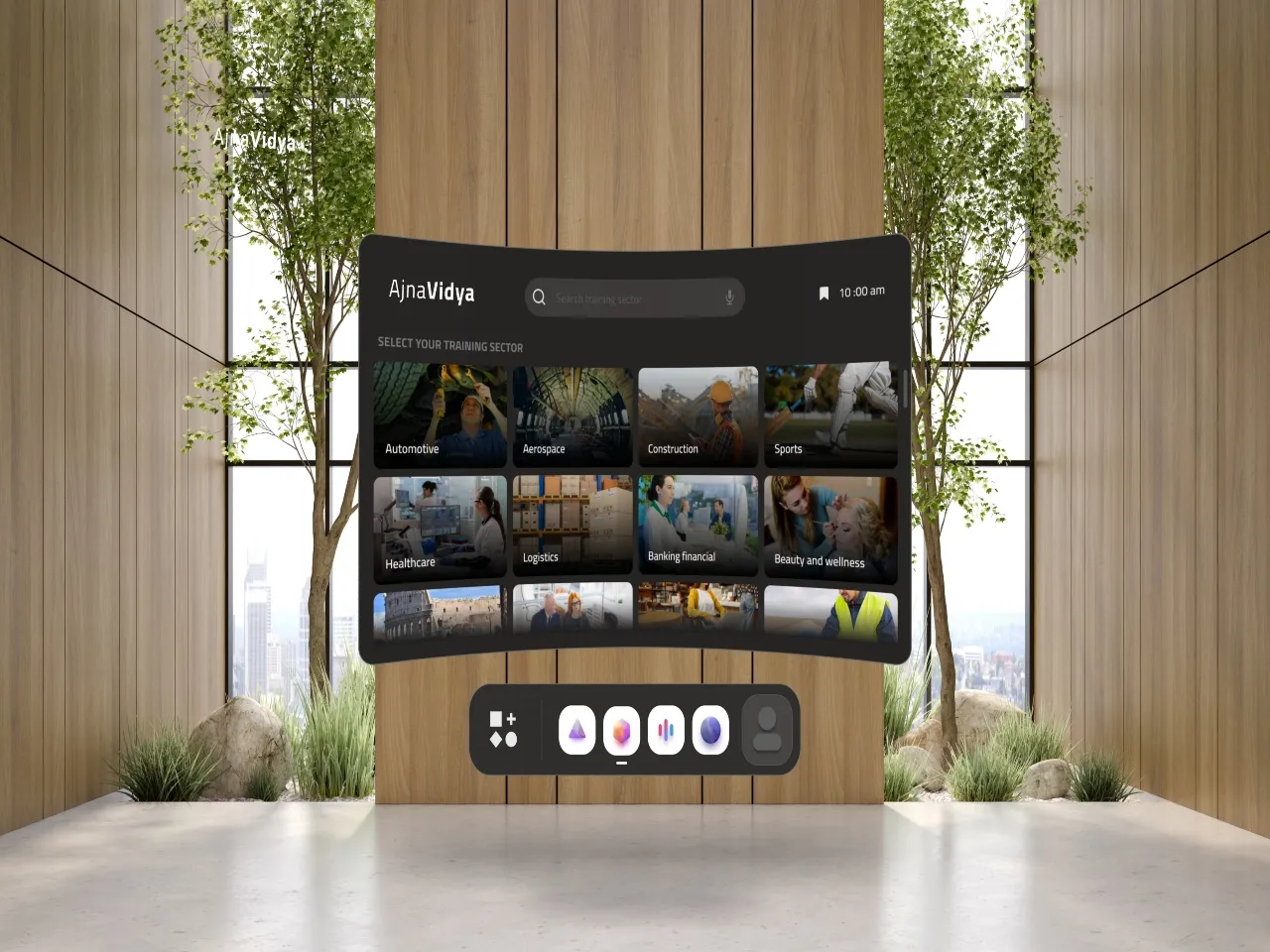 AjnaLens, an Indian startup created history by launching India's first 'Made In India' True Mixed Reality Glasses, named AjnaXR at the CES 2023 for learning in extended reality. The meticulously designed glasses are in-built with its learning platform, AjnaVidya which enables users to up-skill or re-skill themselves in the virtual world. 
AjnaXR packs incredible capabilities into a surprisingly small space. A headset lighter than the lightest in its segment with user interactions so simple and natural, is here to revolutionize the way you learn.
The exclusive AjnaVidya platform is built considering developers' requirements and the learner's market. It opens enormous opportunities for both the learners and the developers. The platform enables the developers to upload their content, which the learners can access and learn from the best of industry-validated courses. 
The leaderboard evaluates the learner's performance and is accessible to the hiring partners. It acts as a personalised training tool, flagging off the areas of improvement to the learner. Right from automotive, healthcare, mining, to airport maintenance, mindfulness and metaverse creation, the platform offers a wide range of training from different industries under one roof.
Furthermore, for developers, AjnaLens is providing intelligent tools to identify market demand, superior user analytics to build impactful experiences, publish their experience and sell it to millions of learners globally with zero upfront fees. AjnaVidya also offers an NFT marketplace to create these experiences faster or monetize their existing asset library. 
With AjnaVidya, developers can focus on creating world-class photorealistic training experiences while the platform will take care of everything else.
Simultaneously, AjnaLens has on-boarded 30+ hiring partners, which can select the best fresh talents straight from the platform, opening new doors for the fresh skills in the creators' market. The platform also enables interactive and collaborative learning, keeping the human experience at the center.

Abhijit Patil, Co-founder & COO, AjnaLens, said, "We are thrilled to launch India's first True Mixed Reality Glasses and world's first complete immersive learning ecosystem at a global event, CES 2023. We envisioned representing India and showcasing the talent we have in India. With AjnaVidya and AjnaXR, we aim to provide an immersive learning experience with real-life tools to the trainee and help them get placed at a highly competitive pay scale globally."
As per a recent study by PWC, immersive learning proved to be the most effective way of learning compared to existing industrial training methods. With AjnaVidya, one can be trained 4X faster and will boost confidence while applying it in the real world. Additionally, it's a 52% more cost effective way of training.
Speaking about the newest launch, Abhishek Tomar, Co-founder & CTO, AjnaLens, said, "Started with the vision to revolutionize the learning and human development, we have come a long way. We aim to transform human lives by building a skill-first world with equal economic opportunities."
The platform can be accessed through the web app & the entire processing takes place on the Cloud, making it more immersive. The company aims to satisfy enterprises' customized training demands with the AjnaXR and AjnaVidya and help them upskill the existing workforce. 
About Ajnalens:
AjnaLens is a Human-First Organisation. Named after 'Ajna', the sixth chakra or the third eye, AjnaLens strives to transform the lives of humans and help them unleash their true potential. The impact-driven startup is on a mission to create a skill-first world with equal economic opportunities by redefining learning and human development.
Founded in 2014, AjnaLens is a pioneer of XR in India, building AI-powered wearable technologies to upgrade the skill development ecosystem. Over the years, AjnaLens has built state-of-the-art immersive learning solutions to help governments, education institutes and fortune 500 companies in their digital transformation journey. They have deployed the world's largest Metaverse for Vocational Training across 300+ industrial training institutes in India, transforming the lives of 18000+ students every year.
AjnaLens is trusted by 30+ prestigious clients like the Indian Army, Indian Navy, DRDO, Ministry of Defence, Vedanta, L&T, and Tata Technologies among others. Their partner ecosystem includes top companies like Qualcomm, Nvidia, and Unreal Engine. AjnaLens has filed 20+ patents in augmented reality, virtual reality and allied fields. The company has won numerous accolades like the prestigious Graham Bell Innovation Award, Business Transformation Award for Employment Generation, Most innovative Enterprise 5G use case and many more for its significant efforts towards bringing a positive change for humanity.
(Disclaimer: TICE News did not write this content. The brand's agency or company has sent press release)