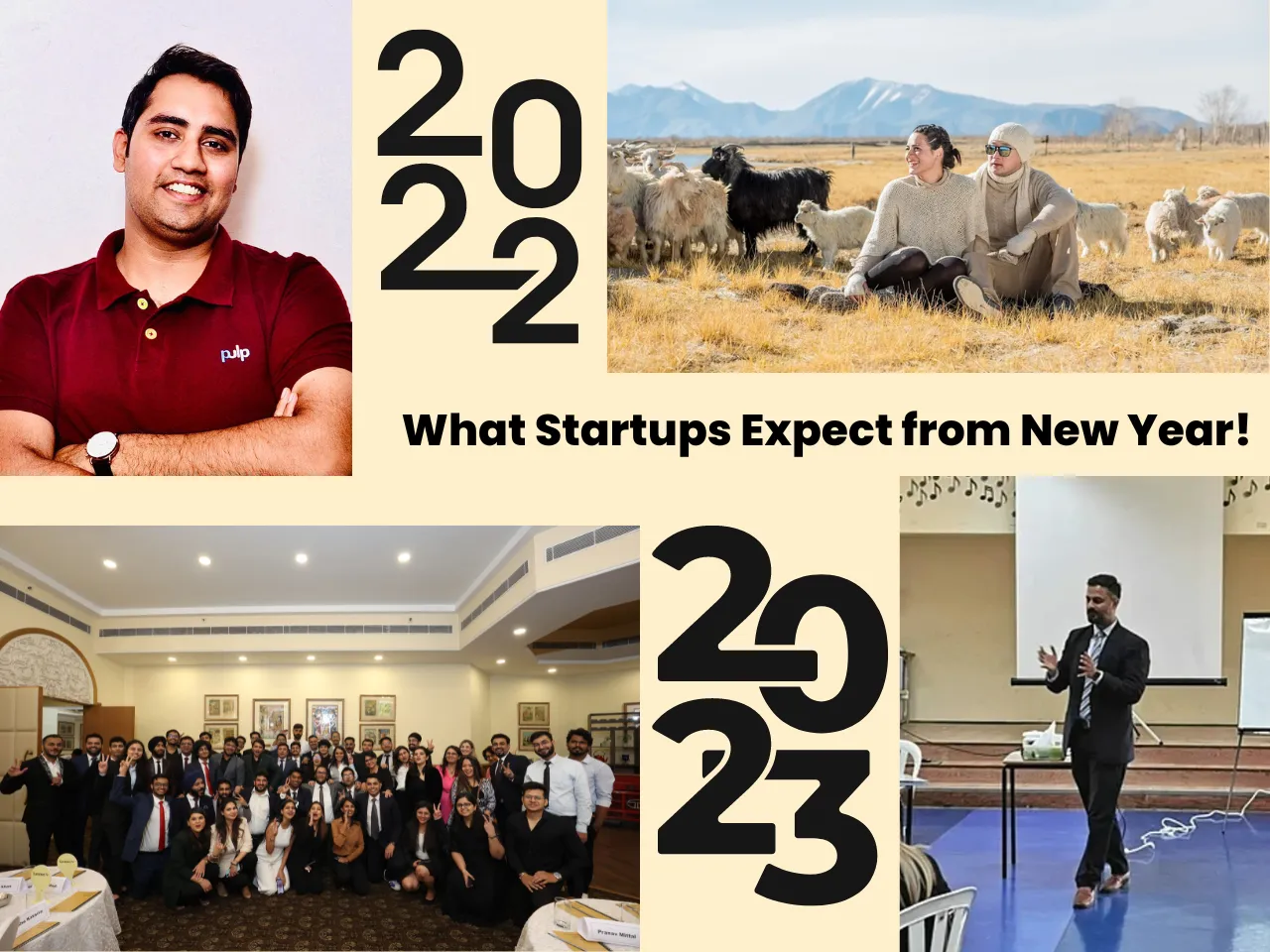 December is a month when we conclude the year but it is also a month of hopes and new beginnings. It is a time of year when everyone makes new year resolutions. Not just individuals, startup owners do it for their businesses too! In 2022, the startup ecosystem has recorded new growth parameters. In just the first 7-months of 2022 alone, India saw 21 new unicorns. 
Now, startup brands look forward to new heights for the upcoming years! As we bid a goodbye to 2022 and enter a new year, TICE News talked to several startups to understand what brands are planning for the new year!

Let's take a look! 
Energy Tech: Bert Labs
The world including Bert Labs came out of a never-seen pandemic and the impact of it, says Rohit Kochar, Founder, Executive Chairperson and CEO of Bert Labs. 
Bert Labs sustained itself in the negativity both from internal sources, as well as from external sources. People fearing insecurity like never before reacted very strangely, both from the perspective of internal talent as well as from the perspective of clients, he says. 
Bert Labs showed lot of empathy, sensitivity, lot of resilience, and perseverance and therefore was in position to innovate, not just hang around, but showed the agility to innovate and build its capability around Bert Platform Solution, for manufacturing, which has been traditionally a major source of energy consumption, adds Kochar. 
"Now as we stare with lot of positive anticipation towards 2023, Bert Labs is going into the new year, with a whole lot of positive momentum with respect to people, with respect to clients, where we are recruiting 4-5 people every week going into 2023, will close the first quarter of 2023 at 150 people and end of 2023 at 1000 people," he adds.  
"This growth will come from non-India markets also, like the Middle East, US, UK, and Western Europe. With respect to clients, Bert Labs has signed this year, going into 2023, close to 50 clients across sectors, cement, chemical, pharmaceuticals, automobile, FMCG, smart cities and smart buildings. The deployments of Bert Platform Solution started in the first plant of these clients, in these sectors. 2023, we will see a whole lot of success in the first plant and the subsequent scale-up in the multiple plants and in other use cases, like production efficiency and quality improvements to fuel this growth, Bert Labs will end up setting offices in Dubai, in US, in UK and in Western Europe, this would be in Germany," he says. 
"The world in 2023 is being talked about facing recession. Bert Labs has built enough momentum on research, innovation, and development, on people, on clients for it to continue its exponential growth despite the recession being spoken about. Therefore, be able to continue with its 500% growth in 2023 and reach closer to 2500 crore INR revenues at 40% EBITDA profitability," says Kochar.
Textile: Pulp
The startup says it had a thrilling 2022 and now the startup brand is looking to achieve new growth parameters in 2023. 
Dhimanshu Jain, founder at Pulp and Deepak Prajapati, co-founder at Pulp say, "We, at Pulp, had a great 2022, wherein we aligned our production capabilities, launched various categories of clothes such as Shackets, Yoga Pants, Oversized Tees, A-Line dresses and have pierced through corporates and schools; reached more than 10k people adopting sustainable fashion. We will continue to grow our B2B network in 2023."
"Our major focus would be on growing our D2C business by pushing sales on Amazon and Flipkart. We would apply ourselves more into paid advertising to reach new audiences and markets," they add.
Management: Efficient Business Boost
Piyush Gupta, founder of the startup which deals with event management, vendorship and business advisory, says, "we are planning to expand our business in the global market. We have been doing pretty well in the Indian market. Now, with India's G20 presidency and Startup20 plan, one of our major aims in 2023 will be to enter the US market."
Edutech: Suraasa
Speaking about the growth of EdTech, Rishabh Khanna, CEO & Founder of teh company shares, "The teaching industry has definitely seen some big changes in recent years and through Suraasa, we aim to consistently empower teachers not just in India but also globally."
He adds, "In 2022, we have impacted 150,000+ teachers by providing them with quality resources, recognition and global opportunities. Going forward, we simply want to enable more teachers to upskill and help them gain more visibility."
Not just this, 2022 saw a peak rise in multiple startups that ensured student learning is packed with innovation, experiential learning and contributor based rather than just learning through a traditional 'desk & board' method.
Edutech: STEM Metaverse
Taking this further is one such startup - STEM Metaverse, which is focusing on revamping virtual learning for K12 students with a fresh approach. The platform aims to teach kids independent learning methods and integrates Metaverse technology by focusing on expanding STEM as 'STREAMM'. This concept goes beyond just science to offer a wider approach that includes Science, Technology, Reading, Engineering, Art, Math, and Mental Health. 
Sharing about EdTech and its impact, CEO & Co-founder of STEM Metaverse, Ritika Kumar shares, "2022 redefined EdTech. Where it was predominantly limited to offering online classes, it moved to wider domains and a more pluralistic offering when physical schools reopened. 2022 has been an excellent year that has popularised platforms like STEM Metaverse and more. This year has been significant for us as we also successfully launched our own, secure NFT platform for kids that enables them to independently take ownership of their creations. Collectively our aim has always been to ensure we offer a futuristic learning environment matching global standards, at an affordable price." 
With 2022 being such a crucial year making way for innovations in the EdTech industry, it will be interesting to see how these companies grow in 2023 and the years to come.
Looms of Ladakh
A leading startup in the region of Ladakh is looking forward to simultaneous capacity building, brand building and institution building in the upcoming year.
Education
"2022 was a year of recovery from the ravaging impact of the global pandemic that brought economies to a halt in 2020 and took an ugly sweep in 2021 with the Delta variant. A variety of technological models put into place in industries and heralded as the sustainable underpinnings of the new normal experienced differing fates. The integration of educational technology accelerated in the last two years, with COVID being the catalyst. Norms of social distancing disregarded all forms of traditional education. Technology spearheaded the change and transformed education at every rung of the ladder. However, many companies went down on their knees as the pandemic waned and the quest for in-person education strengthened. But the impact of the waning pandemic was not uniform. The model of business determined the effect," says Ashish Fernando, CEO, and Founder, iSchoolConnect.
⁠⁠⁠⁠⁠⁠⁠Overseas education consultants found their footing growing strong as the pandemic waned and more international students were determined to study overseas in pursuit of a better quality of life and opportunities. 2023 will bring more success to the study abroad ecosystem as countries warm up to more international students and students explore new territories to chart their lives. Technology would make the admissions and learning process more personalized and inclusive. Transformative technologies like gamification, nano learning, and metaverse will seep into the learning narratives of tomorrow, bringing in paradigm shifts in education and creating enhanced opportunities for learners, Fernando added.