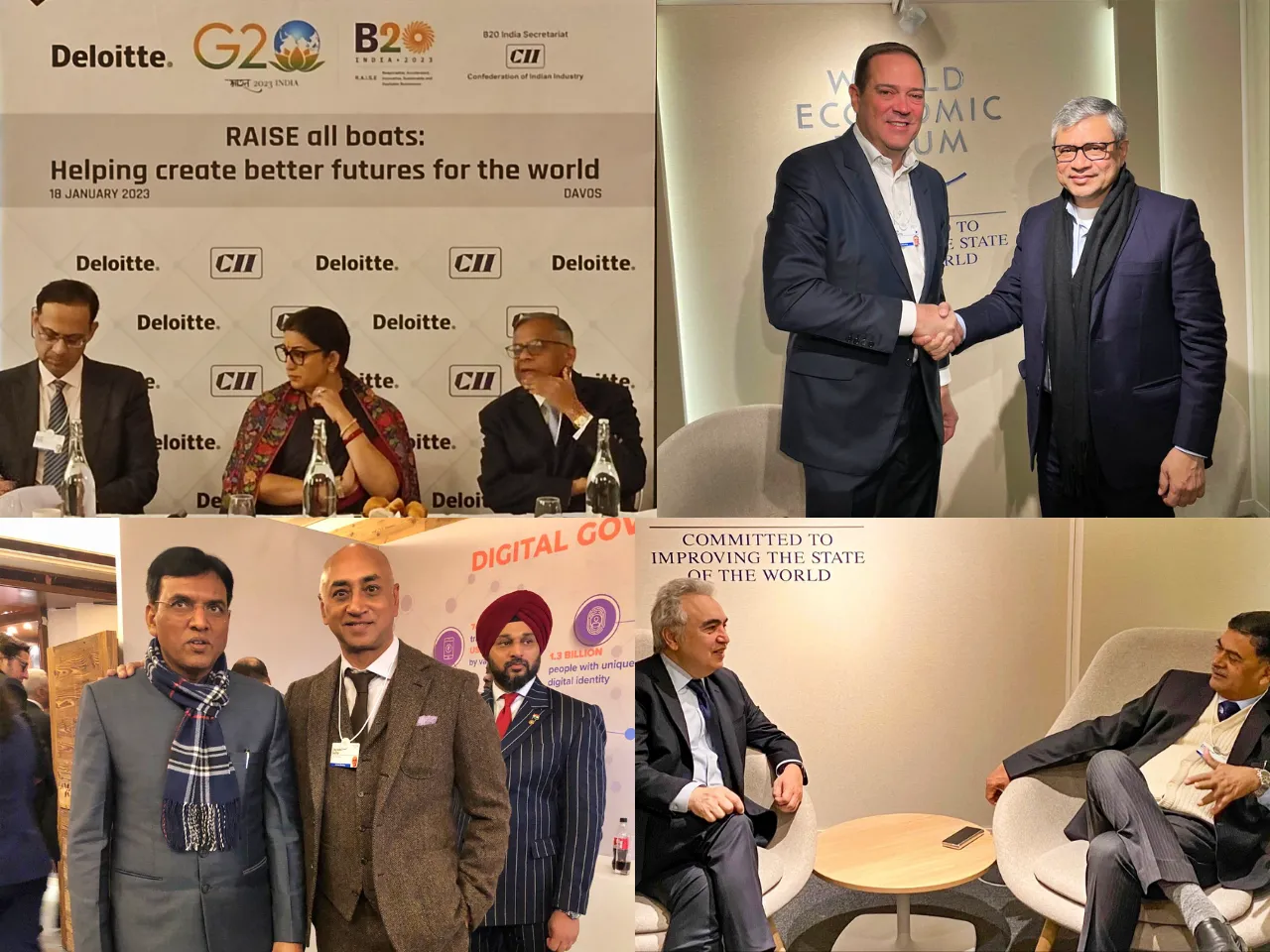 In line with this year's WEF theme, "Cooperation in a Fragmented World", India has reiterated its position as a resilient economy with a strong leadership providing stable policy to the global investors at the World Economic Forum (WEF) at Davos.  India's focus areas at WEF this year are investment opportunities, infrastructural landscape and its inclusive & sustainable growth story. 
Taking forward the strategy and presence of India during WEF Annual Meeting in May 2022, the Department for Promotion of Industry and Internal Trade (DPIIT) has taken the initiative to further strengthen India's presence through three lounges with focus on investment opportunity, sustainability and inclusive approach to compliment economic growth. 
In addition, the presence of State lounges of Maharashtra, Tamil Nadu and Telangana along with business lounges of HCL, Wipro, Infosys and TCS have added strength to India's presence on the Davos promenade. The entire India contingent of the central government, state government, businesses and officials have put together a common front to present India at the global state. 
1. India Lounge at Promenade 68
The India lounge is the focal point of all business engagements taking place on the side-lines of the World Economic Forum Annual Meeting 2023. In line with the Government of India's priorities, the India Lounge has organized sessions, roundtables & fireside chats on India's growth wave, energy transition, the transforming infrastructure landscape, rising digitalization, fintech, healthcare, electronic & semiconductor supply chain & startup ecosystem. 
There is a digital showcase of key manufacturing sectors, Startups, India's G20 presidency and India's focus on infrastructure. Complementing this, the lounge has curated authentic Indian One District One Product (ODOP) souvenirs along with Indian food showcasing India's heritage and culture. 
The lounge was jointly inaugurated by Union Minister of Women and Child Development and Minority Affairs, Smt Smriti Irani, Union Minister of Health & Family Welfare, Chemicals & Fertilizers, Dr Mansukh Mandaviya and Union Minister of Power, New & Renewable Energy, Shri R K Singh. 
2. India Inclusivity Lounge at Promenade 63
The Inclusivity lounge at Promenade 63 at World Economic Forum redefines the Davos narrative with the vision of the Prime Minister of India, Shri Narendra Modi for inclusivity. Traditionally only select few big businesses were present at Davos. In 2023, India at Davos has a special lounge that represents the voice of the smaller enterprises, individual artisans, women self-help groups, specially abled etc. The lounge showcases hand-made products that represent years of rich Indian heritage and cultural history and generations of craftsmanship. 
The products represent all States and Union Territories of India, ranging from coconut cutlery from Andaman to  Khurja pottery from Uttar Pradesh. They span across all sectors from textiles to handicrafts to social empowerment.  The products are showcased not only physically but also using interactive methods though immersive technologies. The Augmented Reality models allow any person, anywhere in the world to see what an Indian-made product looks like at their home, on their console. The exact coordinates of latitude and longitude of the production site are also captured. The lounge was inaugurated by Smt. Smriti Irani, Union Minister of Women & Child Development and Minority Affairs. 
3. India Sustainability Lounge at Promenade 49 
Through this lounge, India showcases new and emerging technologies that are set to address the climate change issues faced round the world. It also shows leadership in combating climate change and meeting the Sustainable Developmental Goals (SDGs), as is reflected in many of its developmental schemes. India would be showcasing these technologies through five broad themes which are mentioned below: 
1. Energy Sector
2. Natural Resource Management
3. Sustainable infrastructure and Mobility 
4. Food and Nutritional Security 
5. Circular Economy
This endeavor has brought together policy makers, Innovators, Startups and thought leaders to put across the narrative and efforts in this space. Along with this the lounge is enabling collaboration and cooperation with businesses and industry bodies from across the world to be part of India's journey to Net Zero. 
The lounge showcases automated manual scavenging robot along with 12 startup prototypes. Interactive screen with a carbon calculator along with information on the innovation world in the realm of sustainability are also showcased at the lounge. A fireside chat was held on Climate Change and Technology: Innovation for the Environment with an audience of 80+ people having panelists from the Startup Ecosystem, Corporates, and Think Tanks. Discussions around Financing Technology, adoption challenges, Behavioral changes, and trends in the cross-section of Technology and Sustainability were discussed. 
Minister Smt. Smriti Irani participated in a session on Gender Equality. It reinforced the urgent need for action on gender equality and brought together leaders from across generations, sectors, and continents to discuss their focus, highlight challenges, and progress, inspiring commitments, and essential action needed for urgent progress for women and girls. Hon'ble Minister Mandaviya met his counterpart from Germany to discuss increasing cooperation in medical tourism, the pharma sector & digital health.
On arrival day, there was a footfall of almost 500 people across all three India lounges. There was tremendous positive sentiment and great interest in India. 
A PIB Copy