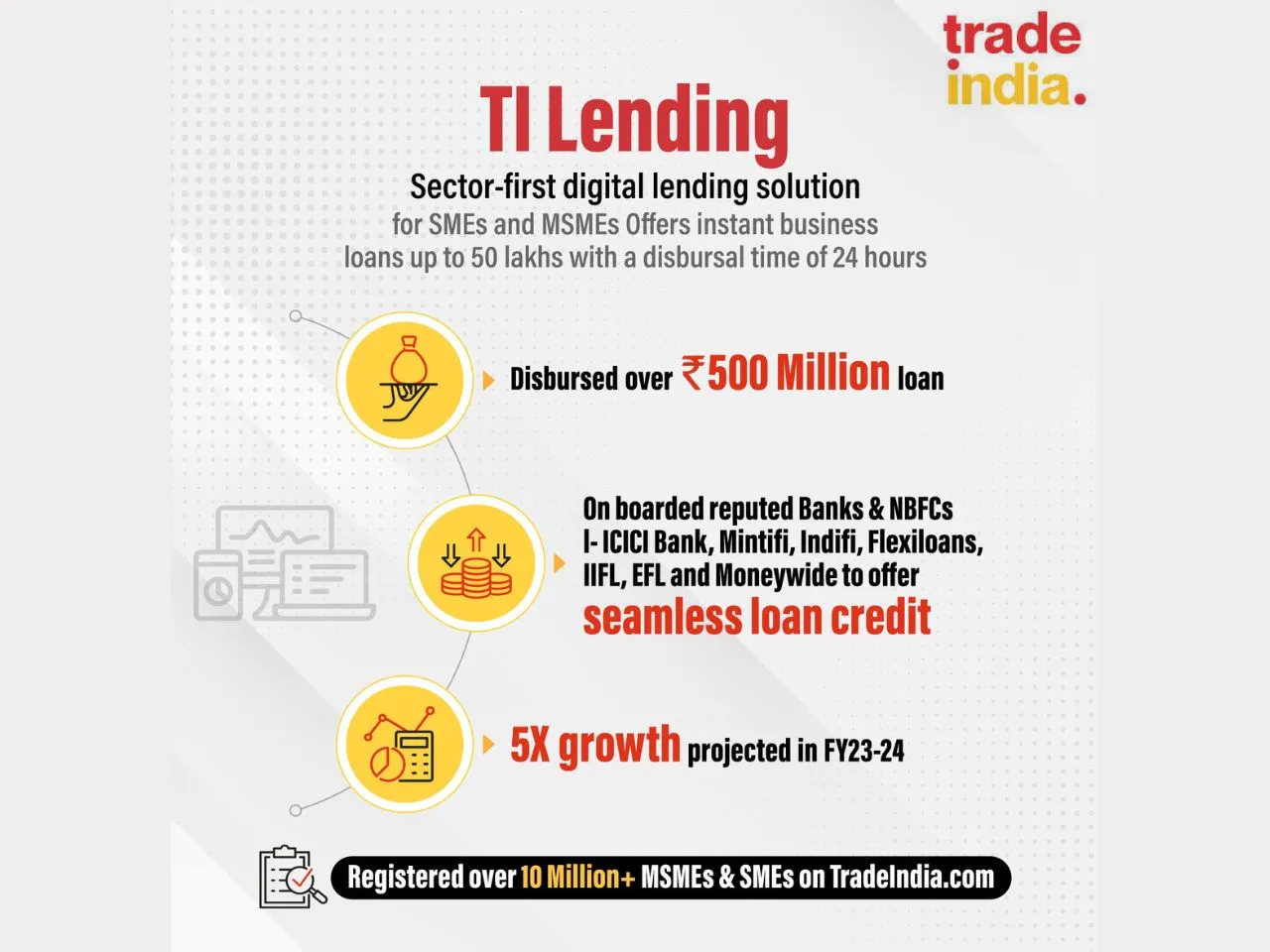 TradeIndia.com claimed the disbursement of loans totaling more than INR 500 million (approximately $6.7 million) to small and medium-sized enterprises (SMEs) and micro, small, and medium-sized enterprises (MSMEs) within six months of launching its digital lending solution, TI Lending. 
The platform offers instant business loans up to INR 50 lakh (approximately $67,000) with a disbursal time of 24 hours and requires no paperwork. The platform has received more than 50,000 loan applications from SMEs and MSMEs since its launch in July 2022.
TradeIndia.com has collaborated with leading lending platforms such as ICICI Bank, Mintifi, Indifi, Flexiloans, IIFL, EFL and Moneywide to offer seamless loan credit to its customers. The platform offers a complete digitized solution with zero paperwork and quick disbursal time which makes it more convenient for SMEs and MSMEs to access the capital they need.
Commenting on the partnership, Ankit Mehta, Co-founder and Chief Architect of Mintifi said, "We are excited to partner with TradeIndia.com to provide end-to-end electronic invoicing and payment solutions, to assist businesses in ensuring swift and easy digital transactions. MSMEs are the growth engine of Indian economy and we are humbled to use TradeIndia.com's extensive network to assist Indian MSMEs get capital credits seamlessly."
Aditya Shankar, Vertical Head of Lending at TradeIndia.com shared, "We are really pleased to receive the overwhelming response from our partners. One of the major hurdles preventing SMEs from taking the entrepreneurial plunge is capital denial and TradeIndia.com is proud of filling this gap and assisting entrepreneurs on their growth journey. TI lending has been a huge success story so far and we are committed to reaching out to millions of other entrepreneurs to help them establish their businesses."
As per the latest Standing Committee on Finance report, MSMEs, India's growth engine, face a humongous credit gap of around INR 20-25 lakh crores. Small businesses that require quick access to working capital for their daily operations can have an impact on their earnings and profits in cases of any hindrances in attaining the same. Through TI lending, TradeIndia.com envisions to become the first choice amongst SMEs for quick and convenient business loans and enable them to build a strong credit history to become eligible to take bigger loans from the banks. TradeIndia.com has partnered with RBI licensed lenders to ensure maximum safety, and all the information shared by the firms are processed and stored with banking-level security controls.
TradeIndia.com has a user base of over 10 million registered users and is committed to promoting Indian manufacturers, exporters, importers and service providers with their offered products/services to promote them amongst global buyers & sellers. 
(Disclaimer: TICE News did not write this content. The brand or the company has sent a press release.)