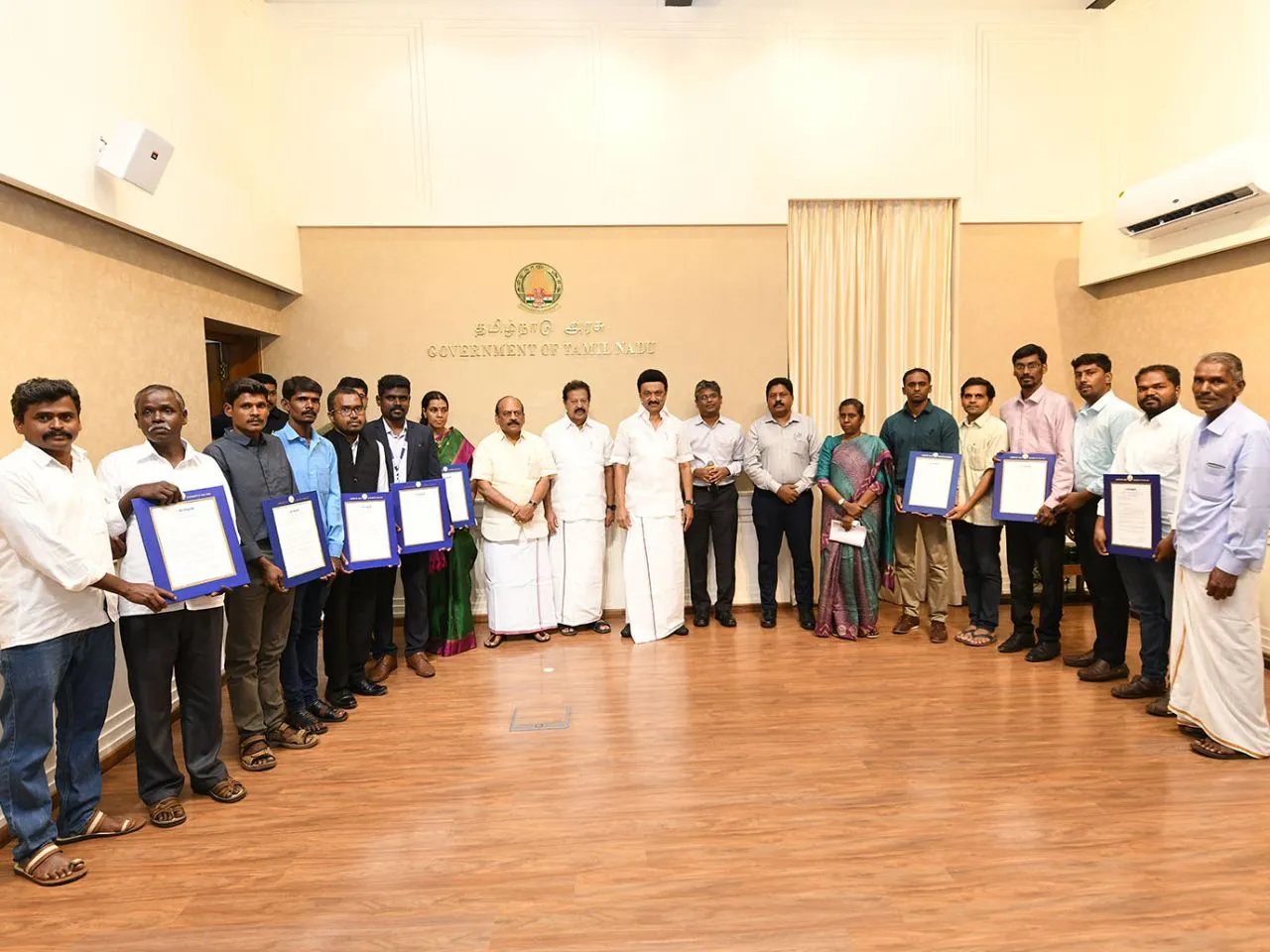 The Chief Minister of Tamil Nadu Thiru. M.K. Stalin handed over sanction orders for investments to the tune of Rs. 9.75 Crore in 8 Startups through Tamil Nadu Startup and Innovation Mission (StartupTN) in the second batch under the Tamil Nadu SC/ST Startup Fund, on May 5, 2023. 
The event was held at the Chief Minister's Chamber. The investment beneficiaries included three Startups promoted by entrepreneurs from the tribal communities in Hasanoor and Tamarakarai in Erode district and Kotagiri in the Nilgiris. Through this investment in the form of Compulsorily Convertible Debentures (CCD), the Government has become a shareholder in these companies to guide them on the growth path.
TN SC/ST Startup Fund
The Tamil Nadu SC/ST Startup Fund was announced as an Rs. 30 Crore fund in Budget 2022-23 with the aim of churning out inspirational stories that would spur the creation of more Startups by entrepreneurs from the communities in the march towards Inclusive Mass Entrepreneurship. In Budget 2023-24, it was announced as a Rs. 50 Crore fund.
Process of Sanctioning Investments
Preliminary shortlisting of applications was carried out by StartupTN with the support of experts, followed by due diligence, interviewing, and mentoring of the Startup founders. The Project Sanction Committee after a detailed evaluation approved investments in these Startups. Investment from the Government brings more credibility to the Startups, helping them acquire new clients and expand to more markets. StartupTN also provides mentorship and post-investment support to help them achieve their goals more efficiently and effectively.
Previous Investments
The first batch of investees under this fund received the sanction orders from the Chief Minister for investments to the tune of Rs. 7.5 Crore in five Startups, using which the founders have started reaping the benefits by scaling up production and expanding their businesses. The second batch of investment made in Startups by founders from the SC/ST communities on May 5, 2023, takes the total investment made by the Government of Tamil Nadu under the Tamil Nadu SC/ST Startup Fund to Rs. 17.25 Crore in 13 Startups.
Startups That Got Funding
Guhan Industrial and Manufacturing Solutions received Rs. 2.5 Crore to establish its fully indigenised tech-enabled high-precision manufacturing environment along with R&D for future use cases.
Shortfundly, an OTT platform for short-content genre content makers, received Rs. 2 Crore to scale its operations by increasing its subscriber base and onboarding more content makers onto its hosting platform.
India Speak Research Lab received Rs. 2 Crore to mature their AI models and GTM with their solution in the media and entertainment domains.
Sprint6 Specialized Services received Rs. 50 Lakh to scale its operations by serving more customers in restoring, optimizing, and renovating commercial restroom spaces and offering proactive maintenance support for restrooms.
Destratum Solution Pvt Ltd (Health Attai) received Rs. 25 Lakh to complete its product and GTM as a clinical management system for independent clinicians to maintain digital patient engagement.
TAMS Tribal Green Fuel received Rs. 25 Lakh to facilitate the manufacture of biomass briquettes out of Lantana camara, an invasive weed, improve livelihood opportunities in tribal settlements, and save the forests by de-weeding.
Namsanthai Kotagiri Tribal Pvt Ltd received Rs. 25 Lakh to establish a trading company primarily into trading tribal-produced coffee and honey and structure the procurement and value-added processing of the same.
Sholakar Tribal Creations Pvt Ltd received Rs. 25 Lakh to modernize and scale its operations in producing and engaging in B2B trading of tribal products such as honey, seemar brooms, and furniture made from Lantana camara.