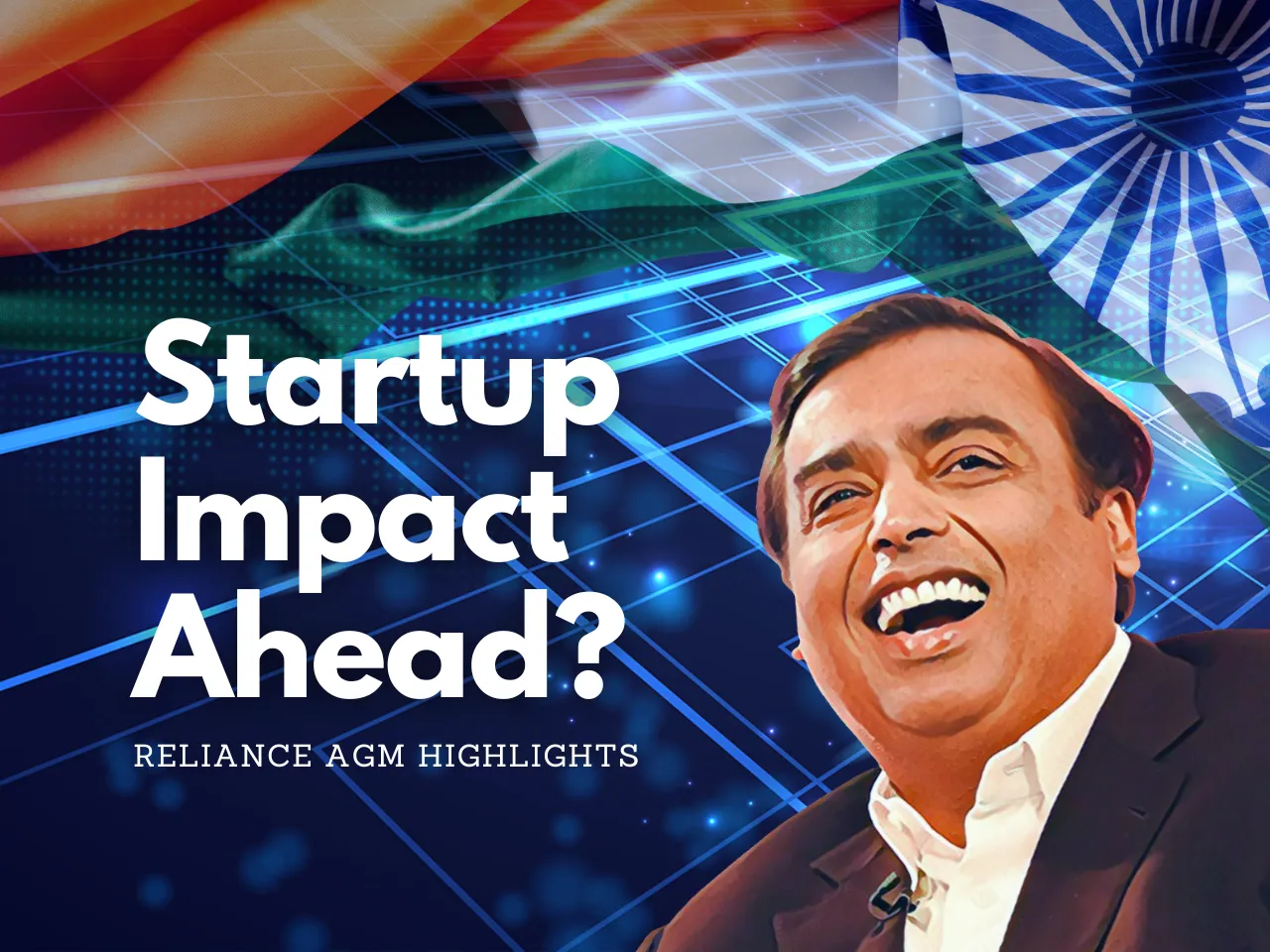 Reliance Industries Limited (RIL) conducted its 46th Annual General Meeting and made some major annoucements that coud prove crucial for startups, MSMSEs and enterprises in the Indian economy. Mukesh Ambani, the Chairman of the company, during his address, made significant announcements and provided insights into RIL's future aspirations, particularly concerning the realm of advancing technology and artificial intelligence. Lets have a look at some of the major annoucements. 
Reliance has once again taken center stage with the launch of its Jio True 5G Developer Platform and the innovative Jio 5G Lab. These game-changing advancements are set to reshape how startups and enterprises approach technology, bringing forth a new era of possibilities.
Unveiling the Power of Jio True 5G Developer Platform
"We want to share a glimpse of the digital ecosystem that Jio True5G is looking to create in India. We are building a transformative platform that will change the way Indian enterprises, small businesses, and technology startups interact with the digital world. Today, we are announcing the Jio True5G Developer Platform, a comprehensive platform combining our 5G network, edge computing, and a spectrum of applications and services.It gives enterprises the control and options to activate network slices on demand, deploy applications on Jio's multi-access Edge-compute locations, and access a diverse ecosystem of partner applications – all within a single platform. This fusion of 5G network, Edge computing, and service orchestration is transformative for Indian businesses. Gone are the days of multiple tools. Jio True5G Developer Platform enables secure, quick deployment of 5G Edge compute and low-latency applications, enabling faster autonomous decisions, immersive experiences, and real-time Edge AI," Akash Ambani said at the 46th Reliance AGM. 
The platform provides startups and enterprises with the tools they need to harness the immense potential of Jio's 5G network, edge computing, and collaborative partner solutions.
How can Jio True 5G Developer Platform help Startups?
With the concept of network slicing at its core, businesses can tailor dedicated segments of the 5G network to suit specific use cases, ensuring optimized performance without interference. This empowers enterprises to independently create and fine-tune network slices, enhancing resource management for cloud-based solutions. Additionally, the platform's collaborative ecosystem provides access to partner solutions, fostering innovation and cross-industry collaboration. This transformative technology promises to enable faster autonomous decision-making, immersive experiences, and real-time Edge AI, ushering in a new era of possibilities for startups and enterprises in India.
Jio 5G Lab: The Hub of Creativity and Progress
In tandem with the Jio True 5G Developer Platform, Reliance introduced the Jio 5G Lab. The Jio 5G Lab serves as a breeding ground for industry-specific solutions. It provides partners and enterprise clients with a space to develop, test, and refine innovations that cater to their specific domains. This collaborative environment is poised to redefine how industries approach challenges and embrace opportunities.
Jio AirFiber: A Glimpse into the Future
The promise of the future comes alive with the anticipation of Jio AirFiber, set to be unveiled on September 19, 2023, during Ganesh Chaturthi. This groundbreaking technology aims to extend wireless connectivity to 100 million households, mirroring the performance of traditional fiber optics.
Collaboration With Bill Gates
Reliance announced its partnership with the Gates Foundation and Bill Gates' climate organization, Breakthrough Energy. This collaboration is to tackle global challenges, including climate change, women's economic empowerment, and healthcare improvements.
Embracing an AI Revolution
Speaking at the 46th edition of the Reliance Annual General Meeting, Mukesh Ambani emphasized the significance of embracing the AI revolution. In a world reshaped by intelligent applications, harnessing AI is vital for India to remain globally competitive. This technological journey holds the power to redefine industries, economies, and daily lives.
Jio Financial Services Expanding into Merchant Lending & Insurance
"JFS is born to accelerate the replication of India's dazzling growth story in Bharat. JFS will massively increase financial services penetration by transforming and modernising them with a digital-first approach that simplifies financial products, reduces cost of service, and expands reach to every citizen through easily accessible digital channels.For tens of thousands of SMEs, merchants, and self-employed entrepreneurs, ease of doing business must mean ease in borrowing, investments, and payment solutions. JFS plans to democratise financial services for 1.42 billion Indians, giving them access to simple, affordable, innovative, and intuitive products and services.," Mukesh Ambani said. 
Mukesh Ambani, the head of Reliance Industries, announced at the company's annual general meeting that Jio Financial Services is set to venture into merchant lending and insurance. This move is expected to impact numerous startups in the financial sector.