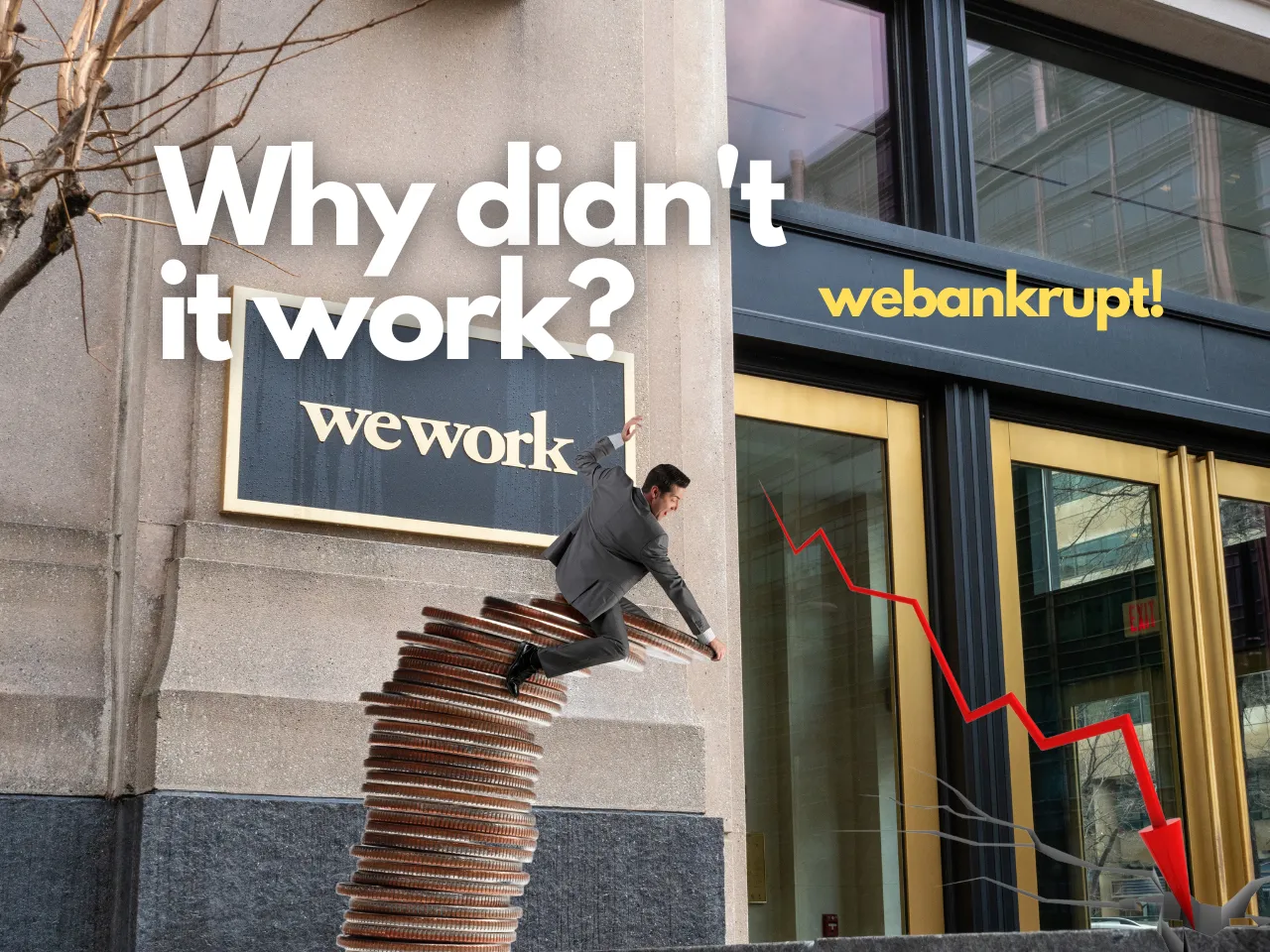 In a stunning twist of fate, once a shining startup star WeWork, is now seeking shelter in the arms of bankruptcy protection.
WeWork, the US based office-sharing startup, has officially filed for bankruptcy protection, marking a significant milestone in its roller-coaster journey. The company's Chapter 11 petition, filed in New Jersey, has disclosed assets and liabilities ranging between USD 10 billion and USD 50 billion. This move allows WeWork to continue its operations while devising a plan to settle its mounting debts.
US and Canada Locations Impacted, Global Franchisees Unaffected
WeWork clarified that the bankruptcy filing exclusively pertains to its locations in the United States and Canada. The company has confirmed that its global franchisees and locations outside the US and Canada will remain unaffected by the bankruptcy proceedings, ensuring business continuity for many of its international operations.
WeWork India Operates Separately, Ensures No Impact on Indian Stakeholders
WeWork India, operating as a distinct entity from WeWork Global, has reassured its members and stakeholders that they will face no repercussions from the Chapter 11 filing. In a tweet, WeWork India emphasized its commitment to continued service and support for its members, landlords, and partners in India. This announcement underscores the separation of WeWork India from the financial struggles of its global counterpart.
WeWork India is a separate entity from WeWork Global. The recent Chapter 11 filing will not impact our members and stakeholders in India. We will continue to operate and serve our members, landlords, and partners as usual. Committed to the growth and success of our business. pic.twitter.com/92KeXB1X4I

— WeWork India (@WeWorkIndia) November 7, 2023
CEO David Tolley Expresses Gratitude and Determination
WeWork CEO David Tolley expressed gratitude to the company's financial stakeholders for their support during this challenging period.
"I am deeply grateful for the support of our financial stakeholders as we work together to strengthen our capital structure and expedite this process through the Restructuring Support Agreement...We remain committed to investing in our products, services, and world-class team of employees to support our community," Tolley said in a press release.
Co-founder Adam Neumann Expresses Disappointment
WeWork's co-founder Adam Neumann, who stepped down as CEO in 2019, voiced his disappointment regarding the bankruptcy filing. 
"It has been challenging for me to watch from the sidelines since 2019 as WeWork has failed to take advantage of a product that is more relevant today than ever before," Neumann told CNBC.
From Unicorn to Bankruptcy: WeWork's Rollercoaster Ride
WeWork's journey over the past few years represents one of the most dramatic corporate collapses in recent U.S. history. In 2019, WeWork was the most valuable startup in the United States with a valuation of USD 47 billion. However, a series of setbacks, including the COVID-19 pandemic, contributed to the company's current financial woes. The pandemic caused a sharp decline in office occupancy, leading to several companies terminating their leases.
WeWork Shares Plummet by 98%
WeWork's shares have taken a nosedive this year, plummeting by a staggering 98%, reaching as low as USD 0.84. The bankruptcy filing has prompted WeWork to engage legal advisors such as Kirkland & Ellis and Cole Schotz, with PJT Partners serving as its investment bank. C Street Advisory Group and Alvarez & Marsal provide additional support in navigating this complex financial situation.
SoftBank Acknowledges WeWork's Survival Depends on Lease Renegotiations
WeWork's bankruptcy filing also represents a significant acknowledgment from its major investor, SoftBank. The Japanese technology group, which owns approximately 60% of WeWork, recognized that the company's survival hinges on the renegotiation of its costly leases through the bankruptcy process.
Rise and Fall of WeWork: A Brief History
Founded by Adam Neumann, WeWork rapidly grew into the most valuable U.S. startup, backed by investments from prominent entities like SoftBank and Benchmark, as well as support from Wall Street banks like JPMorgan Chase. However, WeWork's focus on expansion at the expense of profitability, coupled with revelations about Neumann's eccentric behavior, led to his ouster and the cancellation of a planned IPO in 2019.
Pandemic, Unprofitable Leases, and Economic Downturn
The pandemic further exacerbated WeWork's challenges, as many corporate clients opted to work remotely, and companies ended their leases. In the second quarter of 2023, lease expenses accounted for a substantial 74% of WeWork's revenue, highlighting the financial strain.
WeWork Seeks Relief Through Bankruptcy
WeWork is exploring the possibility of utilizing the U.S. bankruptcy code to alleviate the burden of onerous leases, a move that is causing some concern among landlords. While WeWork managed to amend 590 leases, saving roughly USD 12.7 billion in fixed lease payments, the ongoing effects of the COVID-19 pandemic continued to take a toll on the company.
Changing Office Landscape and Leadership
WeWork faced intensified competition from traditional commercial property companies that began offering short and flexible leases to adapt to the evolving office sector. Changes in leadership saw Sandeep Mathrani and David Tolley take the reins, with the latter having experience in guiding companies through bankruptcy proceedings.
Despite attempts at debt restructuring and negotiations, WeWork ultimately resorted to filing for Chapter 11 bankruptcy. The company recently secured a seven-day extension from its creditors for an interest payment, giving it more time to engage in discussions.
WeWork's bankruptcy filing marks the latest chapter in its tumultuous history, as it grapples with financial challenges and seeks a path to recovery in the ever-changing landscape of office space sharing.
Join Our Thriving Entrepreneurial Community

Follow TICE News on Social Media and create a strong community of Talent, Ideas, Capital, and Entrepreneurship. YouTube  | Linkedin | X (Twittrer) | Facebook | News Letters