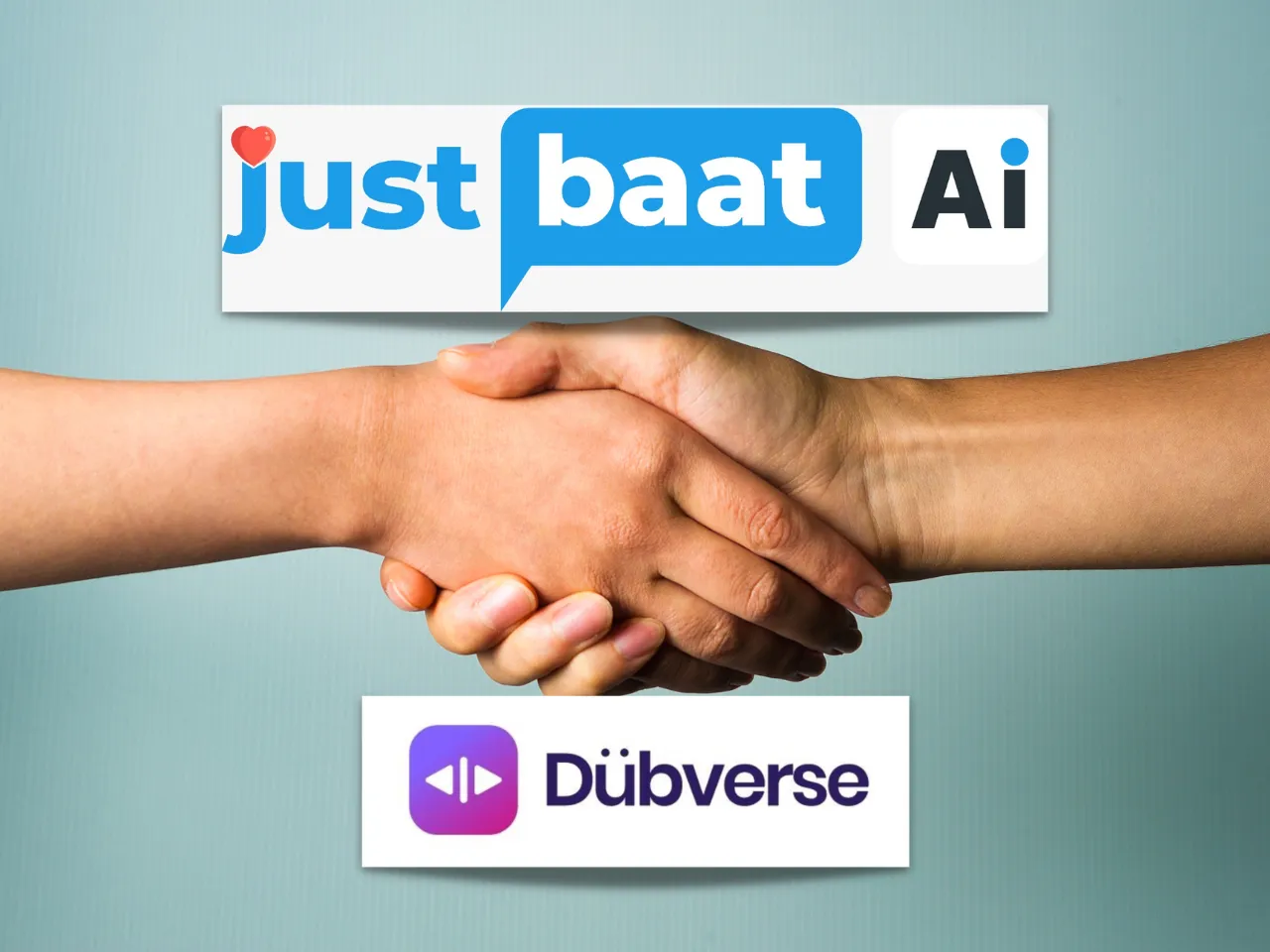 Justbaat and Dubverse are revolutionising the way content is created and consumed on the traditional media houses' digital platforms.
Justbaat is a completely automated video creation platform which uses Generative AI to create videos with minimal user inputs and minimal user intervention. The technology is smart enough to write sentences, summarise text articles, create a video storyboard and finally churn out a studio quality video. 
The USP of the platform is quick turn around time, studio like quality and fraction of a cost Vs manual creation process. Justbaat is offering this technology to enterprises for now but is coming up with a creator tool soon where every creator can benefit from this technology and create videos at scale.
The Strategic Partnership
Justbaat has partnered with Dubverse, a deep-tech Generative AI company, with major expertise in voice cloning and TTS technology, Dubverse can create an AI Voice avatar of a human and create content at scale across 30+languages . Justbaat's Metahuman, an AI generated Avatar which can  convert text into video without any human intervention. It is customisable and multilingual - can make videos in 9 Indian languages on the fly.
This duo is already working for some leading Indian Media companies and Justbaat's Avatar Videos along with voice cloning from Dubverse is live on Amar Ujala, Prabhat Khabar, India News, Inkhabar and many more, producing 1k+ AI-generated videos everyday across languages. Videos have significantly improved the retention time and enhanced the engagement time up to 2x
Generative AI presents a disruptive opportunity in the Content Creation Industry and the Indian market is ready for it. Generative AI has been the centre of discussion with the introduction of OPENAI's CHAT GPT in early December. AI will change the way we create and consume content. AI systems are evolving quickly and it's time to embrace the changes and unexplored opportunities.
Almost 73% of the internet subscribers in India use vernacular languages. With the increase in content consumption in vernacular languages it has become important for brands and creators to produce quality content in local Indian languages.
With this partnership Justbaat is looking to enhance its video creation quality by enhancing the lingual experience with the diverse tonalities and multiple languages that dubverse offers.
Anuja from Dubverse said, we are thrilled to have partner like Justbaat on our journey, the idea with technology is how much gets adopted and how fast, with Justbaat a new use-case has been unlocked for us to enable media houses with personalised voice of their own news Anchor doing digital news also, this brings in more trust and increase engagement. With the current tech developments, we will see a lot more AI getting adopted across domains at scale, and content seems to be the most exciting space with increased demand across languages, it's time for supply to catch up for the number of views we already have!
We are looking forward to this partnership with Dubverse, with the current AI boom across various industries this partnership can bring a real change in terms of engagement . With dubverse as our partner we are expecting better audio experience on the meathuman Avatars and overall enhancing the user experience and increasing the content stickiness for our clients. With Justbaat's creator tool we look forward to replicating the same for individual creators, said Shaurya Rao Nigam ,CEO Justbaat.