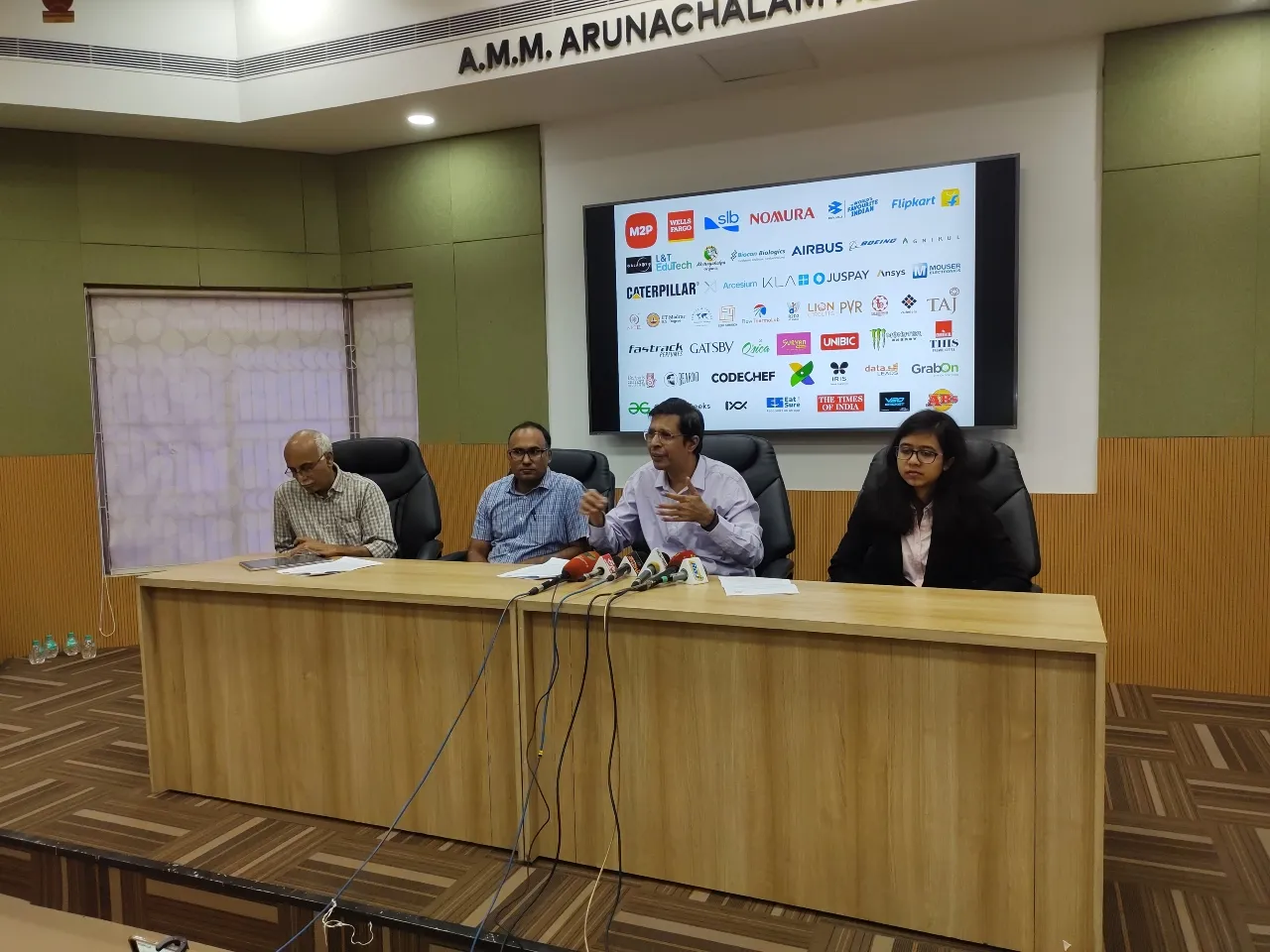 Indian Institute of Technology Madras (IIT Madras) students will organize a Space Tech Summit as part of the annual technical festival Shaastra to promote innovation and collaboration in the sector.
After a gap of two years, Shaastra 2023 which is among the largest student-run technical festivals in the country, will be conducted in physical mode this year from 26th to 29th January 2023.
Besides Indian Space Research Organization (ISRO), IIT Madras students are partnering with the top space-tech entities in India, such as GalaxEye Space, and AgniKul Cosmos, for the Space Tech Summit. It will also bring together top minds in space industry and provide a platform to network through a series of professional workshops, interactive lectures, panel discussions, and VC pitching sessions, among others.
Workshops will also be held on technologies such as machine learning, robotics, astronomy and Web 3.0 besides management and finance, among others. 'Symbiosis 2023,' a mini-fest under Shaastra 2023, brings together experts and enthusiasts from AI, ML, and DS to explore the theme of the new era.
Addressing a Press Conference on the campus today (25th Jan 2023), Prof. V. Kamakoti, Director, IIT Madras, said, "There will be several open-house workshops on the top technologies that IIT Madras has invented which include 5G and Hyperloop."
Speaking further on outcomes expected through Shaastra 2023, Prof. V Kamakoti said, "With regard to space technology, IIT Madras looks forward to motivating people on both rocket and satellite development.  One of the outcomes expected is on the understanding of what the applications of commercial space are. This can be a seed for startups to help decide what kind of satellites need to be built in the future."
Shaastra will also host school students as part of the Institute Open House, providing an opportunity to explore IIT Madras campus and its world-class facilities. They will interact with researchers who will present their work. The fest will also witness the final round of the 'Junior Make-a-Thon,' where school students will exhibit the prototypes they built through the mentorship process, aimed at solving real-world problems.
Highlighting the learnings to students from organizing such events, Prof. Nilesh J Vasa, Dean (Students), IIT Madras, said, "The transition from a completely online mode to an on-ground mode is not an easy task, and the team has been working very diligently. We look forward to extending a warm welcome to all the participants, speakers, judges and other stakeholders and host them on our campus as part of Shaastra. Boeing's Aeromodelling contest and the finals of Flipkart GRiD 4.0 Robotics Challenge are some exciting events to look out for!"
Lauding the student's efforts towards organizing this massive event, Prof. Ratna Kumar Annabattula, Co-Curricular Advisor, IIT Madras, said, "Shaastra 2023 will feature keynote lectures by industry professionals from Google, Siemens and Subex, among others, as well as workshops and events that allow participants to demonstrate their talents. The event will also host programming hackathons supported by brands such as M2P, Wells Fargo, L&T and Schlumberger, among others, to challenge students' programming prowess as they compete against the brightest minds of the country to tackle practical, real-life problems with original and innovative solutions. The Shaastra team has been relentlessly working on making the whole event a success, and we look forward to seeing their efforts reap fruit. I would also like to take this opportunity to thank all our sponsors for their support."
'Hack-cidents,' a hackathon focused on developing technology solutions to improve road safety in India, by RNTBCI, will be conducted as a collaborative effort between IIT Madras Centre For Innovation (CFI) and Shaastra. Open to all students and start-ups, Hack-cidents offers the chance for participants to pitch their ideas and receive support of up to Rs. 5 lakh INR for prototype development. The winning teams will be eligible for additional grants of up to Rs. 10 lakh to bring their solutions to life. 
Highlighting some of the unique events of Shaastra 2023, Ms. Baibhabi Patnaik, Co-Curricular Affairs Secretary, IIT Madras, said, "As part of an attempt to make a difference, Shaastra team has launched a social campaign called 'Vastra' this year, aimed at providing accessible clothing to all and promoting the concept of sustainable fashion. Through this initiative, Shaastra aims to bring about a change in the mindset of consumers, eventually making fashion a circular economy where fewer and fewer resources are utilized and wasted in the process."
Along with spreading awareness on the negative impacts of fashion waste, students are educating consumers to upscale existing clothing and encouraging them to donate clothes to the underprivileged and small support groups that can turn them into handicrafts.
Further, Ms. S.U. Mrinalini, Core Team Member, (Shows & Exhibitions), Shaastra 2023, IIT Madras, said, "Envisage, the techno-entertainment club of IITM, will be organising student-made light-and-sound-based projects and games as part of Shaastra's shows and exhibitions. Shaastra will also host a show on 28th January 2023 by Mr. Sonu Sebastian, an EDM percussionist. The fest will also witness a humanoid robot exhibition, alongside exhibits by premier companies like Hitachi and PDRL."
Ms. Vyshnavi Putcha, Core Team Member, Publicity, Shaastra 2023, IIT Madras, and Mr. G Saicharan, Core Team Member, Sponsorship and PR, Shaastra 2023, IIT Madras, also addressed the Press Conference.
Spanning science, technology, art, entertainment and more, 'Spotlight' is the flagship lecture series of Shaastra which brings visionaries from across the world, creating a unique platform to learn and interact with pioneers who have transformed the world in remarkable ways. Shaastra's latest initiative, Debunk, India's 1st ever student run outfit against misinformation, will organize the Misinformation Regulations Conference to discuss tech and policy solutions for misinformation.
ABOUT IIT MADRAS
 Indian Institute of Technology Madras (IITM) was established in 1959 by the Government of India as an 'Institute of National Importance.' The activities of the Institute in various fields of Science and Technology are carried out in 16 academic departments and several advanced interdisciplinary research academic centres. The Institute offers undergraduate and postgraduate programmes leading to B.Tech., M.Sc., M.B.A., M.Tech., M.S., and Ph.D., degrees in a variety of specialisations. IITM is a residential institute with more than 600 faculty and 9,500 students. Students from 18 countries are enrolled here. IITM fosters an active entrepreneurial culture with strong curricular support and through the IITM Incubation Cell.
Recognized as an Institution of Eminence (IoE) in 2019, IITM has been ranked No.1 in the 'Overall' Category for the fourth consecutive year in India Ranking 2022 released by National Institutional Ranking Framework, Ministry of Education, Govt. of India. The Institute has also been ranked No.1 in the 'Engineering Institutions' category in the same Rankings for seven consecutive years – from 2016 to 2022. It was also adjudged as the 'Top innovative Institution' in the country in Atal Ranking of Institutions on Innovation Achievements (ARIIA) in 2019, 2020 and 2021. ARIIA Ranking was launched by the Innovation Cell of Ministry of Education.