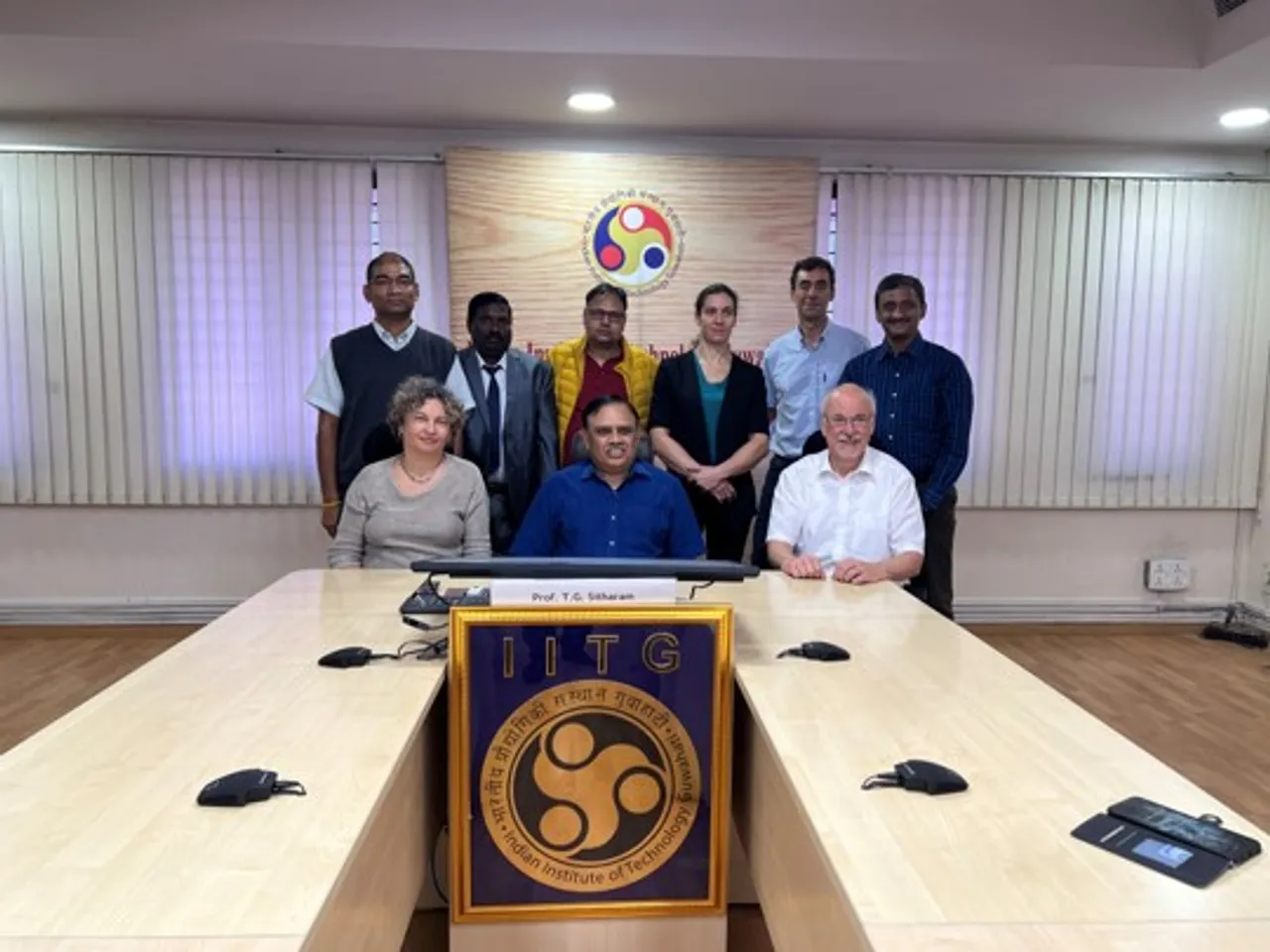 Indian Institute of Technology, Guwahati, and Indian Institute of Technology, Bombay, are working actively towards addressing the staggering issues in the Indian Water Sector under the Indo-European project 'Low-cost innovative technology for water quality monitoring and water resources management for urban and rural water systems in India' (LOTUS).
The LOTUS Indo-European project aims at providing solutions for several issues in the Indian water sector.  A core element of the LOTUS project is a novel water quality sensor that builds on previous work of Ecole Polytechnique, Paris, France and has been further developed during the project by researchers at Université Gustave Eiffel in collaboration with IIT Guwahati and the SME EGM, Sophia Antipolis, France.
The core of the LOTUS sensor, is a chip with Carbon Nanotube (CNT) based sensing elements that are capable of measuring multiple quality parameters such as Total Dissolved Solids (TDS), Potential of Hydrogen (pH), Chlorine, and Arsenic.
Other components of the project include:
Ø  Software tool that enables water quality monitoring and safe water supply in piped water network and tanker supply system
Ø  A portable solar operated disinfectant system integrated with a water quality controller by using LOTUS sensor
Ø  A software platform for the optimization of the water supply in irrigation.

Speaking about the advantages of the developed technologies, Prof. S Senthilmurugan, Dept. Chemical Engineering, and, Chairperson, Technology Incubation Centre, IIT Guwahati, said, "LOTUS water quality sensor requirements are established after collecting requirements from Indian water utility owners, operators, end users and R&D experts and therefore LOTUS sensor is expected to satisfy requirements of Indian water industries. Successful commercialization of the LOTUS water quality sensor will provide a low-cost water quality monitoring and safe drinking water supply solution to the Indian citizens which is in line with the vision of the Jal Jeevan Mission of Govt. of India and the make-in-India initiative. Even during COVID times, the LOTUS team from IIT Guwahati was able to continue the groundwater sample collection and sensor development work with minimal delay and this achievement was possible with the consistent support and strategic vision of Prof. T.G. Sitharam, Former Director, IIT Guwahati to LOTUS project."
For the commercial production of the developed low-cost LOTUS sensor for the Indian market, IIT Guwahati is collaborating with Linxens India Private Limited and the new start-up Hydroscope Technology Private Limited. The process technology licensing between both companies and LOTUS team (IIT Guwahati and Université Gustave Eiffel) is in under progress.

Speaking about the impact of the LOTUS project, Prof. Ravindra Gudi, Dean (Alumni & Corporate Relations) at IIT Bombay said, "As the critical centrepiece, the LOTUS sensor developed at IIT Guwahati is being designed to address  sensing needs and quality control aspects across different use case scenarios encompassing safe drinking water, agricultural water & waste water, The overall framework including the LOTUS sensor, and the quality monitoring and control algorithms developed at IIT Bombay, would be developed and deployed on platforms to provide improved solutions to address major water quality control issues across the country."
The European and Indian Partners of the LOTUS project recently assembled in IIT Guwahati. During this meeting, the partners reviewed the progress of the project and finalised the commercialization plan for LOTUS sensor fabrication in collaboration with Indian industries.
The IIT Guwahati LOTUS project team is planning to demonstrate LOTUS solutions in Guwahati and Bangalore city from July – Dec 2023 in collaboration with LOTUS partners. In first level, the LOTUS sensor will be installed to inform the user of the quality of water supplied to them through pipes, tanks and from groundwater, and for the mitigation of leakages in piped supply. In a second level, the optimum dosage of disinfectants will be demonstrated by using LOTUS solutions.
About the LOTUS Project
The LOTUS project aims to bring the leading Indian institutions such as IIT Guwahati, IIT Bombay, TISS – Tata Institute of Social Sciences, FCRI – Fluid Control Research Institute, CSIR-NEERI - National Environmental Engineering Research Institute, and Government bodies such as GJB - Guwahati Jal Board, CWC – Central Water Commission, and top water sector companies including, Eureka Forbes, Jalakam Solutions, Jain irrigation, and technology partners, Suyati and DFM InfoAnalytics to the table to tackle the acute water problems in collaboration with leading European institutions such as GAC Group, France; Université Gustave Eiffel, France; University of Exeter, United Kingdom; Technische Universität Dortmund, Germany; EGM, France; University of Thessaly, Greece; AUTARCON, Germany; ABB, Sweden, KANA Hydrocontrol Ltd, Cyprus and ENRICH GLOBAL international association focused on innovation and internationalisation. LOTUS project is co-funded by the European Commission and by the Indian Government.
About Jal Jeevan Mission
The Jal Jeevan Mission of Govt. of India is envisioned to provide safe and adequate drinking water through individual household tap connections by 2024 to all households in rural India. To achieve this goal, India institution and industries are focused to develop low-cost water quality monitoring and disinfectant technologies.
###
ABOUT IIT GUWAHATI
Indian Institute of Technology (IIT) Guwahati established in 1994 has completed 25 years of glorious existence in 2019. At present, the Institute has eleven departments, seven inter-disciplinary academic centres and five schools covering all the major engineering, science, healthcare, management and humanities disciplines, offering BTech, BDes, MA, MDes, MTech, MSc, and PhD programmes. The institute offers a residential campus to 435 faculty members and more than 7,000 students at present.
IIT Guwahati has retained the 7th position among the best engineering institutions of the country and 8th position in 'Overall' Category in the 'India Rankings 2022' declared by the National Institutional Ranking Framework (NIRF) of the Union Ministry of Education.
IIT Guwahati is the only academic institution in India that occupied a place among the top 100 world universities – under 50 years of age – ranked by London-based Times Higher Education (THE) in 2014 and continues to maintain its superior position even today in various International Rankings. IIT Guwahati gained rank 37 globally in the 'Research Citations per Faculty' category and overall 384 rank in the QS World University Rankings 2023 released recently.
Among other frontier areas of research and innovation, IIT Guwahati is working towards augmenting critical science research initiatives in Genomics, Developmental Biology, Health Care and Bioinformatics and Flexible Electronics, among numerous other areas.