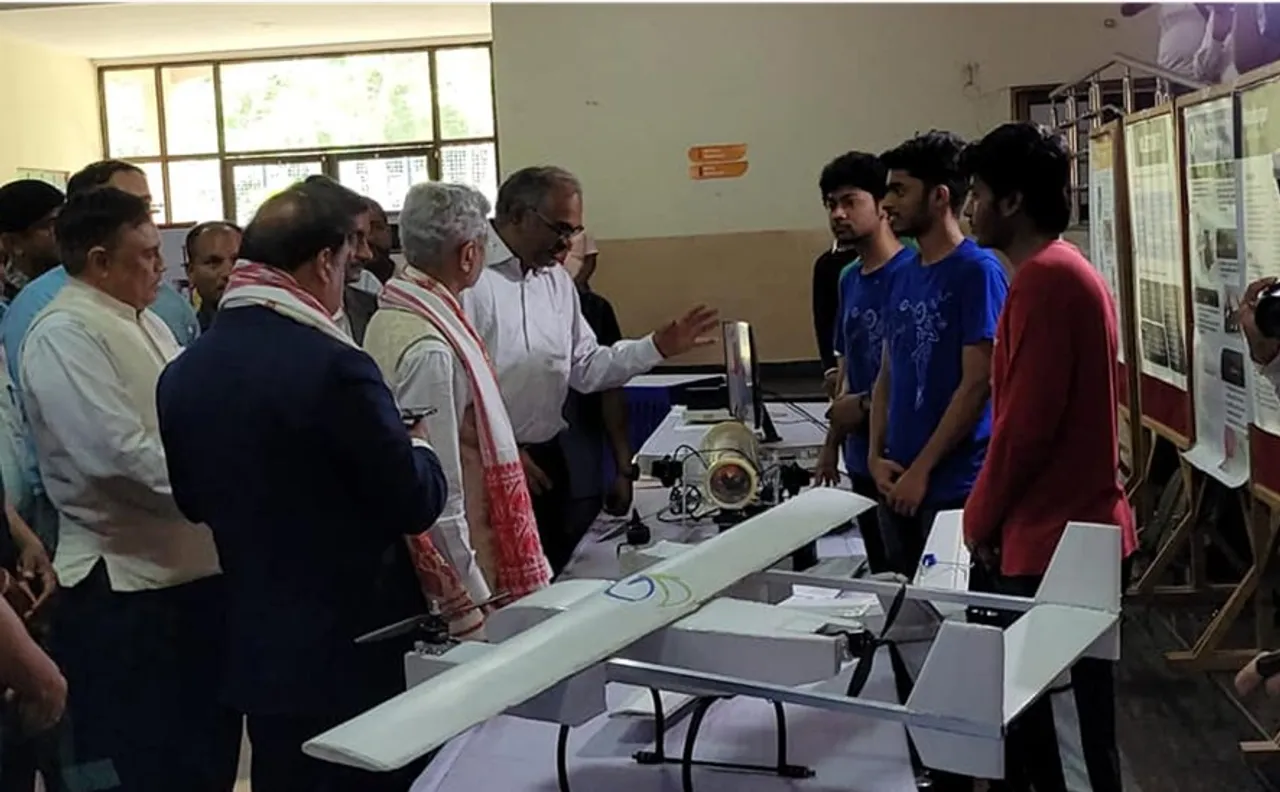 Indian Institute of Technology Guwahati's Aeromodelling Club is encouraging students to harness creativity, technology and innovation in aeromodelling.
With an aim to develop smart drones with an easy interface for common people to interact with drones, the club has developed different types of drones including 'Warehouse Drone' for warehouse management, 'Reaper Drones' for military and law enforcement, 'Ornithopter' based on the design of birds which can be used for surveillance in tight spaces, for wildlife photography, and 'RAVEN,' an indigenously developed VTOL (Vertical Takeoff and Landing) capable fixed-winged aircraft
Apart from these projects, students have also developed a drone capable of firing at targets with high precision. The firing mechanism is designed in such a way that it returns to its previous position waiting for the pilot's command for the next firing.
Speaking about Innovations underway at this club, Prof. Chivukula Vasudeva Sastri, Department of Chemistry, IIT Guwahati, said, "I have watched the students of the Aeromodelling club work very closely, and the amount of passion and effort they put into developing aerial robots is just amazing. Their consistent top performances in both internal and external competitions speak for themselves."
Set up as an informal group in 2013 by students interested in aerodynamics and registered as an official club of IIT Guwahati in 2015, the Aeromodelling Club has been associated with multiple events both within and outside the campus. Over the years, the club has been conducting training workshops in various fields like aircraft design, computer vision, and RC aircraft hardware. Off late, they have even managed to secure the seed fund from TIC IIT Guwahati to develop 'Reaper' for commercialization
Sharing his experience on working on drones, Mr. Rishikesh Das, 3rd year, Department of Mechanical Engineering, IIT Guwahati, said, "I have always been fascinated by RC planes. It has been a wonderful opportunity for me to explore aircraft design and understand the aerodynamics of planes. The number of potential drones has excited me even more. Working on projects at the Aeromodelling club is a wonderful feeling, to be able to contribute to society and find answers to existing problems."
Mr. Hemant Pandey, 3rd year, Department of Chemical Engineering, IIT Guwahati, said, "It is the process that I enjoy in making drones and planes. To ideate, innovate, and come up with feasible solutions to complex problems fuels my passion. Every competition we participated in and every project we have worked here at the Aeromodelling club has inspired us to do more. We work together as a team and aim to develop smart drones."
Ø  Warehouse Drone: In a real-world scenario, warehouses are one of the most difficult places to maintain with various repetitive tasks such as inventory management or moving objects to different places. Any failure in doing these tasks on time can cause heavy financial losses. To avoid human inefficiency, IIT Guwahati innovators including Sai Koushik, Madhur Vadlamudi, Vatan Narang, Siddharth Gupta, Akshai M, Joshith Gubbala and Shaik Ahmad Ashraf Ali have developed a drone to eliminate such labor-intensive duties that involve time consuming repetitive physical work.
The 'Warehouse Drone' is a management system utilizing computer vision to integrate a line following algorithm with the detection of ArUco markers. An 'ArUco Marker' is a fiducial marker, a binary matrix composed of a black border around it, and it is a synthetic marker used to locate it in an image or video instantly. The software uses ArUco markers with pre-assigned ids placed at positions of every object, and a system of lines laid all across the warehouse connecting everything. The drone, with the implemented software, after taking input from the user, follows a particular line to get to a shelf and reaches out to the desired destination.
With a little bit of tweaking in the program, for future scope, the utility of the drone can be modified from understanding the flow of water in agricultural lands to delivery of goods within a city by using line following algorithms along roads, it can also be used for faster identification of items in the inventory of industries.
Ø  Reaper: Reaper is an indigenously developed unmanned aerial vehicle designed primarily for military and law enforcement usage such as patrolling, target identification and tracking, among others. It has a wingspan of 1.8m, and weighs around 3 kgs with a payload of 1-1.5kgs for additional sensors. It comes with a modular design to facilitate transport and can be easily deployed by a single person. It has a range of 15-20 km and an average speed of 60-70 km/h. Based on 3300 mAh Li-Po batteries, it has an endurance time of about 30 minutes. It can also be used autonomously by making use of software such as Q ground control in which predetermined coordinates on the map can be set for the drone to follow. The drone can also be used during natural disasters like floods or earthquakes, helping disaster management teams search for injured/trapped people by making use of Hyperspectral Imaging. Another use is that it can collect data on animals in any national parks/wildlife sanctuaries and study their behavior. The drone is developed by Mr Abubakar Siddik, Mr Anurag Katkar, Mr Arnav Choudhury, Mr Atishay Jain, Mr Bittu Pandey, Mr Vipul Bajaj and Mr Atharv Mathapati.
Ø  Ornithopter: On contrary to existing drones relying on propellers and static wings configurations, student innovators of IIT Guwahati including Mr Harsh Rana Mr Hemant Pandey, Ms Pramiti Gupta, Mr Chetan Shantaram Nalavade and Mr Masruddin Shaik have developed an aerial drone. Ornithopters flap their wings to generate forward thrust. The complex relationship between aerodynamics and wing movements allows birds and insects to fly in ways that are impossible for conventional drones. An ornithopter prototype is one that mimics the flapping motion of bird flight. The lift and thrust generation characteristics of different wing designs are evaluated. This project is focused on studying and applying different mechanisms to convert rotary motion into linear material used for the wings that could achieve improved performance. For the same, various wings of insects and birds were evaluated to understand how these natural flyers with flapping wings are able to produce sufficient lift to fly. The major advantages that come with such a flying device are that they can take off and land slowly in tight spaces yet might quickly soar upwards to perch like a bird. The weight of such a device is also very less (700g) which minimizes the risk of injury if it collides with a person in flight. The ornithopter can be used for surveillance in tight spaces, for wildlife photography, and also study the biology of different types of birds.
Ø  RAVEN: An indigenously developed VTOL (Vertical Takeoff and Landing) capable fixed-winged aircraft that can transition from vertical flight to forward flight. It is primarily a delivery drone that can also be used as a surveillance drone. Because of its VTOL capability, it can operate in the remotest of places without the need for a runway. So, it can be useful while delivering food and first aid in times of calamities. The prototype has been developed by Mr Vedant Khadse, Mr Rishikesh Das, Mr Bevara Sangam Amrutha, Mr Khadake Varun Dilip and Mr K Sai Vishnu Vardhan.
The club has consistently been participating in intra-college events like Techniche and Techeivence, proudly showcasing its plethora of projects. Since its inception, the club has also been successful in leaving its mark as a dominant figure in the inter IIT Technical events, winning consecutive silver medals for DRDO's problem statement (2019 and 2020) for IIT Guwahati. The club also participated in Drone Utsav 2021, and NERC (North East Research Conclave) 2022, conducted at IIT Guwahati showcasing various prototypes of their innovations.
Aeromodelling Club of IITG has always been working on building drones that solve problems in a wide range of areas in society and industries. The club is swift to respond in any case of requirement. In 2022, when the Indian Meteorology Department issued a red alert warning to citizens against more rainfall in certain areas in the state of Assam, which were already flooded. The Aeromodelling club deployed their drones and conducted surveys spanning an area of over 30 sq km to identify safe spots where flood relief payloads can be landed safely.
###
ABOUT IIT GUWAHATI
Indian Institute of Technology (IIT) Guwahati established in 1994 has completed 25 years of glorious existence in 2019. At present, the Institute has eleven departments, seven inter-disciplinary academic centres and five schools covering all the major engineering, science, healthcare, management and humanities disciplines, offering BTech, BDes, MA, MDes, MTech, MSc, and PhD programmes. The institute offers a residential campus to 435 faculty members and more than 7,000 students at present.
IIT Guwahati has retained the 7th position among the best engineering institutions of the country and 8th position in 'Overall' Category in the 'India Rankings 2022' declared by the National Institutional Ranking Framework (NIRF) of the Union Ministry of Education.
IIT Guwahati is the only academic institution in India that occupied a place among the top 100 world universities – under 50 years of age – ranked by London-based Times Higher Education (THE) in 2014 and continues to maintain its superior position even today in various International Rankings. IIT Guwahati gained rank 37 globally in the 'Research Citations per Faculty' category and overall 384 rank in the QS World University Rankings 2023 released recently.
Among other frontier areas of research and innovation, IIT Guwahati is working towards augmenting critical science research initiatives in Genomics, Developmental Biology, Health Care and Bioinformatics and Flexible Electronics, among numerous other areas.