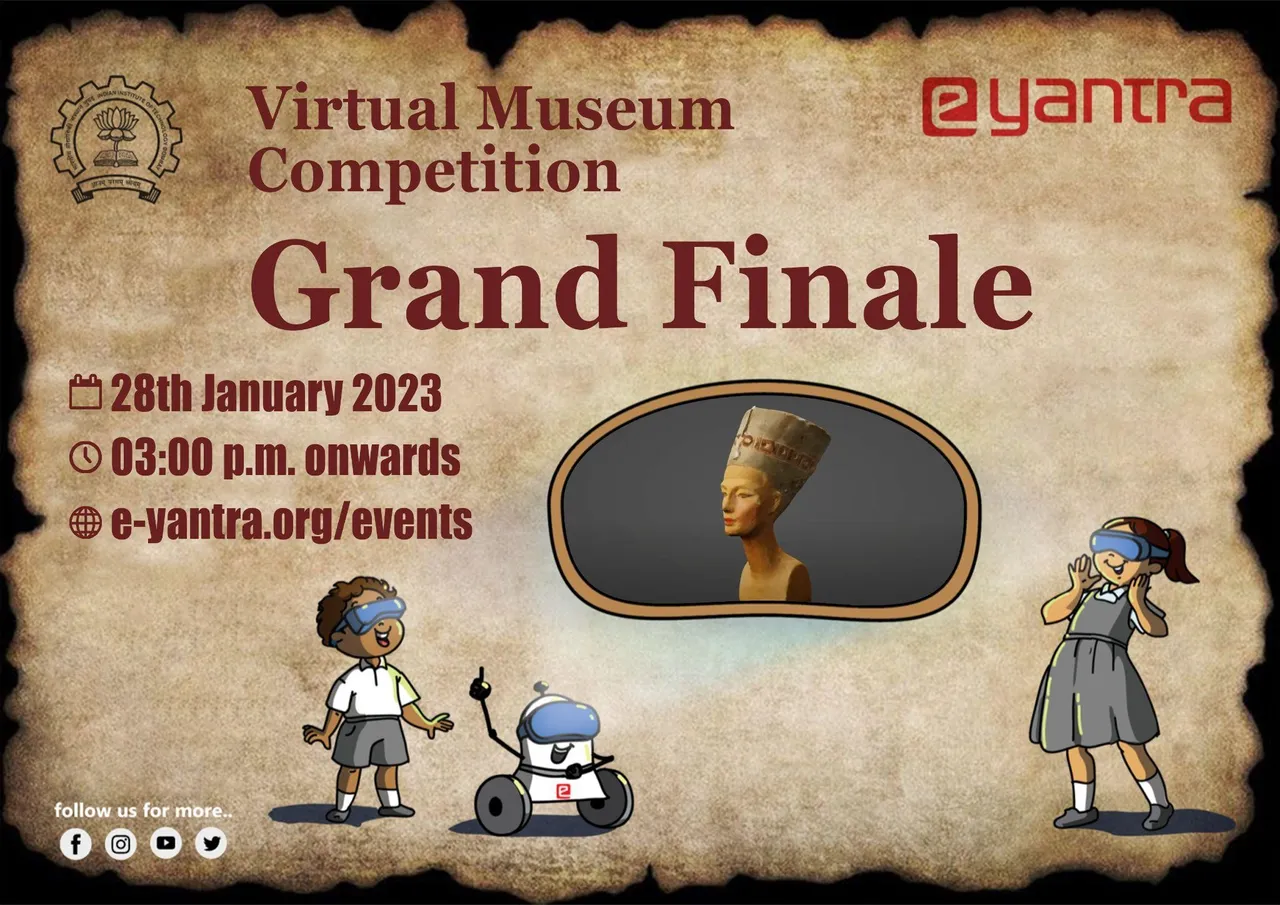 e-Yantra, IIT Bombay's Online Learning project, is hosting the grand finale of the 2nd edition of e-Yantra Virtual Museum Competition on 28th January 2023 virtually. 
The e-Yantra "Virtual Museum" Competition brings Project Based Learning to school students online. It comes under the e-Yantra NextGen initiative that challenges young tech enthusiasts to think creatively, develop original ideas, and come up with novel solutions to pressing societal problems. 
A 'History in 3D' website with artefacts curated by the finalists has also been launched on India's 74th Republic Day under the "Virtual Museum" Competition. 
Under the e-Yantra NextGen initiative, children in Grades 7 through 12 are introduced to a wide range of skills through e-Yantra, including Embedded Systems and Robotics, Programming, Computational Thinking, Humanities, and many more. They learn 3D modelling, digital poster making, photogrammetry, research methodologies and constructing an interesting narrative by developing a Virtual Museum.
Through the "Virtual Museum" Competition, e-Yantra has reached a new benchmark in training school students in history by training in the use of state-of-the-art technology. The second edition saw students from Grades 7th - 12th participating in a 7-week online competition where they were taught the importance of learning history using technology. They were trained over a period of 7 weeks to use graphical, analytical, and research techniques to tell historical stories by designing a "Virtual Museum" exhibit with the help of mentors from e-Yantra (IIT Bombay). After thorough analyses by the jury, 15 artefacts have been selected as finalists for the Grand Finale of the competition.
Principal Investigator of the e-Yantra project, Prof. Kavi Arya from the Dept. of Computer Science & Engineering, IIT Bombay, says, "The e-Yantra Virtual Museum Competition is our attempt to engage students with the world of 3D modelling to help them create a world of their own. I'm delighted by the way the students from grade 7th-12th mastered technology to tell stories rooted in history. They learnt challenging photogrammetry and 3D rendering skills online over 7 weeks to collaborate and built      an online museum exhibit. The grand finale of this edition gives us the scope to engage with more students as they would learn by seeing what their peers have created."
The competition started with a Family Genealogy project that personalized history and evoked curiosity among students in discovering their own family history. This had the delightful side-effect of connecting children with grandparents to record family history. Later, they worked on selecting an artefact to brainstorm on it and tell a story. In the final week, students created a 3D model of the artefact and set it in a virtual museum display along with compelling video narration and a research document.
The Grand Finale of the competition would be livestreamed on 28th January 2023 from 3 PM onwards and the free registration for students will be open till 12 PM on 28th January, 2023.