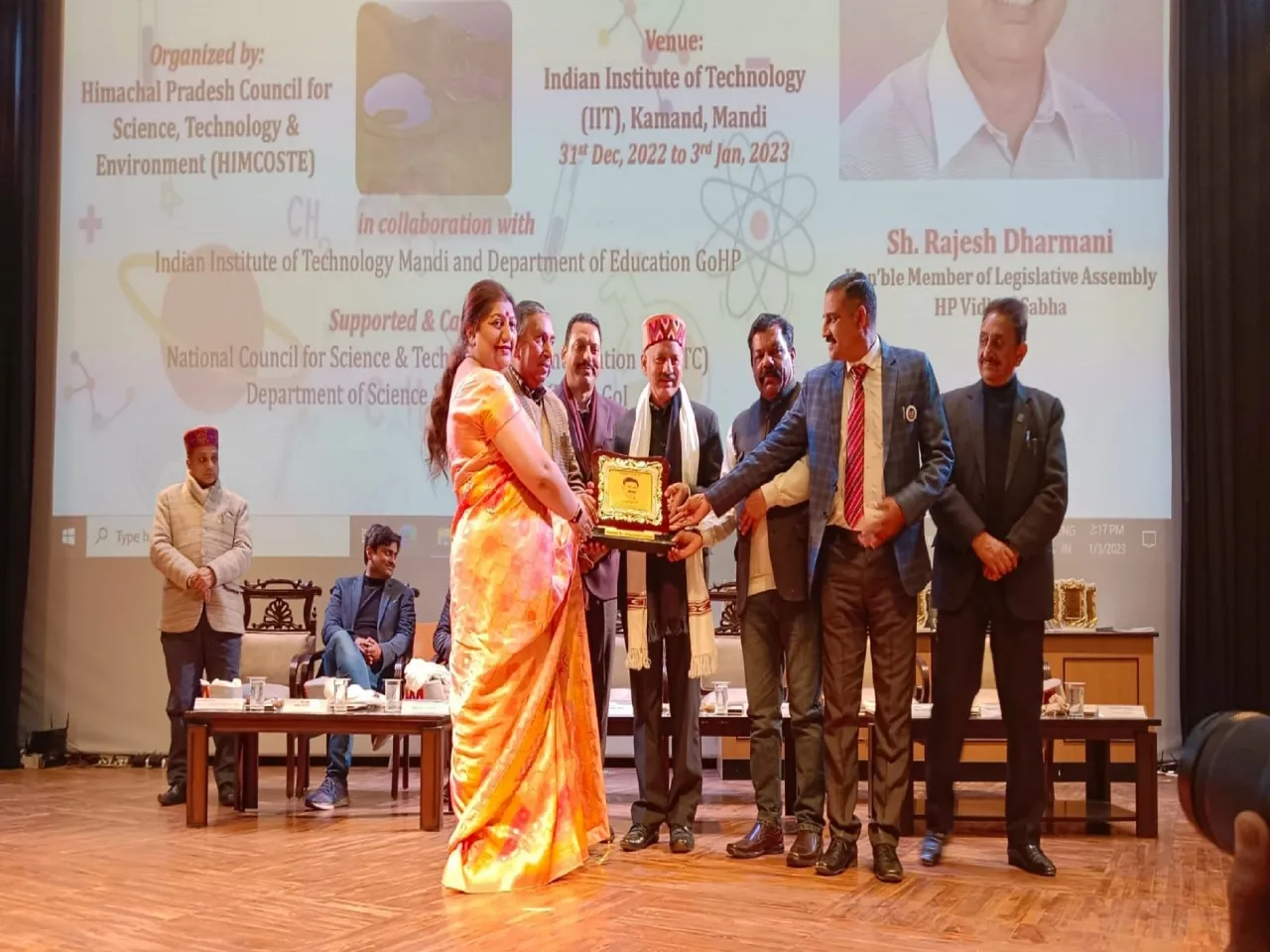 ⁠⁠⁠⁠⁠⁠⁠Himachal Pradesh Council for Science, Technology and Environment (HIMCOSTE) conducted 30th Children's Science Congress at Indian Institute of Technology Mandi campus from 31st December 2022 to 3rd January 2023. The theme for this year's Children's Science Congress was 'Understanding Ecosystem for Health & Well Being'.
 The Chief Guest for the closing ceremony of the Children's Science Congress was Shri Rajesh Dharmani, Member of Legislative Assembly, Himachal Pradesh Vidhan Sabha.
Addressing the gathering, Chief Guest Shri Rajesh Dharmani, Member of Legislative Assembly, Vidhan Sabha, Himachal Pradesh, said, "The students should work hard than the expectations then it will become possible to achieve anything in life. One should set big goals and strive to achieve them. Being all-rounder is very important in today's world and to become more successful in life."
Further, Shri Dharmani mentioned, "Teachers should do Strengths, Weaknesses, Opportunities, and Threats (SWOT) analysis for all the students individually and help them realize their passion and talent. HIMCOSTE will soon have a platform where the students should be able to put all their doubts."
 The other dignitaries present were Shri Amarnath Rana, Director, Elementary Education, Mandi; Shri Devinder Chandel, Deputy Director, Elementary Education, Una; Dr. S.S Randhawa, Principal Scientific Officer, HIMCOSTE; Mr. Ashok Walia, District Science Supervisor, Mandi; Ms Dipshika Gaur, Senior Scientific Officer & Coordinator Children's Science Congress; Ms Shalu Parmar, President, HP Science Master Association – Women Wing, and Dr. Satinder Sharma, and Dr. Tushar Jain from IIT Mandi.
Addressing the young students during the event, Prof. Laxmidhar Behera, Director, IIT Mandi, said, "The ability to search for truth is the purpose of science. Science gives us ability to think."
He further added, "Within science, we know of two categories of objects - waves and particles. The third category is consciousness and this consciousness is explored less in modern science. This is an essential part of Science."
Children's science congress is the flagship program of HIMCOSTE and was started in 1993. It starts from Mandal level then the winners compete at district level and before getting selected at the state level.
While talking about the Science Congress, Shri Satpal Dhiman, Additional Secretary, Environment Science and Technology and Joint Member Secretary, HIMCOSTE, said, "HP Children's Science Congress has been conducted at IIT Mandi to motivate students to pursue their careers in science and technology."
The four days session had science quiz, mathematics Olympiad, Science activity corner, scientific project report, science skit, and innovative science models. 16 best scientific reports will compete in national level children's science congress, at the end of January in Ahmedabad and Gujarat representing Himachal Pradesh.
About HIMCOSTE
HIMCOSTE was established in 1986 in Himachal Pradesh with the main mandate of popularization of science. All programs related to science are being conducted in schools and colleges regularly by HIMCOSTE like Mathematics Day, Science Day, popular lecture series for teachers, and other capacity building workshops.
About IIT Mandi
IIT Mandi has nine Academic Schools and four major Research Centers. The Schools are School of Biosciences and Bioengineering, School of Chemical Sciences, School of Mathematical and Statistical Sciences, School of Physical Sciences, School of Mechanical and Materials Engineering, School of Civil and Environmental Engineering, School of Computing and Electrical Engineering, School of Humanities and Social Sciences, and School of Management. The Centers are Advanced Materials Research Centre (AMRC; set up with an investment of Rs. 60 crores), Centre for Design and Fabrication of Electrical Devices (C4DFED; has Rs. 50 crores worth of fabrication tools), BioX Centre (has acquired research equipment worth Rs. 15 crores), and Indian Knowledge System and Mental Health Applications Centre (IKSMHA Centre).
The Institute offers B.Tech. programs in seven different streams, one M.A. program, three M.S. programs, ten M.Tech. programs, three M.S. (by research) programs, four Ph.D. programs, and one iPh.D. program. The unique, project-oriented B.Tech. curriculum is centered around its 4-year long Design and Innovation stream. Since the inception of the Institute, IIT Mandi faculty have been involved in over 275 Research and Development (R&D) projects worth more than Rs. 120 crores.
IIT Mandi set up the IIT Mandi iHub and HCI Foundation (iHub; a section-8 company) on its campus at Kamand with a significant funding of INR 110 crores from the Department of Science and Technology (DST), Government of India. The iHub is planned to fuel research and technology development, skill development, startup and innovation, and collaborations in the HCI and allied AI/ML areas in India. IIT Mandi is the only second-generation IIT to be featured at rank 7 in the Atal Ranking of Institutions on Innovation Achievements of the Innovation Cell, Ministry of Education, Govt. of India.