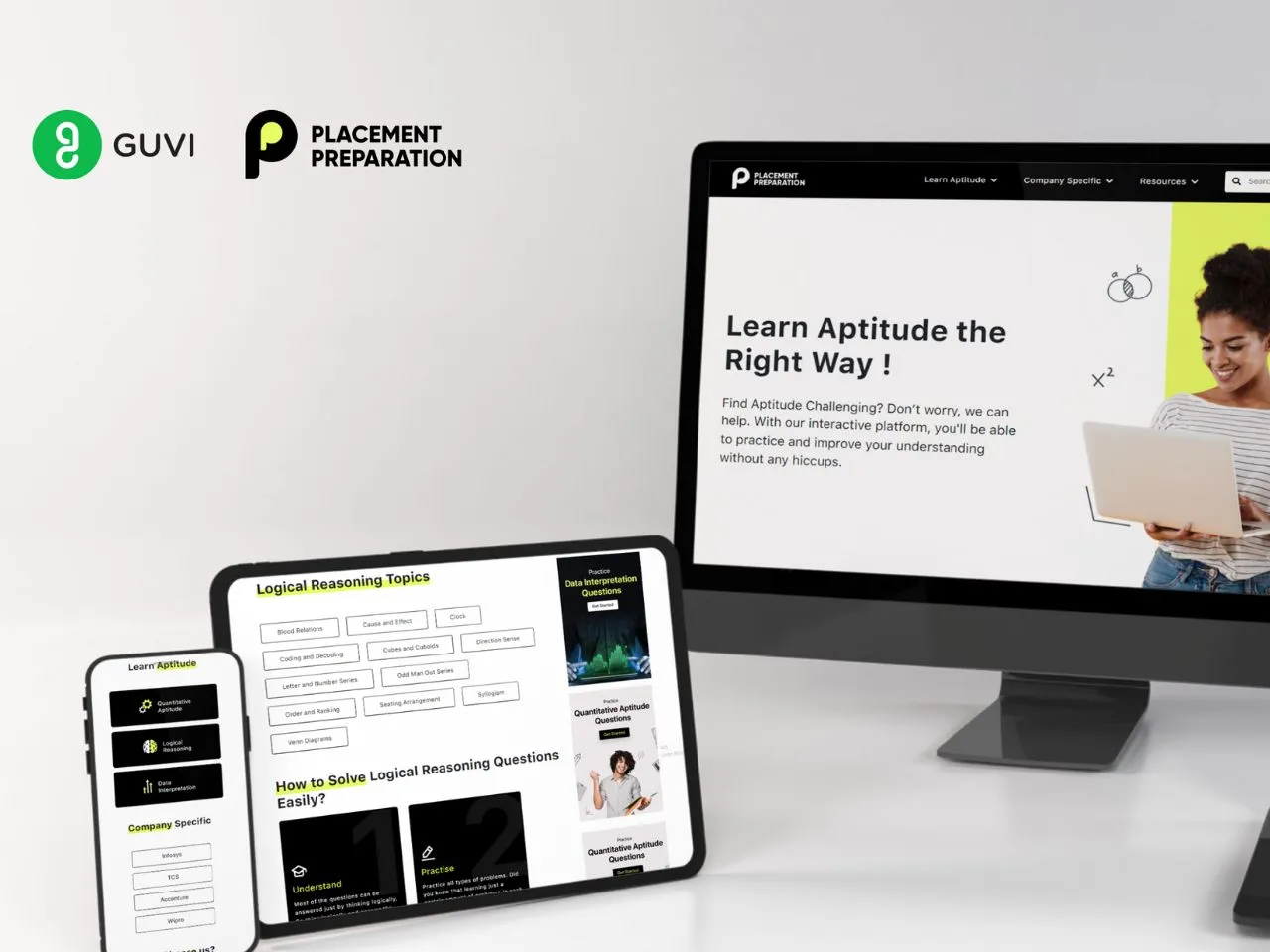 GUVI, an edtech startup incubated by IIT Madras and IIM Ahmedabad, has launched a new platform called Placement Preparation to help job seekers prepare for aptitude tests. The platform is completely free and accessible to anyone looking to improve their chances of securing a job.
The initiative is designed to assist students in securing placement by helping them ace their aptitude preparations. GUVI empowers career aspirants of IT and software jobs through self-paced learning tech courses, ZEN class career programs, and other vernacular edtech services. The start-up offers an online platform for students to learn in their mother tongues and also offers specialised IT courses to upskill and make them 'job ready'.
Placements are one of the most important moments in a student's life. To prepare for placements, students have traditionally had to attend coaching classes or purchase expensive books. Unfortunately, students from rural areas or lower-income households cannot take advantage of these resources because it requires a lot of money.
GUVI believes the right to education should be within reach of everybody, regardless of their economic and social background. With this in mind, they designed Placement Preparation, a free platform that allows aspirants to practice aptitude topics for free and be ready for placements. The Placement Preparation is a free interactive platform designed by a team of industry experts with decades of experience in teaching, training, and placement.
Elaborating on this initiative, Mr Arun Prakash, Founder and Chief Executive Officer of GUVI, said, "Due to a lack of time and money, people in India do not have access to quality placement preparation resources. We wanted to create a platform that promoted equitable access to education. We aim to provide comprehensive quality resources to assist students to prepare for their dream careers."
The platform features include:
⮚ The platform is 100% free, with no subscriptions or charges.
⮚ Simplified concepts to make everything easier to understand.
⮚ Real-life applications to help students understand the concept by emphasizing its importance.
⮚ Easy-to-memorize formulas in an interactive tabular format.
⮚ The latest and relevant questions added in the last 5 years of exams.
GUVI is striving to make this a successful initiative with the help of its experienced and talented team. GUVI is renowned for its successful Zen Class initiative, a Project-Based Career Program that guarantees job placement support upon course completion. Zen Class has educated over 7,000 working professionals and students, as well as assisted in the placement of thousands in prestigious organizations across various industries to date. In conjunction with other GUVI initiatives like Zen Class, the Placement Preparation platform will provide quality resources to students for securing employment in the 21st century.
GUVI has a presence in over 1,200 engineering colleges across India and has been upskilling learners with its Coding Practice and Assessment platform and specialised courses taught by prominent industry Mentors and academics. The mission of GUVI is to take technology skills to all deserving students and ensure demography is never a barrier to acquiring skills.
(Disclaimer: TICE News did not write this content. The brand or the company has sent a press release.)