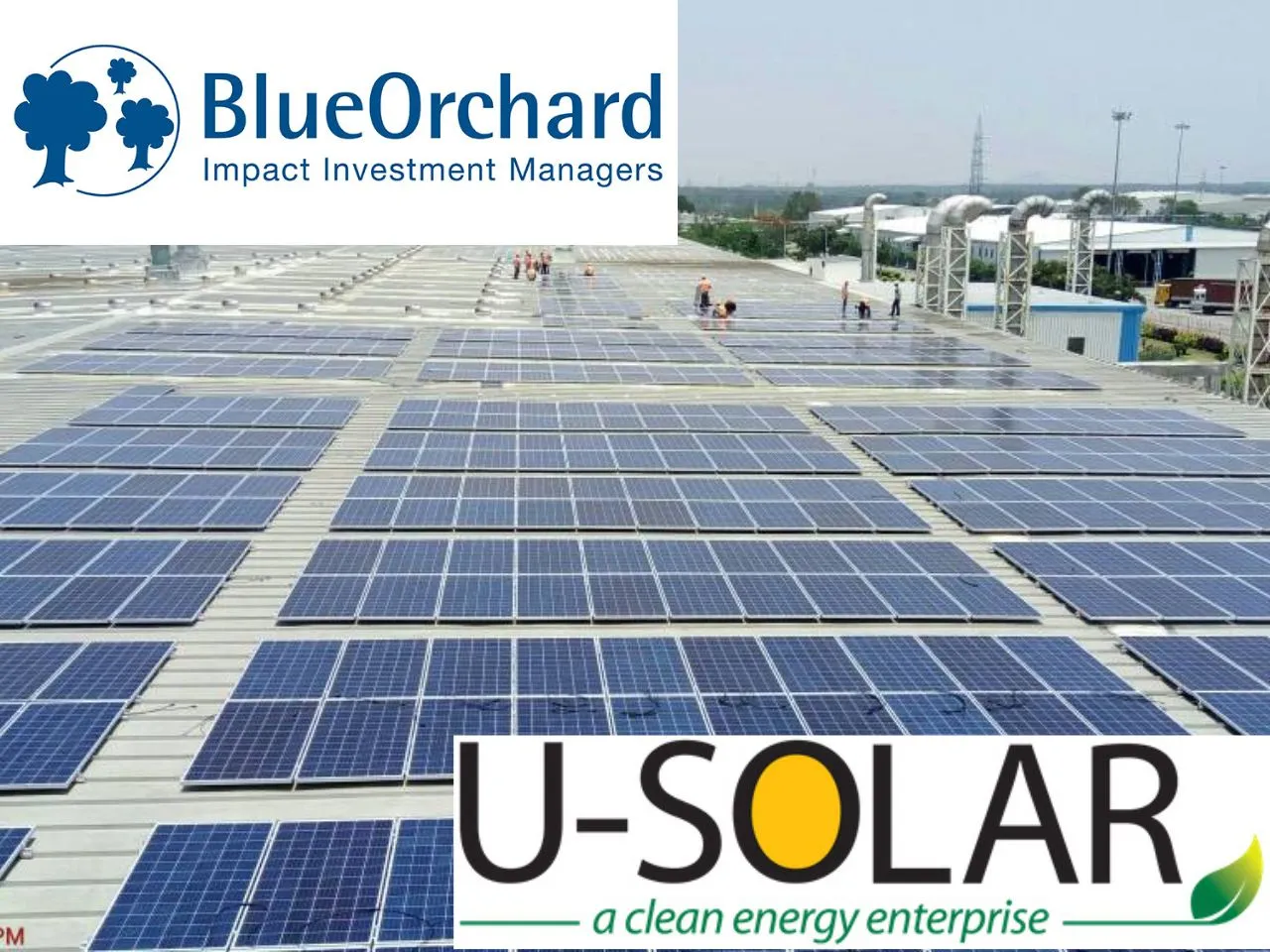 BlueOrchard Finance Ltd, a global impact investment manager, has announced its investment in U-Solar, a fast-growing renewable energy platform in India. The investment will support the growth of U-Solar's commercial and industrial (C&I) rooftop solar portfolio. BlueOrchard is a member of the Schroders Group.
Archis Management Advisors LLP acted as the lead financial advisor to U-Solar.
U-Solar's Presence in the Solar Photovoltaic (PV) Renewable Energy Value Chain
U-Solar is involved in the entire solar photovoltaic (PV) renewable energy value chain, including planning, design, construction, operation, and maintenance of rooftop and ground-mounted solar PV power plants. Founded in 2010 as a one-man start-up company, U-Solar has rapidly grown and completed over 100 solar projects with a capacity of more than 130 MWp. Recently, U-Solar has been awarded its first large-scale project to design, build, and operate a 20 MW floating solar plant in Karnataka, India.
BlueOrchard's Confidence in U-Solar's Management Team
Prabaljit Sarkar, Investment Director Infrastructure at BlueOrchard, expressed his confidence in U-Solar's strong management team, consisting of industry experts with extensive experience in implementing solar power projects in India. He said, "U-Solar contributes to a cleaner energy mix at the level of India's power grid, to affordable electricity supply and CO2 emission savings, and creates green jobs. U-Solar thus fits perfectly into our strategy of building infrastructure in a sustainable way in the markets that need it most."
India's Energy Policy Framework
India is the third-largest country in the world in terms of energy consumption. The Indian government has established an energy policy framework to promote the growth of the renewable energy market across India. The government is committed to global climate goals and aims to ensure energy access for all. In recent years, a growing number of private companies in India have voluntarily chosen to achieve net zero energy consumption by 2050. U-Solar aims to take advantage of this opportunity.
U-Solar's Plans to Achieve 100 MWp of Installations by 2027
K.R Harinarayan, Managing Director at U-Solar, said, "The funding provided by BlueOrchard will finance the implementation of U-Solar's commercial and industrial rooftop solar portfolio and contribute to the transition towards clean energy in India. We are working with marquee clients in the C&I space with whom our strategy is to grow their solar energy consumption towards the net-zero or RE100 goals. With the team's proven track record and capabilities, we at U-Solar are confident of achieving 100 MWp of installations by 2027."
(Disclaimer: TICE news has written this content based on a press release by the company or the organisation.)