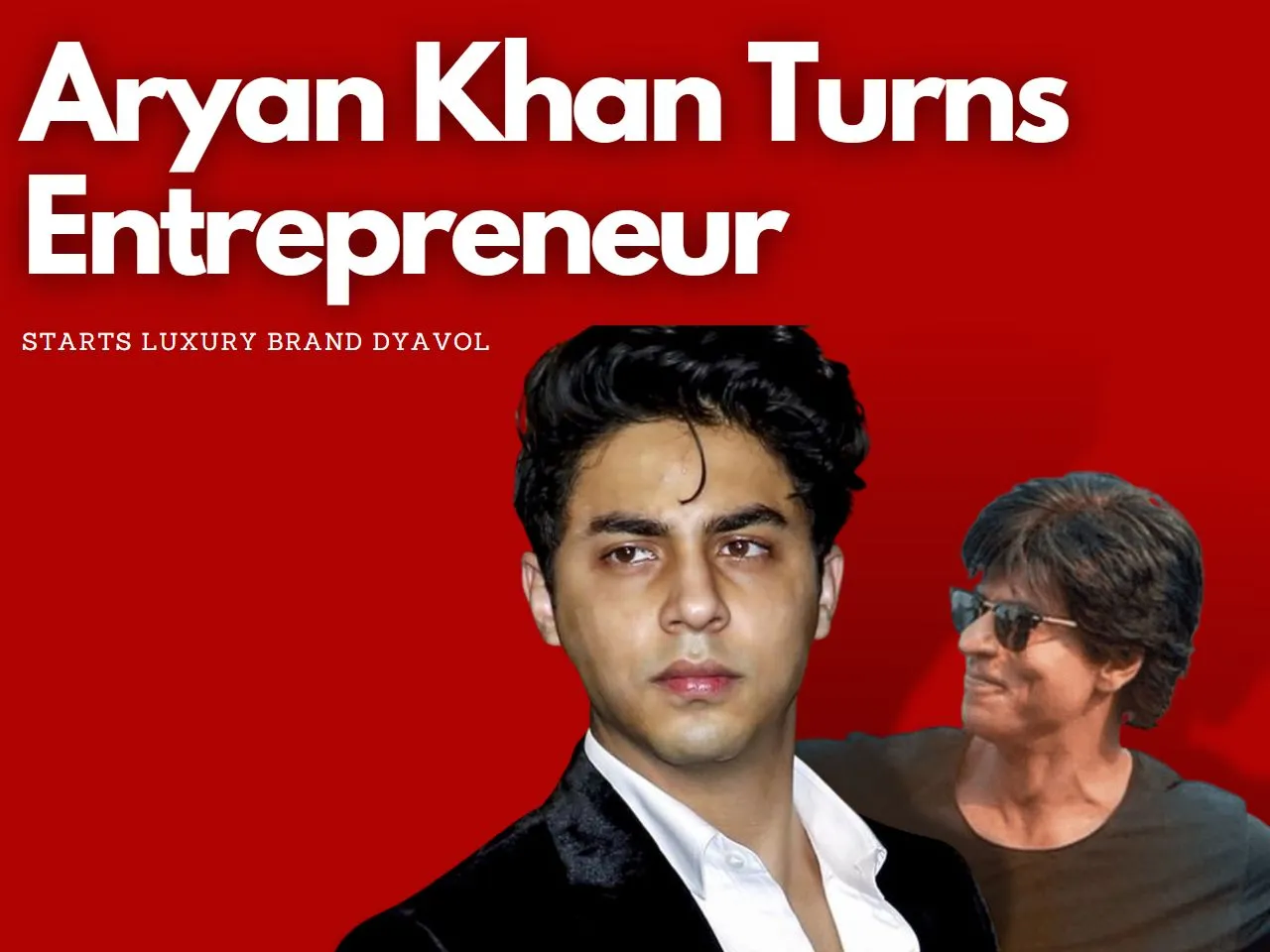 Bollywood celebrities have always been known for their talent, glamour, and stardom. But in recent years, they have started exploring new avenues beyond the world of cinema. One such avenue that has gained significant traction among Bollywood stars is entrepreneurship.
From fashion to fitness, from technology to hospitality, Bollywood celebrities are venturing into various industries and starting their own businesses. This trend not only allows them to diversify their income streams but also gives them an opportunity to pursue their passions and bring about a positive change in society.
The latest famous personality to join the long list of celebrities turned entrepreneurs is Shah Rukh Khan's son, Aryan Khan.
What is D'Yavol?
Aryan Khan, launched his second startup, and it's not just any old brand. It's a luxury new streetwear label called 'D Yavol'. This is one brand that's sure to be the talk of the town, so get ready to be hip and happening!
The cherry on top is the first look of the brand, which was unveiled through a teaser video on Monday. And who's starring in the ad? None other than Aryan's superstar father, Shah Rukh Khan himself! And if that's not enough to get your heart racing, this video also marks Aryan's directorial debut. So, get ready to witness the ultimate father-son duo in action, folks! 
When is D'Yavol launching its luxury streetwear? 
Aryan has teamed up with Bunty Singh and Leti Blagoeva, his business partners, to launch an apparel line that is scheduled to be revealed on April 30th.
This is not the 25-year-old's first venture, having previously partnered with, Bunty Singh and Leti Blagoeva to launch D'Yavol vodka. 
D'Yavol Vodka is already creating a buzz among spirits aficionados. The trio teamed up with none other than Anheuser-Busch InBev, the biggest brewing company in the world, to launch this single estate, single-grain vodka. 
In a fascinating revelation on David Letterman's show in 2019, the Bollywood superstar Shah Rukh Khan shared that Aryan had no intentions of pursuing acting as a career. While many would assume that the Khan offspring would be eager to step into the limelight, SRK explained that Aryan simply lacks the "it factor" necessary to become an actor.
He revealed that Aryan has found his true passion in writing, a skill that he excels at. According to King Khan, the desire to become an actor must come from within, and Aryan had the self-awareness to recognize that acting wasn't his calling. 
Bollywood Entrepreneurs: Celebrities Who Run Businesses 
Deepika Padukone - She founded the 'Live Love Laugh Foundation,' which aims to create awareness about mental health and provide support to those who are struggling with mental health issues.

Salman Khan - He is the co-founder of 'Being Human,' a charitable organization that works towards providing education and healthcare to underprivileged children.

Shahrukh Khan - He is the co-owner of Kolkata Knight Riders (KKR), a franchise in the Indian Premier League (IPL). 

Anushka Sharma - She launched 'Nush,' a clothing line that offers trendy and affordable fashion for women.

Hrithik Roshan - He is the co-founder of 'HRX,' a fitness brand that offers workout clothing, footwear, and accessories.
These celebrities have not only shown their entrepreneurial skills but have also made a significant impact in their respective fields. Their success stories have inspired many others to follow their dreams and start their own businesses.
In conclusion, Bollywood celebrities are not just entertainers but also successful entrepreneurs who are making a difference in the world. Their ventures have created job opportunities, contributed to the economy, and inspired the youth to take the path of entrepreneurship.