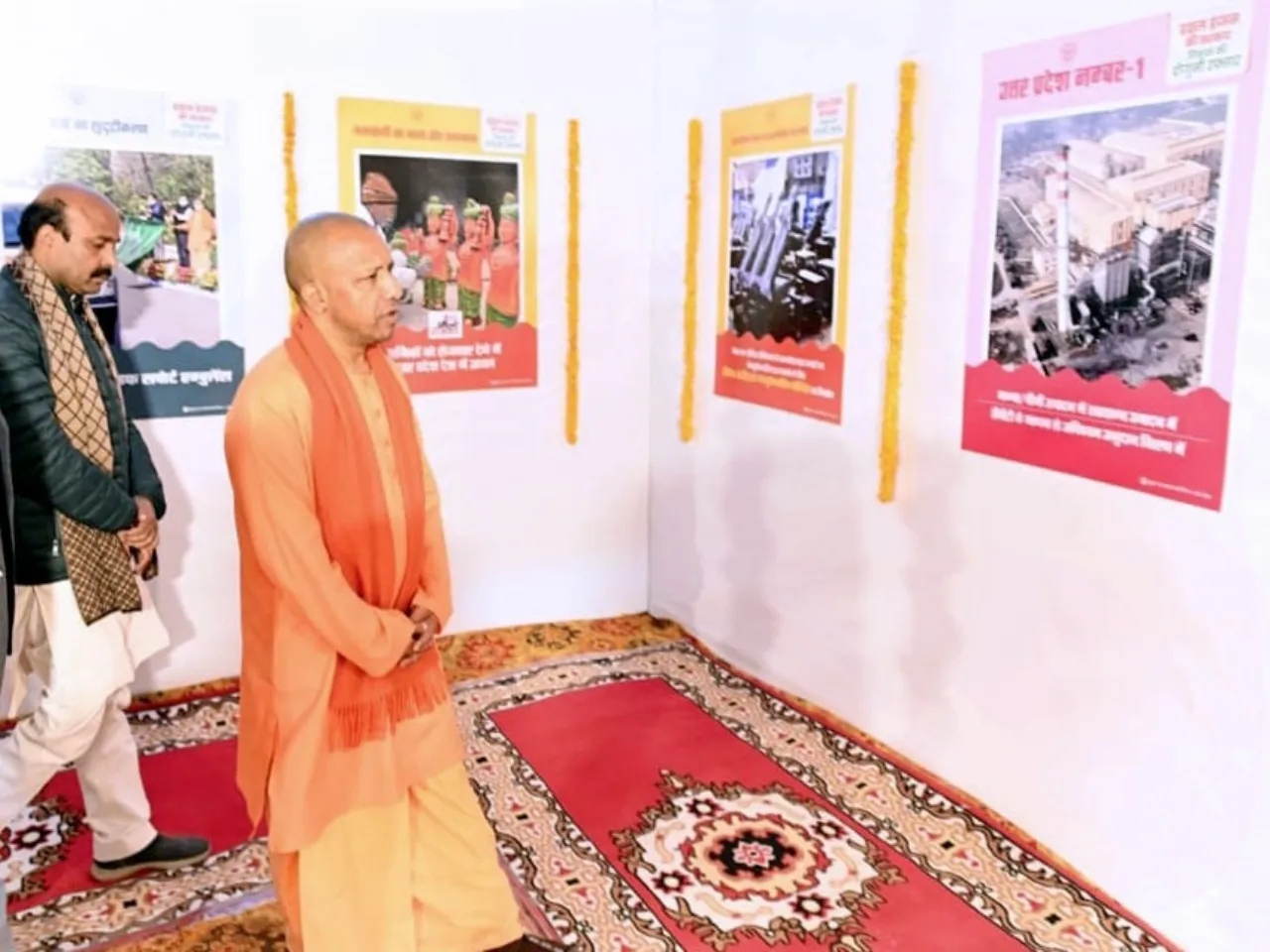 Continuing its highly successful series of roadshows under the guidance of Chief Minister Yogi Adityanathin run-up to the Global Investors Summit, 2023, to be held in Lucknow next month, Team Yogi led by Deputy Chief Minister Brajesh Pathak held its fifth domestic roadshow in Hyderabad, the capital of Telangana on Wednesday, in which 19 Memorandums of Understanding (MoUs) worth Rs 25,000 crore were signed. The 19 projects will create employment opportunities, directly or indirectly, for  32,000 youths of Uttar Pradesh.
At the same time, many other investors expressed their desire to invest thousands of crores. These investors will finalize their investment during their participation in the GIS 2023. The UP team also included Cabinet Minister Baby Rani Maurya, Ministers of State Arun Kumar Saxena, Dayashankar Mishra and Advisor to Chief Minister GN Singh.
12 deals worth more than Rs 100 crore, 6 worth Rs 1000 crore and above signed
Prior to the roadshow, Business to Government (B2G) meetings were held throughout the day during which more than two dozen investors from Hyderabad gathered information from the delegation of Uttar Pradesh about investment opportunities in UP as well as reliefs and exemptions available under the new policies of CM Yogi. Finally, 19 MoUs were signed with the investors of which 12 were worth Rs 100 crore or more whereas, 6 were worth Rs 1000 crore or more. The highest value of the deals signed on the occasion was with Megha Engineering & Infrastructure Ltd worth Rs 15,500 crore.
Megha Engineering will spend 15,500 crore in 4 sectors
Megha Engineering and Infrastructure Limited signed an MoU for investment of Rs 15,500 crore in 4 categories. The first investment of Rs 10,000 crore will be in the field of infrastructure while Rs 2,000 crore will be spent on developing a complete Pharma City. Apart from this, the company will invest Rs 1500 crore in the field of medical infrastructure, under which medical equipment will be manufactured and Rs 2000 crore in the field of EV manufacturing. With this investment, more than 10,000 direct and indirect employment opportunities will be created.
Pulses Healthcare will invest 2000 crores
Hyderabad's Pulses Healthcare Group has also signed an MoU to invest Rs 2000 crore in the state. The investment will start with Rs 500 crore and will be increased to Rs 2,000 crore in the next three years in publication of medical journals.   The company has published more than 1400 medical journals. It not only translates English but also other international languages into Hindi. The company is interested to open the office of his company in Greater Noida or Varanasi. The officials have assured them of availability of land if needed.
Heavy investment in the field of medical and energy
Asian Institute of Gastroenterology (AIG) Pvt. Ltd. also signed an MoU worth Rs 1500 crore for investment in the medical field. In the field of realty sector, Vasai Realty Pvt. Ltd, which has been working for years in Hyderabad, s9igned a deal of Rs 1200 crore whereas Fourth Partner Energy Pvt. Ltd. Inked an MoU worth Rs 1200 crore with the government in the field of energy. Similarly, Triveni Renewables also agreed to sign an MoU for investing Rs 1,200 crore in the energy sector while NSL Sugars Ltd. Will invest Rs 500 crore in the sugar sector in the state.
Many other MoUs were also signed
Sudhakar PVC Products Pvt. Ltd. Meela Jaidev, director, signed an MoU worth Rs 125 crore for setting up a manufacturing unit in the state. The company will require 25 acres of land for the manufacturing unit and Team Yogihas assured the company to provide land in Allahabad or Chitrakoot region. Apart from this, a Hyderabad-based start-up InstaShield has also signed an MoU worth Rs 20 crore for setting up a manufacturing unit in the state. Shrikant Pilarisetty, CEO, Evolence Telecom Systems, signed an MoU worth Rs 10 crore to provide IT solutions at affordable rates, while Uday Shankar Payyeti, Vice President, Palmten Inc, also signed an MoU worth Rs 10 crore for IoT. On the other hand, Canada-based company Colliers has expressed its desire to invest Rs 300 crore for the construction of an industrial park in the state.
Deputy CM Brajesh Pathak said: "UP has an old relation with Hyderabad. In 1916, the Nizam had given one lakh rupees for the establishment of BHU. That's why we have come here to maintain this relationship of both the states and invite investors. The response received here was encouraging. While Telangana has developed a lot in the industrial sector, UP is also going through a phase of change. The reforms and changes that have taken place in UP are safe and promising for the investors. We welcome investors from Telangana to UP."

The big investors include:
Megha Engineering & Infrastructure Ltd. (Rs 15,500 crore)
Pulsus Group (Rs 2000 crore)
Asian Institute of Gastroenterology Pvt. Ltd. (Rs 1500 crore)
Vasai Reality Pvt. Ltd. (Rs 1200 crore) 
Fourth Partner Energy Pvt. Ltd. (Rs 1200 crore)
Triveni Renewables Pvt. Ltd. (Rs1200 crore)
NSL Sugars Ltd. (Rs 500 crore)
Marine Car Parks (Rs 350 crore)
Scalar 250 Crore Ecolastic Products Pvt. Ltd. (Rs 150 crore)
Sudhakar PVC Products (Rs 125 crore)
Atlas Financial Research & Consulting Pvt. Ltd. (Rs 100 crore)