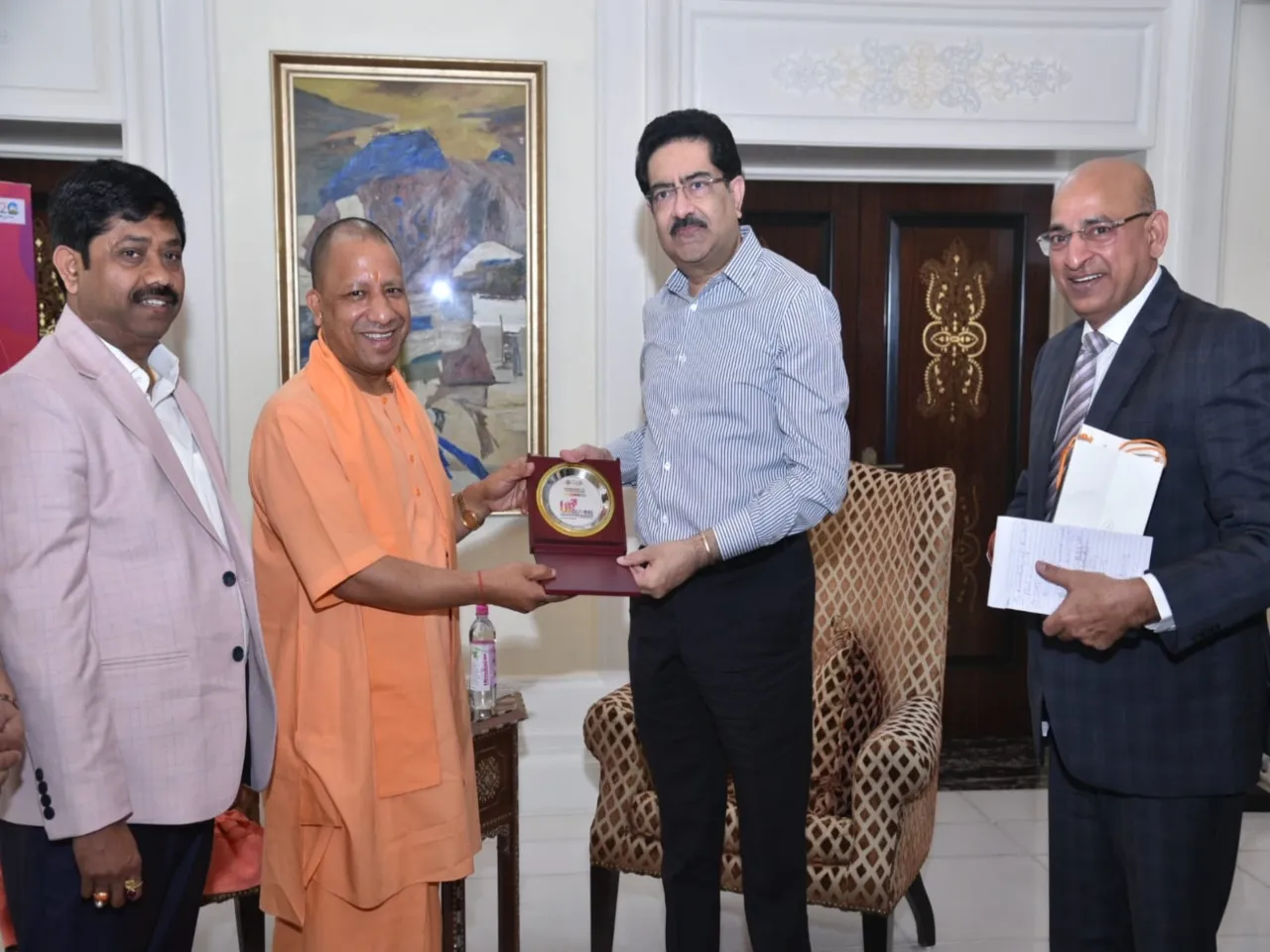 Chief Minister Yogi Adityanath, who came to the country's financial capital Mumbai to invite Indian industry for the Uttar Pradesh Global Investors Summit, has returned to UP with investment proposals worth more than Rs 5 lakh crore.
Reliance Industries chief Mukesh Ambani has proposed big investments in electronics manufacturing and green energy sectors, including providing 5G internet connectivity across UP and better health services to villages in Uttar Pradesh with the help of artificial intelligence, whereas Adani Group has shown interest in setting up medical colleges in Ballia and Shravasti on PPP model and a skill development centre with a capacity of 10,000 youths in Noida.
Over two dozen industrialists including Reliance, Tata Sons, Adani, Godrej, Birla, Piramal, Vedanta, Parle, Hinduja, Lodha and Ramki met the Chief Minister during his two-day visit to Mumbai to appeal to them to join the $5 trillion vision of Prime Minister Narendra Modi.
Karan Adani of Adani Group discussed the action plan for major investment in the warehousing and logistics sector with several proposals for investment worth lakhs of crores of rupees in the next 05 years, including  setting up medical colleges in Ballia and Shravasti on PPP model, a skill development centre in Noida,  and also discussed setting up cement units at seven different places. Praising CM Yogi's industrial policies, Karan Adani also shared the plan of expansion of Lucknow airport and discussed action plan for building the world's largest ammunition hub after Brazil in the UP Defence Corridor. Apart from this, Adani group will also invest in silos, smart meter manufacturing.
Aditya Birla Group Chairman Kumar Mangalam Birla sought the government's support for setting up a convention center in Noida and said that it would be one of the largest convention centres in the world. Birla Group appreciated the sectoral policies of UP and shared his action plan with the Chief Minister for investment in food processing, data centers, warehousing and logistics as well as solar energy sector.
Ajay Piramal of Piramal Enterprises said that he would launch a special campaign in Varanasi by joining the Prime Minister's resolve for a TB-free India and expressed his interest in developing a pharma Park. Similarly, JSW Group MD Sajjan Jindal also discussed setting up of state-of-the art Pumped Storage Plant at Sonbhadra for power generation, EV manufacturing unit at Kanpur and a new paint unit. Jindal also expressed his desire to participate in the development of a temple and Naimishdham in Kanpur.
Darshan Hiranandani, head of the Hiranandani Group, discussed plans for semiconductor investment in collaboration with foreign partners while signing MoUs for new projects while Tata Sons Chairman N Chandrasekaran discussed the cultural and spiritual importance of Uttar Pradesh and developing the spiritual circuit in UP by making Air India's flight service at all airports in UP, as well as building  hotels. The executive head of the country's prestigious conglomerate also shared the company's investment plans in power, hydrogen, EV, food processing and semiconductor areas.
Jinal Mehta of Torrent Power, which is distributing gas in 16 districts, said that 5000 jobs have been created in the company's current project and 90 percent of the benefits have been given to the local youth. Describing his experiences of working in UP as encouraging, he said that he will participate in the development of UP with new investments. Describing it as a privilege to work in Uttar Pradesh, Anil Agarwal, head of Vedanta Resources, said that his company is ready to bring a major research and development project in the electronics and EV sector to Noida, which will provide jobs to about 500 foreigners also. Apart from this, there is a plan to set up a glass manufacturing unit in Gorakhpur for mobiles and tablets, for which an eco-system would be developed by working with other companies. Sanjeev Mehta of Hindustan Unilever Limited told the Chief Minister that his company already has five units operational at Etah, Orai, Hamirpur etc. The agreements will take a formal form in the Global Investors Summit to be held on February 10 to 12.
The proposals also include:
● Parle-Agro proposes Rs 500 crore investment, mainly in dairy sector.
◆ Godrej Group, which already has 4 units operational in UP, has proposed to set up a new factory in Barabanki soon and be part of development of a new city. Godrej Property will invest Rs 20,000 crores in 05 years.
● Lodha Group will bring housing projects to Ayodhya, Varanasi and Gorakhpur with an investment of Rs 3000 crores.
◆ Ramky Group is keen to set up a private Pharma Park in UP on the lines of its Pharma Park in Hyderabad. Apart from this, it has also made proposal regarding STP and Solid Waste Management Plant. AA Rami Reddy, the founder of the group, also sought CM's cooperation in the development of a satellite city between Lucknow and Kanpur.
◆ Dr Tushar Motiwala from Kokilaben Dhirubhai Ambani Hospital shared his plan to open Kokilaben Dhirubhai Hospital on Hub and Spoke model in Kanpur.